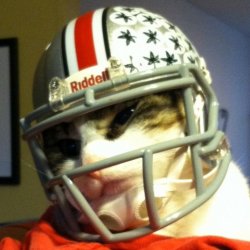 What Would Troy Smith Do
---
Houston, TX (via Houston)
Member since 03 July 2014 | Blog
Helmet Stickers: 75 | Leaderboard
Favorites
SPORTS MOMENT: Attending the 2002 OSU - Mich game.
COLLEGE FOOTBALL PLAYER: Troy Smith
NFL TEAM: Buffalo Bills
NBA TEAM: Houston Rockets
MLB TEAM: Cleveland Indians
Recent Activity
How have we not copyrighted that by now?
I was half tempted to take legal action. Do you guys realize this error meant I actually had to work rather than spend my time on this site. It was horrible.
Was I the only one hoping they had been baked by our own Chef.......RAEKWON!
My dad grew up in Rocky River in Cleveland. He would have been 8 in Cassady's Heisman year. He says that is one of the thing he remembers earliest in sports.
Well that and Mays robbing Wertz in '54 and the sweep.
Other than loving Mike Scott of the Astros (and having no idea who Nolan Ryan was, which is sacrilege in Texas and something I have since corrected) I don't even remember caring about sports (other than playing in the yard or in little league) when I was 7 or 8. I was aware of events but don't remember following any of them closely until the '91 World Series.
I know there are bookies and people have them but I have no idea where to start. I know that gambling online isn't illegal in the US but funding the account is (or something like that, they get you on a technicality or something). I've been wanting to for years. Thinking about buying a prepaid card and opening an account with Bovada. Still going to research it. I think this is how US bettors do it short of having an actual bookie to go to or living in Vegas.
Anyone want to elaborate? I'm all ears. I want to do this too.
Toughest game?? Easy, MSU and it isn't even close. However, 2 others are on my radar.
Penn State - after last year.......with us going to their place, all the hype, and at night......a little worried. I actually expect them to stay close until we pull away and win comfortable enough in the 2nd half. (Methinks that Cincy might ride the same emotion wave for a quarter or so)
TTUN - I grew up ages 10 to 21 from 1990 to 2001, my prime coming of age in sports years. My dad is from Cleveland and always followed OSU. He never pushed it with me but I started following them in the mid 90's. Can't say they were my favorite (I really didn't have one after dropping FSU after 93 season, or maybe they were but I wasn't the hardcore CFB fan yet) but I remember rooting for Eddie George for Heisman and against ND that year. I whooped it up when Germaine hit Boston to win the Rose Bowl. I remember Katz's super frosh year and stupid Charles Woodson (probably the game that made pushed me over the edge) in the 97 game as well as heartbreak against MSU in 98. Went to the Sugar Bowl against A&M after that season too. I guess what I'm saying is that with my dad telling me about Michigan spoiling our seasons, the 90's (with Biakabutuka becoming a curse word and undefeated seasons ending at their hands) I never feel comfortable against them. EVER.
I'm a born and raised Texan. I even lived an hour a way from the state fair for 3 years and I still have never made it. I fail at life. The Texas State Fair is known for it's amazing fried concoctions. I want to go badly.
But if you are talking tailgating - for food - you left off perhaps the absolute best place to do it. Baton Rouge. With home night games a norm I've heard that their tailgates are epic. They've got the Texas beef influence, southern cooking and of course all of the Cajun options. If I'm tailgating, I want to go here. Can't stand LSU, but taking in an all day tailgate plus the atmosphere of a night game in Death Valley = awesome game day experience. I'm 4 hours away and I need to do this.
You keep getting downvoted but I agree with your first part. Having someone who can pass and you can trust on passing downs would be nice. I don't care if we are an Auburn offense and run for 400 yds/gm as long as when we need to pass we can do so successfully. Just look at Braxton's passing stats against tough defenses. They aren't good and he is consistently UNDER 50% completion. I love the kid and his jersey his worn by both of my kids but I don't have confidence in passing situations.
I remember when we got him he was sold as a Pryor but throws more like Smith. He may throw a better looking ball but his touch still isn't there. Just look at all the slant patterns that stop the receiver or are thrown too hard and behind the receiver instead of in stride. It still happens too much.
I am rooting like hell for him. I hope he stays in the pocket and looks through his options and makes the correct throw. That he only runs if he has too and that we can absolutely air it out. We should have the weapons to do so.
I don't expect to see Germaine out there (I think he's OSU's best pure passer ever) but look at the 3 wins that Smith had against TTUN. The difference between 04 and 06 is staggering (with 05 being a nice mixture). His confidence in the pocket and his accuracy were just so improved and I felt completely comfortable that whatever Smith was asked to do he could and would do.
For the record, I still want Gibson. I'd prefer he be talked into being a receiver. However, if he does come and receiver is the best option I'd still expect the staff to look at his atlhleticism and say "we have to put the ball in this kids hands every snap" and then put him at QB. We'd win a ton of games, just not sure we'd get over the hump....
Pretty sure he isn't the only guy who's only regret isn't wrapping up.
Seriously??? Not one comment on the Tennessee link yet? Unpossible. That might be one of the greatest things I've ever seen. I was floored by the fact that wasn't filmed in a trailer park. Actually, it looks like the guy has a pretty nice house. He does a damn good job of impersonating Alabama fan though.
I'm at work and can't view this and I can't give out helmet stickers but I totally would if I could. Anything Weird Al is deserving. Perhaps some kind soul will come along and bestow upon you all of the helmet stickers. ALL OF THEM.
I can't hand out helmet stickers but why in the hell would anyone down vote this comment? Sometimes I don't get it. I swear, that if i posted a comment saying I like cheese pizza someone would DV it because they were lactose intolerant or burned the roof of their mouth one time on a slice. DV's should be handed out for stupidity and obvious trolling. Whatever….
Edit: Well this no longer makes sense since the original posting is now in the positive. Now, if i can only figure out how i got down voted making fun of the SEC….
I'm sure he will get at least a two game suspension. All Gus Malzahn needs to do is consult The Big Book of SEC Punishments. It's right there in black and white in Chapter 23, Section 12, Paragraph 4 and….oh wait. It says that a 2 game suspension can only be handed out if a player has requested his payoff's be in the form of Happy Gilmore style big checks rather than the discreet cash handshake.
Apparently all longer suspensions are reserved for 5th stringers only.
All other infractions are to be swept under the rug.
Good thing The Jake (yes, that is still the name) doesn't have a roof or Dolan might be tempted to go the way of McMullen of the 80's Astros when he held the RNC at the Dome and put the 'Stros on the road for damn near a month during the '88 season. I live in Houston and was only 8 but I remember that. Half surprised it hasn't happened since our owner has Dolan blood. I suppose he's better than his brother…...
Also, do you realize that Dolan and Jacobs both owned the team for 14 years (and counting for Dolan)? I was looking at the ownership and prior to them it seemed the team changed hand every 3 years. Talk about a lack of consistency for an entire century.
Hilliard was the biggie I wanted in this class. Now I'm coveting Sweat and Harris (I guess I'm already putting Baker in our basket). We lock those two down and our class is sick.
Time for me to give back some of these newly earned helmet stickers but for me it just comes down to Miller (or whomever)…..I do feel we have more talent at the WR position than we have had in a long while but until Miller is going through progressions and sometimes going to his 4th option it won't matter who's running routes. Yes, I suppose if the receivers aren't getting open (probably due to the lack of good talent) it makes it a moot point but the point I'm trying to make is that I haven't felt comfortable in our passing game or passing situations since Smith left. Pryor and Miller are spectacular talents but I never fully trusted Pryor and I feel the same way about Miller. Miller is getting a lot better and I do see it, but until he is doing it all the time or putting some touch on passes I will be uneasy. Here's to our talented receiver crew getting open this year and making it easy on Miller and hard on defenses. It makes me excited for guys like Burrow or Danny Clark in the future who are passers first and why I'd be very wary of a Gibson led offense (although I'd like his athleticism on the team).
Hey don't worry guys. I will make sure to tweet him about 20 times a day to make sure he understands that OSU is the way to go. Anybody got any pictures of pre-teen girls in OSU gear I can attach to them?
Too sarcastic for my very first post?? If so, I might be in trouble. Glad to have finally joined in on the best site on these here interwebs. Took me long enough.