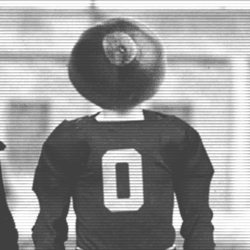 weimerad
---
Member since 22 July 2012 | Blog
Helmet Stickers: 440 | Leaderboard
Recent Activity
He will end up as a DT which prob means Gallimore won't be a part of the class. Unless Sweat goes elsewhere
With the commitment of Alabi prob means that Gallimore will go elsewhere. Unless Sweat goes elsewhere
Wow....I like it but I'm kind of surprised. I definitely thought they were moving on without a TE in the class and use the spots to fill other areas. Now I'm curious as to who might be left out. Sweat? Possible Baker flip? Gallimore? An OL?
Knob Creek and a fine Maduro cigar, such as an Oliva Series V, Drew Estate Liga Privada, Alec Bradley Tempus or Padron
Austin Mack is high on OSU as well
What's the reason that the stud 2016 OL Kraemer and Eichenberg won't be at FNL?
Birm, 2 things....1) I still believe that OSU will be able to flip Baker. Staying positive and optimistic on that. And 2) I'm ok with losing out on Daniels because there are a handful of higher ranked OL who have OSU high on their list. I think Burrell and Richmond both end up joining the good guys. If Richmond decides to choose Tenn or Ole Miss you mentioned there's another OL on the radar (can't remember his name)
So Birm you don't feel very good about OSU chances of getting Justin Layne and/or Nate Craig? Why is that? Layne is a Glenville kid and will eventually get an offer. And Craig has said he wants to leave Florida for college and he loves Urban
What are the chances that both Burrell and Richmond fill the remaining 2 OL spots. I feel Burrell is pretty much in the fold and I can also see OSU reclaiming the lead for Richmond after a great FNL visit. Who's your pick if it's not Richmond?
Jordan you mentioned that there is an OL spot reserved for Burrell. What about Richmond? And do you feel that OSU is in an uphill battle with him?
All I have to say is what a frickin joke if he picks Florida
Hey, at least Johnny Douchebag has a drinking buddy!!! They can go to the bars and clubs and pick up chicks!!
He won't be a part of the class. It's pretty much down to Kirk, Jefferson and possibly McNeal
So Jordan now that you've crystal balled Washington to OSU where/how do you think things will go with McCall, the other RB from Ohio who everyone believes is on commitment watch??
Yeah it was yesterday 6/18
I wonder if it will stick and if he committed based on pure excitement and emotion. Didn't he say he was going to announce at The Opening? So why now?
Birm, be more specific.....you don't think so to what? That Thompson will become a DT? Or that the staff won't take more than 4 DL?
So will the staff take 5 total DL? Let's not forget about Wilkins and Gallimore at DT
So should everyone stop talking about Gibson now? Is he practically a lost cause? Has urban moved on?
IMHO, the biggest, AND THE ROCK MEANS BIGGEST, key to the 2016 class is wrapping up both Eichenberg and Kraemer. And to top it off, get Gerald too. I say this b/c, let's face it, OSU has lost out on some stud OL over the past couple years, both from Ohio and nationally. To get these 3 guys, along with a stud out of state OL, would be huge for 2016.
So Birm what is the current status/situation with the OL position? Are Burrell and Richmond still at the top of OL the staff wants? Richmond has been my #1 OL who I really want to be a part of the class. And a few months ago Richmond seemed to have OSU at or near the top. Now it appears and feels like he's fading. Is that on the staff or him? I'm really hoping they can land Richmond, Burrell and either Allen or Daniels to go along with Schmidt
They will take 4-5 DL depending on how many LBs they take. I still believe that there will be 3 LBs in the class so Ill say 4 total DL. At DE there's Dremont Jones, Joshon Cornell, Josh Sweat and Darius Fullwood. And at DT there's Wilkins, Gallimore and Settle.
If they can get the top 4 WR on that list, which is legitimately possible, that would be sick. That said Birm, when will Justin Layne get an offer?