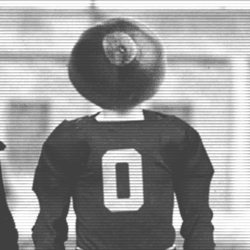 weimerad
---
Member since 22 July 2012 | Blog
Helmet Stickers: 383 | Leaderboard
Recent Activity
I thought Trey Johnson was going to have the first opportunity to replace RDS???
So is Damien Harris still the #1 RB target? Will they take both Harris and Scott since they are both bigger backs? And how will Harris react to OSU offering Scott now?
TV shows: The A-Team, Different Strokes, Magnum PI
Cartoons: Transformers, He-Man, Looney Tunes
That interview with Gibson is old. He talks to Urban at least once a week now.
Does the preferred walk-on commitment mean that OSU will focus on taking just 1 QB for the 2015 class?
Sorry, I it was supposed to be a response to John's comments
I disagree. If Wimbush wanted to commit, I highly doubt Urban would slow play him and tell him to hold off. Simply b/c they don't know what will happen with Gibson. Take Wimbush and continue to go hard after Gibson. Plus, Gibson has said that he loves competition, so I don't think 2 QBs in the class will scare him
You seem to think that they will only take 1 QB in the 2015 class. But from everything I've gathered and read they wing to take both Gibson and Wimbush if they can.
John your comments about the QBs sounds like the staff will only take 1 in the class. I've been hearing that they have every intention of taking 2, with Gibson and Wimbush as the top 2 targets
Do you think Wimbush and Fitzpatrick will be a package deal? I would hate to lose out on Fitzpatrick too if Wimbush decides on Penn St. But my opinion still believes both end up at OSU. John, Birm what do you guys think?
While I'm thrilled with the hire of Johnson I think the Chris Ash hire was a reach. Urban could have gotten somebody better. Dare I say he should have gone after Jeremy Pruitt and a few other names. And who is going to call the plays? Ash isn't any better than Fickell
Also, Thigpen from Tennessee and Mel Tucker, who is supposedly on the outs with Chicago
I will be THRILLED if Urban can get Chavis as DC and Vance Joseph as DB coach.
But why isn't anyone mentioning these 2 guys as DC candidates: Randy Shannon and Gene Chizik?
Jeremy there's been unconfirmed talk of Stanford possibly holding back Thomas scholly, or him not being able to enroll when he wants. And his crystal ball has been trending towards the Buckeyes. Have you changed your thoughts and prediction?
I really wouldn't be surprised if Rod Johnson is the OL they get. I think Urban will pull out the red carpet when he visits and will be blown away. Jeremy you said he hasn't been to OSU since 2012, and he has them in his top 2 with FSU. I honestly don't think Brady Taylor will get an offer.
My question to you Jeremy is who else besides Taylor do you think ends up in this class if you don't believe any of the DL will commit?
Way to go Ray Lewis for picking them to win the Super Bowl
Can somebody please explain what happened with Prince? He supposedly almost committed over the summer, and now OSU isn't even in his top 5 and not getting an OV.
And is the issue with LJ Scott a grades thing? Do you see him end up a Buckeye if his grade improve?
Birm, what's going on with Ashton White? Why do you believe now that he'll pledge to Va Tech? Your colleague, Jordan, thinks he's all Buckeye.
John, Mike Farrell from Rivals believes that Alabama now leads for Raekwon after his official visit last week. Thoughts?
Great job as always Birm. However, I'm going to disagree with you on the final "big fish" OL that Urban reals in. I don't think there's any chance Mitch Hyatt ends up at OSU, as he'll stay south at Clemson or an SEC school. I'll replace him with Sterling Jenkins.
Ill swap Lonnie Johnson for Dixon, but prefer not to add Dixon with Johnson still part of the class. I would rather use the scholly on Solomon Thomas or flip someone like Quin Blanding
John I'm assuming that Urban will have an in home visit with Raekwon before he announces?
Not to sound stupid but since when has Adolphus been a back up? I knew Bosa has been playing well but didn't know he moved ahead of Adolphus. And is it due to poor performance or b/c he's been injured off an on this season?