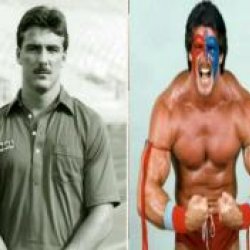 W-burgbuck
---
Member since 06 February 2013 | Blog
Helmet Stickers: 152 | Leaderboard
Played me some football, ran me some track, blew out a knee, had 3 kids, figured out what was causing the kids, got that fixed. Now I run trains for a horrible company, but it pays the bills and feeds the kids. Happily married, huge buckeye fan, number 1 dad. (At least that's what my mug says)
Favorites
SPORTS MOMENT: The moment the cheerleaders start dancing.
COLLEGE FOOTBALL PLAYER: AJ Hawk all time favorite. Noah Spence current
COLLEGE BASKETBALL PLAYER: craft
NFL TEAM: bengals
NHL TEAM: US Olympic team is only hockey I watch
NBA TEAM: heat
MLB TEAM: reds
SOCCER TEAM: What's this soccer you speak of?
Recent Activity
I think we're gonna need a bigger mountain.
Agreed
Brock sampson.
I'm up in the air on moving Wariner to OC, on one hand if you don't he may take it as a snub on the other hand if you do you're likely in the same place next year because I see him becoming a head coach shortly. That said if you promote him to play caller I think you have to hire a great recruiter that can coach qb and be ready to step into OC role if necessary. I see them hiring an under the radar guy. Billy Napier from alabama is a good recruiter, makes 300k and used to be Clemson OC I believe. Shannon Dawson from WVU while not as good of a recruiter, has done a good job with lesser talent. Studrawa would be a great fit to replace Warinner but may be a year early.
UFM has to make what may be the toughest choice of his career. SHANE FALCO OR JOHNNY UTAH, both home runs but how to choose.
If the defense sucks again then yes Fickell will face the wrath. Think about it, it's either going to be him or urban and I don't see the or happening. Now if the defense is back to par or better then I don't see anyone catching flack and yes Ash will be highly touted. That said Fickell has had a few years now to prove himself and has been given the benefit of the doubt by TOSU and Urban each time, if Fickell wants to be seen as that guy then he is going to have to roll with these punches, bite his tongue while Ash gets the praise and put together more than 1 year of improvement before he is touted as the best D - coordinator in the land. That said I'm talking more so about fans than bosses, Urban and the higher ups will reward improvement and give credit where credit is due. Fickell will be fine or he won't, but fans are gonna go overboard one way or the other. Either he is gonna be great or he'll suck.The only thing Fickell shouldn't do is use the answer DID WE WIN because if our offense can put up more than 20 than we should win if the bullets are on point.
You beat me to it. Barret or Jones need to step up to the plate cause Collier won't sit back and watch he's underrated and will be in the discussion, they slip up he'll be there to take the spot.
Shhhhhhh they'll hear you
New year, fresh start, great new bunch of kids. I'm done harping on last year's defense and pointing fingers. New Year is gonna be Special our coaches are the best in the country, we have special talent, and we have already learned from past mistakes. Here's to braxton hitting thomas in 2014 and Spence hitting everyone else. Go bucks.
Beat Iowa, Jamarco Jones confirms his commitment, other than this ice storm this evening rocks.
Neurnberger would be the odds on favorite in Vegas, but I could easily see a receiver such as Samuel or Dixon making a splash. My dark horse is Mclaurin who has a knack for going and getting the ball.
I really like dontre and believe he is a special talent but was i the only one that kinda held their breath when he had the ball, just seemed like he was always going to lose the ball. In his defense I only think he fumbled once but always seemed on the edge to me.
I would actually love to get thomas and McLaurin or Clark wide, Samuel and Wilson in a tight slot and eze or Smith in the backfield with braxton.
Man if only there were some formation where we could use them both at the same time so that the defense would crap themselves as their D - coordinators head exploded while trying to figure out who would ruin their night Braxton, Curtis or Wilson....maybe looks like this ◆ and also involves eze.
I'm confident in Warriners ability, I'm not sure he is the best O-line coach in the country (Def top 3) though I am sure that Warriners with coach mick are the best thing to happen to our online since Orlando pace enrolled. That duo is the best combination for an O-line in the country.
McLaurin has a knack for pulling in contested passes and going up and high pointing the ball. Looks like he can do it all. Would love to see him become a possession/safety valve for Braxton. (Or whoever inherits the job in 2015.)
Mitchell, Grant, Johnson to start the year but I feel Kwon has a lot of drive and will be a special player, may supplant Grant earlier than expected. Also with our depth and so many being close calls on who should start I believe you will see a lot of players rolling in and out. Perry, Berger, Booker and possibly Hubbard will see significant playing time.
Schedule actually worries me, yes we should be favored and win every game but almost every week they will have to bring their A game. Definitely have to play week to week, plus getting beat up week one by a dangerous Navy teams chop blocks just to turn around and play VA tech is a little concerning.Not a lot of top 25 games but a lot of trap games. Way it's gotta be with the playoffs and I look forward to better competition can't play the Georgia Southern or App states as appetizers anymore. Yes that was a poor attempt of gouging Freds quarry kids and florida.
Agreed, though I'm not so worried about defense as long as who ever is calling it changes it up from last year. There is going to be an abundance of talent on that side of the ball and the competition for pt will elevate their performance. The offense on the other hand will go how the line goes and will be much improved if Braxton can find a safety valve he is comfortable with when the heat is on. I really think if he can find a fail safe receiver 2014 will be next level. Think Gonzo or Santanio with Troy or Krenzel with Jenkins. If Braxton had a Gonzo type player to bail him out when Clemson brought the farm the Orange bowl may have looked different...
Definitely works better than the funky bunch
I think he'll get a shot but be on a short leash. To much talent to keep on the bench, but with so much talent behind him I don't see them thinking twice about pulling him if he fumbles
Gee, wonder who that was.
I really believed fickell would be at least demoted if not let go, but I believe after the last 3 games they all know they have to change something and if we can see it then they do and I'm sure as bad as this sounds some boosters are screaming in their ears already
I don't like the way it looks right now with the titles. That's because it appears that it's going to be same that it was last year. That being said I have to believe that our coaching staff as a whole starting with urban realizes that change is needed. I hereby decree that we should remove all titles and just call Meyer grand master flash and the others shall be the funky bunch. In the end title them whatever you want just please fix our defense mr. Flash
I hate having navy on our schedule, their option attack is hard to stop and the constant chop blocks at the line are an injury waiting to happen. I love the idea of playing a service academy, and was actually at the shoe the last time we played them and it was a whale of a ball game. (Two point conversion picked and returned on the final play to save the game) The wear and tear on the players worries me.