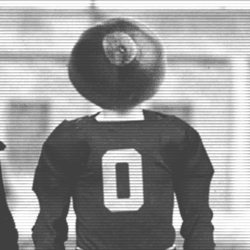 villagebuckeye
---
Member since 11 September 2012 | Blog
Helmet Stickers: 398 | Leaderboard
Favorites
COLLEGE FOOTBALL PLAYER: Keith Byers
COLLEGE BASKETBALL PLAYER: Clark Kellog
NFL TEAM: just follow former Buckeyes
NBA TEAM: Lakers
MLB TEAM: Baseball sucks
SOCCER TEAM: Little Warriors
Recent Activity
Call Turtleman...... YeeeYeeeYeee
Chris Carter and Tommy Brown will both be in their 4th years as redshirt juniors. Neither has really contributed could these two be shown the door at the end of the season.
What is the health status of Chase Farris? If he is healthy come fall I really believe he will be a major player for the open guard spot. He came in as a defensive end, moved to offensive tackle and really pushed Decker for the starting spot last year, moved to defensive tackle got injured and now is at guard. This guy is very much a team player. He is big, strong and possibly the most athletic of the olinemen
Manziel has always reminded me a great deal of former Giants and Vikings hall of fame qb scrabblin Fran Tarkenton. A fun player to watch
A big man presence is important but this team also needs a slasher that can actually finish at the basket. Sam is not a slasher but he can finish. Scott is not a slasher and he cant finish. We need someone that can get to the basket in a half court set and actually put the ball in the hole. If Loving had any confidence he has the physical ability to do it. Maybe one of the freshmen?
To the best of my knowledge, m man is trying to impress us with stories, information, views and opinions that we wont get from the mainstream Buckeye crowd. He sure as hell cant impress us by writing about the ttun football team.
I have a problem with m man coming to 11w and discussing legal issues regarding that team up north. He is an attorney, there are no gray area. Criminal defense attorneys dont care about guilt or innocents, just what can be proven in a court of law. There is no corruption. The police don't make mistakes or botch investigations. Defendants and witnesses don't lie. You are right and everyone that disagrees with you is wrong. Our legal system is far from being without flaws and money hungry attorneys are some of the biggest problems. Where is Jack Reacher when you need him?
m man, as a _ichgan attorney you are either a piss poor one and have no clients or you have wasted about a $grand$ of your time just on this thread.
Saying someone is ignorant for having an opinion different than yours is what is ignorant
According to 247 tOSU has offered 164 players for 2015. Pretty obvious we aren't going to get them all.
If Farris is completely recovered by Summer he will be in the thick of things for the other guard spot. Quite possibly our most athletic olineman. Would love to see him settle in at a spot and stay there. He has been asked to play a number of different positions(de, ot, dt, and now og).
So he would be coming from Bama's pro style offense to Urban's spread offense. As a center he would have to master the shotgun snap and learn to call all the line assignment just in Fall camp. I say pass.
I like Price a lot. Bigger and stronger than Boren. Knock on him was suppose to be his shotgun snap but that looked fine Saturday. Only thing Boren has on him is experience
Pretty much all Spring the starting the starting dbs have been Grant and Reeves at corner with Powell and Burrows at safety. All of these guys have received praise from the coaches. I find it interesting that Reeves is the nickel and either Apple or Conley goes to corner. So what happens when Bell comes back? Will Burrows go back to being just a backup?
Black jerseys....Urban wouldn't wouldn't let them wear yellow.... that's one of you know who's colors
Ok, and Shabazz Napier says he goes to bed hungry
If the listed weights are current and accurate, a lot of these guys have been putting some great work with coach Mick
Chris Worley still has his black stripe. Urban said if he would have won the circle drill today it would have come off.
Ticket are $12 at Donatos and they will deliver
Home and home series with Va Tech. They have a much smaller stadium and my guess is they cant pay us much more than we are paying them for the return visit
One name many people forget is Rufus Mayes. Played rt and is in the Buckeye hall of fame. He also had a nice long pro career.
While I agree that Perry may very well be the leading tackler, to say he is playing the same position as Shazier is accurate in name only. With the lbs playing field and boundary he will not be playing in space the Shazier did. I love this move, as it will play to Perry's strengths.
Wouldn't really say he is going off. Has about 15 points in the 4th. This kids future is as a point guard that can score. Very good vision. Needs to get stronger and work on his defense
Just how is it you "know" there was serious federal pressure and "know" the athletic dept had nothing to do with the police or university investigations? Source please.
I think Braxton's problem with these types of plays in the past has not been miss reading but making a predetermination of what he was going to do.