The Vest-er
---
Yuma, AZ
Member since 21 May 2011 | Blog
Helmet Stickers: 398 | Leaderboard
Voting Record: 2 / 0
Favorites
SPORTS MOMENT: Dorsey's pass getting batted down harmlessly to the turf
COLLEGE FOOTBALL PLAYER: Mike Doss
NFL TEAM: Bungles
NHL TEAM: NA
NBA TEAM: Pacers
MLB TEAM: Reds
Recent Activity
The Vest-er's agent search would begin and end with Saul Goodman.
He will receive no better advice than the advice he received from OSU. Dr. Tim Hewett is the best in the business. He is the ACL guy. If he, either himself or by proxy, said his knee isn't capable of football, it isn't capable. Anyone saying different is a 3rd uncle who doesn't have his best interest at heart.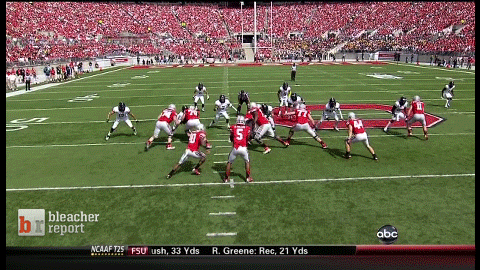 The penn state run gets a lot of deserved pub, but this one is my favorite braxton run
Pushing Daisies. Quirky and clever.
Strength coach for football only. I'd have a staff to crunch numbers and write programs. Two hours a day to just yell and motivate athletes. Yeah, I could do that.
If recruiting is the most important part of a program, s&c is a close second. Most high school athletes are over conditioned and strong in the beach muscles. A good s&c coach does more behind the scenes than most people know. Injury prevention in a sport like football cannot be overstated. Marotti is one of the best and it shows on the field.
No Bud Kilmer love? He brought 2 state titles and 22 district championships to the West Canaan Coyotes.
Boone is a nice smallish town. There's a cool downtown area with bars and an okay ski resort. The scenery is nice. Good for outdoor activities.
Chief, I would say all of the above. With a few exceptions, the OL played great. They moved the pocket a bit. And receivers didn't run 10 second routes. EzE had a great game and got n/s very well. Bosa was doubled or held all game so other DL's stepped up. Great game.
As a parent of a child with asperbergers, Josh Perry is my new favorite buckeye. My other children are younger, so they don't understand why things are the way they are. I hope they grow up to be just like Josh.
Kerry Coombs lives on red bull, coffee, yellow jackets, espresso, ephedra, and motivation.
Too much love for the Squids in this comment section. I work with too many "Boat School" graduates. I hope the Bucks beat them by 50.<------------------ Said entirely in jest. But no, seriously, by 50. :)
This is very cool. I'm already going to the game, so no need to consider me. I will say some of the best memories of my deployments involved the Buckeyes. Huddled around a laptop watching a dvd of the 2009 and 2011 spring games. Fighting like mad to get a ride to Balad to meet Jim Tressel, but being told that my fanaticism was admirable, but not exactly useful. Doing the O-H-I-O in the desert. All good times. I hope the winner enjoys.
-I had more michigan apparel growing up than ohio state apparel. I went to the same school as Tim Williams (the guy who punted to Desmond Howard on the heisman pose play) and thought he was a douche, so I was a pseudo-michigan fan. Not really, I was just a natural contrarian.
-I wasn't a huge OSU fb fan until I lived with two friends who were fanatics. Now I'm insufferable.
-I hate the Lexington, Ky school way worse than michigan.
-I liked the addition of Maryland. Purely selfish, because I'm now a train ride away from seeing a game.
-I like the hive much better than quick cals
No specific "moxie" category? PSU must have a patent on that trait
Yeah, but when did Tressel know about it?
Urban planted that video to ensure the good guys would be fired up. :)
General Mattis: Be polite, be professional, but have a plan to kill everybody you meet.
This isn't homer talk, but being of above average intelligence on the subject of fitness and performance, Marotti is one of the best, if not the best in the business. If you read who holds him in high regards, it's a who's who of strength coaches.
Cramps happen. While they have regimented diets and schedules, they're still college kids. I'm sure a gas station burrito, a slice of pizza, and a soda or two makes their way into their diets. Nerves play a part too. We learned after the fact that Jordan Hall didn't get adequate rest the night before the game.
My point is, unless you lock these kids in a box, you are not going to be able to monitor every decision. What you can do is educate them, prepare them, and inspire them. Blaming a strength coach, who's one of the best in the country, for not hooking up the IV and personally watching the bag empty, is a little goofy.
I'm not super stitious, but I am a little stitious.
Marine bases have full tackle leagues. I played in one two years ago. Good times.
I just realized my dream of being a 33 year old starting safety for the buckeyes is over. Thanks NCAA!