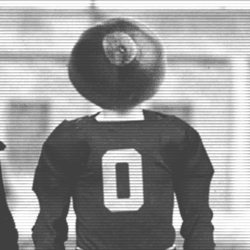 Veraton
---
from Parma, OH
Member since 13 December 2012 | Blog
Helmet Stickers: 116 | Leaderboard
2010 Alumni, born and raised a Buckeye. Never visited nor needed to visit a college, I knew Ohio State was the place for me before I ever set foot on campus.
Favorites
SPORTS MOMENT: 2002 tOSU vs Miami NC Game
COLLEGE FOOTBALL PLAYER: Troy Smith (B. Miller and J. Laurinaitis are very close)
COLLEGE BASKETBALL PLAYER: Aaron Craft
NFL TEAM: Cleveland Browns
NHL TEAM: Columbus Bluejackets
NBA TEAM: Cleveland Cavaliers
MLB TEAM: Cleveland Indians
Recent Activity
Absolutely love that hes going to the Spurs!
I have to agree, way too much going on. Don't like it at all. The minimalist in me cringes lol
I'm in shock after seeing this, Gee was a fantastic president and I was lucky to have been a student while he was president. I remember meeting him multiple times and he was always awesome to talk to. Such an asset, he will be very difficult to replace.
Loving these hype videos, I still think my all time favorite though was the 2011 teams video to Buckeye Nation. I was a year removed from graduating and couldn't remember a time I was more down as a fan after the scandal. I remember watching the video and thinking that no matter what happened that season it wouldn't be long before we were back on top and really appreciated the fact the team addressed all the fans. Was psyched for the season.
http://www.youtube.com/watch?v=cVyZS4lBQwE
Does anyone else feel like running through a wall after watching these? I need to open a gym and just throw Ohio State hype videos on the TV's and playing through the audio. I don't think id ever have trouble powering through a workout!
Football season can't come soon enough!
Wow, couldn't have asked for better news to wake up to on a Sunday. Trout has huge potential and he loves tOSU can't wait to see this kid grow.
Did she take Townsends LOI as well?
Bad time to stop making shots, need another defensive stop here.
Amir with the huge confidence boosters, he could be huge the rest of the game.
Monster DUNK.. where has this been all season Amir. Finally!
Burke is getting frustrated..
Oh wow craft from doooowntooown.
Wow admittedly did not expect to be up at halftime, loving the effort so far. Craft is all over the place!
Is it just me or does M*chigan seem absolutely shocked that we are hanging with them right now?
Two solid possessions by the buckeyes, good ball movement. They need more of that, I love what Scott brings off the bench as well.
Agree on the uniforms.
I keep waiting for things to click with Amir, he needs to be more physical and aggressive under the rim. I get so frustrated watching him play...
Looking at the new logo I see this scenario playing through my head:
Ohio State decides to take open submissions for the new logo from the student body, with all the talent they have surely this is a good idea... Drunk student decides it would be hilarious to take the old logo and just color in the letters... he submits it. Whomever makes this decision says "Man this logo really looks great lets go with this".
And that folks is how the new Ohio State athletic logo was chosen.
Amir is driving me insane, if the 3 is off the mark crash the boards don't just sit outside the 3 point line and watch...
I don't understand this either, it's been the case all season. I have seen this in other players, they get the ball in or near their hands and they just can't secure it for the life of them.
That was a sweet 3 by Lenzelle but I hate when the Buckeyes just start chucking up 3's, they need to fight for higher percentage shots instead of settling for the 3.
I disagree,
They won't eliminate the secondary market at all, what it does however mean is anyone who does purchase on the secondary market will see an increase in their ticket prices to go along with the general increase in ticket prices. People who turn around and sell tickets to big games will just increase their prices to maintain a profit and as long as OSU football continues to succeed there will always be someone willing to pay the increased premium on the secondary market.
The fact that there is a backlog of people willing to pay 300-400 (sometimes much higher) for big games on the secondary market supports the idea that Ohio Stadium will continue to sell out despite the ticket increase.
If anything there will be more people buying and re-selling, students/alumni who used to attend the games at the current prices may not be able to justify attending the game under the new prices; however I can see a good number of them deciding to buy the tickets and re-sell them to make a profit even though it's no longer cost efficient for them to buy the ticket and attend the game.
It's hard to read this article being a recent alum, ticket prices are pretty hard to stomach and I usually go the student ticket route (on the secondary market) as I still have my buck-id and an extra from a sibling who only attended for a year.
Not to mention Alumni get absolutely TERRIBLE seats for the games... I'm sorry but I'm not going to pay an increased premium for my 2 Alumni seats where I have to sit in the top few rows of the stadium when I can buy student tickets off the secondary market for cheaper than my Alumni ticket and sit in A or B deck.
They are already pricing recent alum out of the market without the price hikes.
Agreed, needs more time to sort out all the lies he and his family told. His duped story is about as real as his girlfriend was...
Hard to believe that the Hiesman nominated star LB at ND had to resort to a strictly online/phone relationship with a girl that never existed. The guy could have had his pick of girls at ND seems much more like a publicity stunt rather than him getting duped.
On the MSU 247 thread about the Drake Harris offer an Oregon fan absolutely laid into Urban Meyer talking about how much of a scumbag he was... Would absolutely LOVE to see his face today now that Chip Kelly has left after saying he was staying!