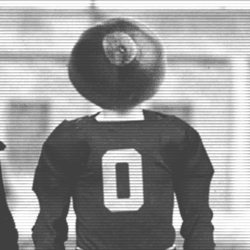 vball10set
---
Member since 28 December 2012 | Blog
Helmet Stickers: 36 | Leaderboard
Recent Activity
If he doesn't want to be a Buckeye, so be it....next .
He either has to win 10 games or beat OSU, or he's history...jmo
He'll end up a Toledo Rocket ;)
She's got better hands, period.
To hell with sublety, get his butt to Cbus, Damon!!! ;)
Mr. Buckeye...'nuff said.
Well, Mr. Sibert, you got your wish, but along with it you got Mr. Craft as well...good luck with that..GO BUCKS!!!
excellent post, well done!
Bottom line, 4th year seniors don't miss free throws with the game in the balance. Period.
8/30/14 can't get here soon enough...GO BUCKS!!!
A perfectly serviceable 2-guard, one that's a senior, does NOT chuck up a 3-ball when you're down 1 with 10 seconds to go, especially when there's a wide open lane to drive in front of you. Sorry, but that's on Lenzelle--period.
Lenzelle should return his scholly...5 points? Pathetic
Need both Lenzelle and Amir to be solid and score, need Craft to frustrate the Canadian, and must win the turnover battle...O-H
Good post, Arizona_Buckeye, and spot on. I'm thrilled Brax is coming back, as it not only gives us a legitimate shot at the NC, but it allows JT Barrett a year to learn under one of the all-time great Buckeye QB's

I hear ya', but getting Trey Burke wouldn't help us this year. Scott needs to figure out what's gone wrong and fix it. We need him. Period.
Haters gonna' hate no matter what Coach Meyer says, but it's good to see he did issue a statement on the situation....In Urban I Trust!!!
We'll win some we shouldn't and lose more than we have in recent years, but we should still be able to Dance in March. However, I agree that no leader has emerged, and this discourages me more than anything.