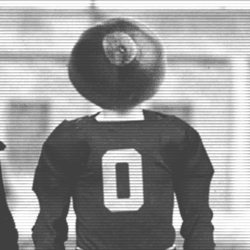 UrbzRenewal
The 43210 (via New Albany, OH)
Member since 20 April 2012 | Blog
Helmet Stickers: 3,418 | Leaderboard
Student at the Max M. Fisher College of Business. I run the Instagram account "whiskyamerica": http://instagram.com/whiskyamerica
Favorites
COLLEGE FOOTBALL PLAYER: Ted Ginn Jr.
COLLEGE BASKETBALL PLAYER: Aaron Craft
NFL TEAM: My Fantasy Team
NHL TEAM: CBJ
NBA TEAM: I play 2k
MLB TEAM: Baseball? Columbus Clippers
SOCCER TEAM: Columbus Crew, USMNT, USWNT
Recent Activity
The camp schedule doesn't have anything: http://www.elevenwarriors.com/ohio-state-football/2014/08/38133/ohio-state-releases-fall-camp-schedule
Winning the Big Ten & beating Michigan. Anything more is a bonus.
I don't think you'll ever see anything too crazy about OSU from Thamel. He's too close to Urban and Tom.
I don't think we'll see it. The coaching staff probably would rather have the explosive playmaking ability of the H-backs, WRs, and TEs on the field than extra TBs. Especially with the strength and versatility our TEs give us. I think you'll see Dontre/Samuel/Marshall/Zeke in the backfield a lot, but not three guys around J.T. at once.
Disagree. Tons of guys can put in effort in the off-season and on the camp circuit to improve tremendously. Camp circuit=comparisons to the best of the best. Football games aren't always an apples to apples competitive measure. Without camp, Neville Gallimore (for example) would not have seen such a meteoric rise in popularity, ranking, and offers.
I don't think we'll see diamond. The offensive gameplan will remain the same under JT. Short passes especially, reads, veers, play action. It will be interesting to see if JT decides to go through his progressions or run.
I think ~30 offensive yards from Curtis Samuel is meaningful and could be expected.
From day one on offense or defense? Just Samuel and Nuernberger. A couple of games down the line? Maybe throw in Raekwon, Dixon, Holmes.
I didn't realize no one here wanted to take their head out of the sand.
Oh rly?
It seems to me that the Jon Waters truthers are grasping for straws.
Having worked in education technology on both sides I can tell you that nothing will come of this. Everyone in ed tech is interconnected in some way or another.
1.) TTUN (because anything can happen)
2.) MSU (don't think the defense will be as formidable as last year; still think Connor Cook isn't that good and our D made him look that way).
3.) Cincy (sleepwalking game potential)
4.) Virginia Tech (in the "everybody panic" case in which our secondary hasn't improved)
5.) Maryland (same as VaTech, I could see Diggs/Long burning us)
6.) Indiana (same as VaTech)
7.) Minnesota
8.) Navy (I think we'll be ready to roll)
9.) Rutgers
10.) Illinois (because they have more scholarships than PSU)
11.) Penn State (looking at skill/depth in any position besides QB)
12.) Kent State
Rooting for Sparty, thinking that they might end up getting blown out. On the road, against Mariota, extreme offensive speed against a defense that just cannot be on the same level as they were last year as far as secondary and yards per play allowed goes. They'll see a 7 point gap explode into a 21 point gap and I think the rout will be on. If it were in East Lansing I think it would be closer.
I don't think he was being an asshole. He can be a great player and not jump out at you on film as looking "special". It's possible to be objective and say that a player might need to improve without being an asshole.
Is transferring to play closer to home.
He was also suspended for the first two games so there may be a little more to the story. Big loss either way.
Does anyone know when practice will be open to the peons such as myself?
They won't. If you're a student, you get one (Student Appreciation Day) in the spring.
Cincinnati is the only sleepwalking game I'm worried about.
I think I read somewhere that McIlwain had a top six and we weren't in it.
Well, I would think that having a bit of cash to help with living expenses would help them live better. But I guess that'll also make them more prone to being violent batterers.
Or, you know, they'll be able to live better.
I'm not sure what a stipend has anything to do with him suckerpunching someone. Stupid decisions happen with money or not. Yes, let's execute him for assaulting another person, that makes sense.
I could see Rod have more rushing TDs than Eze, but only if he becomes the go-to short yardage/goal line back. I think in that case Eze would have more rushing yards, total TDs, and carries though.