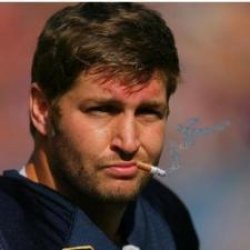 UrbanPirate
---
Columbus, OKC, Chicago, Phoenix, Kalamazoo... Depe (via Marshall, TSUN)
Member since 07 February 2013 | Blog
Helmet Stickers: 69 | Leaderboard
Max M. Fisher College of Business '10
Favorites
SPORTS MOMENT: November 18, 2006
COLLEGE FOOTBALL PLAYER: Teddy Ginn Jr. & Roy Williams (Oklahoma SS)
COLLEGE BASKETBALL PLAYER: John Diebler
NFL TEAM: Chicago Bears
NHL TEAM: Hockey??
NBA TEAM: Bulls & Thunder
MLB TEAM: Chicago Cubs
SOCCER TEAM: N/A
Recent Activity
I think wearing black just for black's sake is a cop out. Leave it for schools that need a gimmick to feel like they belong in national conversations (i.e. UCLA, UNC, etc.)
I second ASU's comment. Does anyone know of any good online caches of old campus photos? I can't get enough!
I think they did that a couple of years ago with a big spinning wheel instead of pulling from a hat. Wasn't as satisfying as you might have hoped.
Winning titles easier at Bama than at Ohio State?? I'm as big a SEC hater as the next guy, but let's be realistic-Running through the B1G (and I'd say even more so back then than now) would be a cake walk for Saban compared to the SEC west schedule on a yearly basis. And also, you say Bama was "stacked to the gills with talent" as if the Buckeyes hadn't also been an annual fixture in recruiting top 10 lists.
Bonus points for the Freaks and Geeks plug.
I like it! (But of course I'm the eternal Buckeye optimist)
One name left off this list that I believe would be an ultimate home run would be Mike Stoops. I believe he was Urban's first choice for DC while assembling his staff, offering Stoops the job following his firing from Arizona, though he ultimately chose to rejoin his brother Bob at Oklahoma, reassuming the same DC job he left years earlier. Prior to M Stoops' return, OU's defense had suffered a major decline in production and overall attitude that had previously been the staple of the early 2000s dominate teams (similar to OSU's current state), but in just 2 years M Stoops has transformed the Sooner D back into an intimidating force-highlighted by the recent Sugar Bowl victory over the invincible* Alabama.
So of course, being a defensive mastermind with a proven record of quick turn around capability-who's specialty is with DBs to boot-there's no denying he'd be a perfect hire for the Buckeyes, but would there be a realistic chance of luring him away from a position under his older brother at a school he's put decade's worth of time into? I say yes. First of all, he's Ohio born and bred (his dad coached HS ball in Youngstown), and he has B1G ties; earning two time All-Big 10 honors and started his coaching as a GA at Iowa. As for leaving OU, I would assume he has aspirations to get another opportunity to be a HC again after his less than stellar first attempt at UofA-especially with his younger brother getting the Kentucky HC job last year-but to this point, his only real achievements have been solely in one place, so it's not unreasonable that he could see Ohio State as a platform to show off his skills.
Lastly, bringing in Stoops would further strengthen pipelines in the south (esp Texas) as well as open new ones out west from his AZ days.
Any thoughts?
I'm in... Well I would be, if the temp cracks 0 at least
That halftime show was shit...
I hated him until I saw the "A Football Life" on him... He's actually legit
I hated him until I saw the "A Football Life" on him... He's actually legit
Wish I could give ya an UV for that one! One day...
You're right (at least the point I think you're making), as much as we'd all like to imagine our coach riding off into the sunset after a string of championships, the sad truth is that every coach/program will inevitably run into a stagnant stretch. Just look at Mack Brown's record before just a few years ago; the man can flat out coach! But a few years without stability at QB, mixed with the emergence of "little brother" programs like Baylor and Okie State in the neighborhood and it's amazing how quickly a fan base can forget what said coach has done for them.
Sure, the storybook ending would have been a few more B1G championships, maybe a National Championship for Tress before he retired, but given the way things worked out (never a bad season under his watch mixed with the fact that, minus the purgatory Fickell year, we didn't miss a beat with the new regime) I would argue there are worse ways to go out. Sure there was some shame, but I think you'd be hard pressed to find even a national sports reporter who would honestly say Tress is a bad person-and as the video shows, he is obviously very highly regarded by The Buckeye Nation-I'll take that over a stale period of having to question if the man can still coach, is he too old, etc. that May or may not lead to some sort of forced removal as was the case with Mack Brown's final years. And let's not forget how lucky we are for having a certain all timer coach that just happened to be waiting on the couch for a call from one school. Timing is everything.
I can understand the thought in general (especially considering the perceived talent level flowing into Cbus via UFM), but in this case I have to disagree. Beside the invaluable leadership qualities that Bryant would bring back to a young defense that will undoubtedly be in search of, it's hard to ignore the fact that the step back on the defensive side of the ball coincided with the loss of Bryant. From how his coaches/teammates speak of him, he was like the QB of the D-pumping up or calming players when needed to focus on the task at hand. In my opinion, Bryant coming back next year would be just as impactful, if not more, than having Shazier back!
At least Lenzelle was tweeting about wanting a dope girlfriend, not looking for dope and a girlfriend... #AlmostStoleMyChristmasList
"Hey guys, can you see my eyes through these?"
At least it's another double digit win :-/
What do you think the chances are Bryant does get that medi redshirt?
I wish the USC job was still vacant... How crazy would that be: MACK BROWN TO USC!!
Truly a thing of beauty... Does Craft get credit for an assist here off the inbound?
Agreed, I mean I always love waking up to a new commit... But I'm not sure I understand the point in offering so early? Especially in this case when the kid seems so obviously all in for the Bucks! Aside from the stated concern of other schools being able to use this against us in recruiting, what if this kid doesn't end up developing? I've never seen anything on him before this, so obviously I'm just speaking generally, but there are hoards of 5 star prep players during their SR year who don't work out-let alone freshman! Again, I wish this kid all the success in the world-but why offer so soon?