UrbanBuckeye
---
from Columbus
Member since 17 June 2013 | Blog
Born and raised in Columbus!
Favorites
SPORTS MOMENT: Watching Ohio State take down Alabama, and then dominate Oregon. Unreal season!
COLLEGE FOOTBALL PLAYER: JT Barrett (present), James Laurinaitis (past)
COLLEGE BASKETBALL PLAYER: Jae'Sean Tate (present), D'Angelo Russell (past)
NFL TEAM: Cincinnati Bengals
NHL TEAM: Columbus Blue Jackets
NBA TEAM: Cleveland Cavaliers
MLB TEAM: Cincinnati Reds
Recent Activity
5 days before game 1... Not good, TG.
Lol. Why did I get a downvote? :(
North Carolina for sure. Have a family friend who works as an athletic trainer for some of their teams and he gets me free UNC gear every once in a while. Nothing like that fresh Carolina blue either.
Oregon is fun to watch because of their offensive scheme and their uniforms (hit or miss for me, but mostly cool).
Mad respect for the service academies.
Georgia Tech is a lot of fun with their triple option too. I would HATE being in their division and having to play them every season from a gameplay standpoint.
Even though Hugh Freeze is sketchy, I love Ole Miss for being a thorn in Bama's side too. Have a small soft spot for them.
Even though she's 3 inches taller than me and would whip my ass in 1 on 1, Elena Delle Donne is a cutie.
Watching Team USA women's hoops is like watching the UConn women. Does Auriemma ever get tired of winning?
This is literally one of the most laughable graphics I've ever seen.
The United States did not have LeBron James, Stephen Curry, Russell Westbrook, Anthony Davis, etc.
Pure dominance after a slow start. Will need the same effort to beat a solid Spain squad on Friday. Almost to gold!
Team USA men's hoop is winning, but man... They have not impressed on the defensive end the past 3 games. It's not a slam dunk (pun intended) that they win gold with this group.
I'm sorry... I just can't even... #Zone6 is busy getting ready to be the Best in America (on the Field... Not on Twitter)

— Zach Smith #Zone6 (@CoachZachSmith) August 14, 2016
Silver medalist lost by 11 seconds. LOL. That's just stupid incredible.
Disappointment: Noah Spence
Biggest recruiting miss: Jaylon Smith
Could potentially add Akers/Dobbins and Gill/Snead in a 2-cycle span. Is that good?
All of the upvotes. Well done!
Can Clark beat out Burrow, Haskins, Martell and (probably) Emory Jones though? That's a tall task. I don't doubt the mental side of Danny, but I am skeptical about Clark's ability to scramble. Unless he can be a bulldozer like Cardale was, he doesn't have a whole lot of value running the option. He'll have to develop more consistency with his accuracy too. Of course, that can be fixed with proper coaching and scheming. With limited spots in the 2017 class and Martell committed, I'm simply not sure if Ohio State is an ideal fit. That's where I feel for Danny. I can see both sides of it.
I'm torn on this kid.
He's a stand-up kid that you know will represent the program well. Has the physical tools (arm strength) to be successful.
On the other hand, you can't bring in a kid simply because of his character. Has to fit your scheme (in Danny's defense, Cardale did not exactly fit our scheme, but turned into a 4th rounder). I could see Clark gelling with Tressel's offense, but not Meyer's spread.
I simply think we took Clark's commitment way too early. To be fair, the staff probably did not anticipate Martell being available/so open to Ohio State as well. It's definitely complicated, but I hope Danny finds success no matter where he ends up.
My spirit animal in gif form. Hands down my favorite show growing up.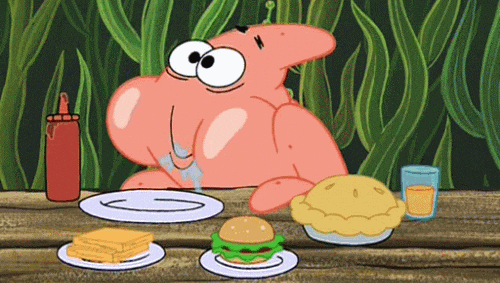 because I'm not a self absorbed millenial
Um... You do realize that pretty much every writer on here is also found on Twitter? Sooo... Are the Cavs going to do anything? Seems like they're using the "If it ain't broke, don't fix it" approach. Certainly could use a big man and another wing/SF.