UncleBuck
---
Member since 17 April 2012 | Blog
Helmet Stickers: 483 | Leaderboard
Favorites
COLLEGE FOOTBALL PLAYER: Troy Smith
COLLEGE BASKETBALL PLAYER: Aaron Craft
NFL TEAM: Bears
NHL TEAM: Blackhawks
NBA TEAM: Bulls
MLB TEAM: Cubs
Recent Activity
Is it knows what he tested positive for this time?
It makes sense if you don't think about it
Drinking and driving should not be dismissed as college kids will be college kids, and a 1 game suspension is a joke.
It seems like TG's spring break visits are going to be very quick and compacted. Hopefully he'll be able to take a nice long visit to OSU since he won't make it over spring break.
Also I'd kinda like to see what Sam Thompson could do at wide receiver.
Sam Thompson is not impressed.
MSU should be higher. I would take them over a lot of those other 1 loss teams.
UM should put in Shane Morris. That guy is gonna be Lefty Brady, but good before he gets to the pros. Also, he scores hotter chicks than Brady and will probably win more super bowls.
-Last year's scUM fanbase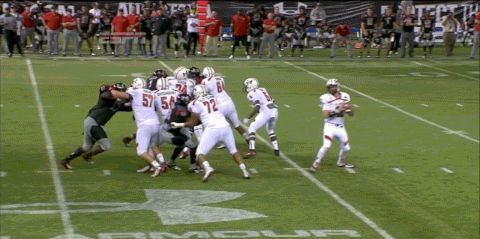 He's not the best QB in the B1G yet. That is ridiculous, still plenty of freshman mistakes. He will be the best QB in the B1G someday, but not this season and probably not next season either.
Aren't people at USC supposed to be good at that kind of thing?
Seems like the complete package.
What if Morris took a head coaching job?
Community reference... Best show ever! Six seasons and a movie. +1
Accidental down vote, sorry.
Are we aloud to down vote bad puns?
I kid... Sort of
Impractical Jokers is moronic, but hilarious.
Urban to Brady:
Whoever wins the matchup between Craft and Burke wins the game.
Great moments are born from great opportunity. And that's what you have here tonight, boys. That's what you've earned here, tonight. One game. If we played 'em ten times, they might win nine. But not this game. Not tonight. Tonight, we skate with 'em. Tonight, we stay with 'em, and we shut them down, because we can! Tonight, we are the greatest football team in the world. You were born to be hockey players—every one of ya. And you were meant to be here tonight. This is your time. Their time—is done. It's over. I'm sick and tired of hearin' about what a great football team the Soviets Tide have. Screw 'em! This is your time!! Now go out there and take it!"
Alabama=Soviet Russia
It must be difficult dealing with the constant questions regarding his grades. Overall, I think he has handled the situation with class. Hope he's a Buckeye, but best of luck to him whatever he decides.
This might be my favorite 11W interview ever.
The way I'm interrpretting this Braxton does not have a concussion. Is that correct?
Great to hear. Get well soon Brax.