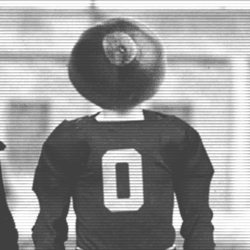 Ugly Hour Chazz Bear
---
Member since 27 July 2013 | Blog
Helmet Stickers: 118 | Leaderboard
Recent Activity
Why does the Big Ten make the endzones beyond boring for the B1G Title Game? Should be the same as the school's own endzone.
Guys they're adding 2500-2600 seats and permanent lights.
6am is the perfect time for a nice mimosa or screwdriver.

Personally I always went whiskey and coke.
It really depends if you're going to the game or not.

It really depends if you're going to the game or not.

Ohio State, Cincy, Xavier, Dayton, OU, Toledo, Akron, Cleveland State
Probably this and Indiana will be noon games I would assume.
1. VT: First home game of the year. 8 pm start. Been looking forward to this since January.
2. Cincy: I just really hate Cincinnati. Definitely top 5 most hated teams right now (until after we win by 4 TDs then I won't care about them really anymore. Just can't stand all my friends that go there that say UC is better.)
3. @PSU: HUGE road game.
4. Illinois: This will be a curbstomping.
Michigan should be more concerned about the football team than worrying about fireworks.

Winning puts fans in the seats, not fireworks people all over the USA see for free numerous times throughout the year.

You guys are crazy to think the Big Ten is the 2nd best conference.
The only Big Ten team that goes 12-1 and makes it to the CFB Playoff would be MSU. If they lose early to Oregon in a close game, they'll be okay as long as they win out (which would include wins over UM, MSU, and probably Wiscy or Neb in the B1G title game).
Every game on OSU's schedule the last 10+ years has been winnable.
Tressel never lost to bad teams (outside of Purdue in 2009).
And even if they were separately owned....the thought of King's Island even trying to sniff competition with Cedar Point is laughable.
Good luck to them both, but I can't say I'm surprised by this. I can see Ross trying to play in the D-league or going overseas, but it's just hard for me to see Craft continue to try for the NBA. I feel like he's better off going to med school and using his brain to make a paycheck.
Unfortunately he couldn't play on Centre Court, but he does get to go home with $78,000. Not a bad day.
I noticed a huge improvement. in years past I wouldn't be able to send out a text or get on an app to see other scores in live-time. Last year I could do both easily. It still killed my battery trying to get onto the internet, but it worked.
Just graudated from OSU, but I can't stand all of these student "fans" on their cell phone the whole time. You're paying 35+ dollars a game to look at your phone? Are you serious? I can understand looking at your phone during TV timeouts and halftime, but during the game, why is your attention not on the game? I actually enjoyed the stadium not having WiFi. People want stats? They show stats throughout the game on the scoreboards, pay attention. You want to see a tweet about the game? How about you watch the game and there ya go.
Also, people saying they don't want to go to games without Wifi is not sole reason. Paying good money for tickets when you can barely afford other essential things is hard when you have to see OSU play a terrible non-conference team. The reason tickets sold out this year is because of two non-Big Ten night games vs good teams.

At least Ohio is spelled correctly.
We would like soccer a lot more in the USA if we were actually good.
Don't get me wrong, I'm all for the USA in the World Cup. I watched every minute of that game and rooted for them. But it's soccer. Edge of my seat excitement? Ehhh...for 70 of the 90 minutes I was bored out of my mind watching that game. The only exciting parts of the game was when Ghana would actually get close to scoring, actual goals themselves, and when it was tied.
Soccer fans do chants throughout the game because when else would they? Football is completely different. Football isn't a constant sport.
edit: please get rid of the flopping, it's honestly a joke. thank you
As long as people are loud, then I'm all for it. Why are you sitting in the student section? Are you still a student?
I hope Urban runs it up on UC.