Twelven-OH
---
Columbus, OH (via Columbus, OH)
Member since 20 August 2013 | Blog
Helmet Stickers: 69 | Leaderboard
Voting Record: 0 / 0
Favorites
SPORTS MOMENT: In 2006 I was fortunate enough to attend "The Game (of the Century)" in which #1 OSU defeated #2 ttun 42-39 in a shootout victory, cementing Troy Smith as the Heisman winner. Possibly even better was during the Skull Session--#10 takes the microphone and states simply: "My name is Troy Smith." The arena went absolutely electric for what seemed like 20 minutes, and I don't think he was ever able to say another word--magical moment.
COLLEGE FOOTBALL PLAYER: Troy Smith
COLLEGE BASKETBALL PLAYER: Aaron Craft
NHL TEAM: Columbus Blue Jackets
NBA TEAM: Cleveland Cavaliers
SOCCER TEAM: Columbus Crew, USA Nat'l Team
Recent Activity
You might be onto something...
While I agree "seeding" provides some incentive, it's nothing compared to the importance of the last two weeks in the current format. Take OSU for example. A win vs. Indiana this week (or MSU loss) and we clinch the the B1G East Division. In the current scenario, we still have everything to play for vs. TSUN. With automatic qualifiers, regardless of the outcome of TSUN game (while it may have a small bearing on seeding), we beat Wiscy and we go to the nat'l playoffs. I never want be in a situation where I say "regardless of the TSUN game"...
Agree this would be ideal; however, there is no way we would be able to jump FSU. An alternative possibility, while still preserving the match-ups/bowls/traditions, would be: 1.) Oregon, 2.) Bama; 3.) FSU; 4) OSU.
My objection to conference champions gaining an automatic bid is the diminutive effect on the final few weeks of regular season games. These next two weeks of college football provide some of the most exciting and nerve-wracking viewing experiences in all of sports, with often teams playing for everything to lose. Concurrently, this is when teams begin to clinch births into conference championships.
If a team can guarantee a birth into the playoffs with a conference championship win, and has clinched a spot in their conference title, a loss in these final two weeks has little-to-no post season consequence (compared to now when entire nat'l championship aspirations are crushed year-after-year during rivalry week). It's the same reason NFL teams sit players during the final few weeks (not implying this would happen; however, why risk potential injury during the final two regular season games when they have no bearing on your chance at playing for a national championship?). Not to mention, it also diminishes the importance of OoC games at the beginning (and end) of the year--likely leading to less compelling scheduling. Finally, thus far, I have personally enjoyed the debates surrounding the top four teams.
and Carlos flying out of the backfield like a steamroller
yeah... psu, says so in the bottom left of pic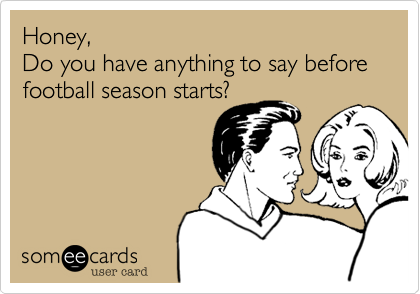 Seminoles opened as a 21 point favorite and were up to 22.5 last time I checked, appears the wise guys aren't quite as high on Miami as the polls...
Also, the final polls come out literally hours after the conference championship games... we'll have to get at least some of these discussions in earlier =P
have no idea why they keep saying 103,000... probably pushing 107k tonight! Go Bucks!
https://twitter.com/lowKeyG_13
ND @ scUM certainly not only game involving top 25, SC @ Georgia.. both top 11 (12) teams.