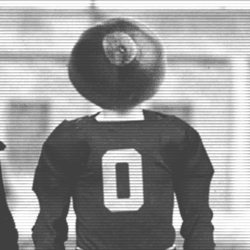 tussey
---
Ipswich MA (via Fort Wayne IN)
Member since 27 March 2013 | Blog
Helmet Stickers: 706 | Leaderboard
Favorites
NFL TEAM: Indianapolis Colts, Cleveland Browns
Recent Activity
There is a stiff arm at like the 8:40 mark that was just nasty.
There have been some great programs willing to do home and home in the past, however none of those have come from the SEC. My guess is that if we want to play an SEC power, we will have to do a neutral site game as a one time gig.
You really missed big time by not including Maurice Wells on this list.
Good for him, we all knew that the longhorns were a soft, under-achieving team. I mean it seemed like the past few bowl seasons someone was getting suspended or kicked off the team for run-ins with the law.
Jimbo coaches FSU, Muschamp coaches the gators
I, too, think this will be the best OSU team that Coach Meyer has fielded.
I agree as well. What is funny is that I remember listening to Colin Cowherd last summer say that '14 would be the year for Ohio State. I thought he was crazy back then, but I now see that his, then, outlandish claim has some validity to it.
field goals can make or break you in a tight game..
See Alabama
While I'm not ruling out the possibility that there was some exaggeration within the article, it is possible that there is some truth in it. I listened to a recruiting pitch when I was in high school that was contrary to what I had been taught and I was instantly turned off to the idea of playing football for that coach. It is possible that the kid responded negatively to the negative recruiting. He most likely has spent his football career in positive coaching environment.
I don't know if you follow recruiting closely or not but you should try and make it to a Bishop Luers game this year. Austin Mack is a junior WR and we are recruiting him to come to Columbus. Also fun fact the head coach of Carroll High School is a Buckeye. I'm pretty sure Doug Dinan was a walk on QB. (He was the offensive coordinator/QB coach when I played at Snider)
Not sure who gave you the DV but I agree with you. Urbs said it himself after the spring game. There were too many people who will be playing Saturdays this fall, not playing in the Spring game for us to get an accurate picture of life post-Miller.
I know there are a lot of Buckeye fans in Fort Wayne. I grew up in the Georgetown/Blackhawk area. What part of town are you residing?
Dang it DJ, I just wasted like 45 min reading that ridiculous article. Crazy that she did that.
Not currently but born and raised there
Thanks for the info M Man. I have always enjoyed your take on things here.
Well this sucks, especially since he will be missing out on his senior year.
Did he sneak up to Ohio and work out the Coach Mick all summer?
Apack, I think it goes both ways. Some of the holes that the line opened up, anyone could have gotten 5 yards
You read my mind. As soon as I saw "LA Steel" I thought of Zoolander.
but Devin hasn't proven much outside of his ability to run in a straight line really, really fast.
agreed
I think some of you are confused with what I was looking at, sorry for not being more specific. I was looking specifically at the 2014 rankings, not the current 2015 rankings.