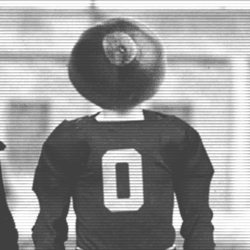 Turtlebuster
---
Member since 13 April 2012 | Blog
Helmet Stickers: 270 | Leaderboard
Recent Activity
Looks like he plans to announce next week....
3 TEs doesnt sound like alot of depth to me but yes the concern isnt so much for this season but next when OSU loses Heuerman. I think in large part the fustration is because OSU is missing on the top targets at this position...lost both Brenneman and Gesicki to PSU, Hentges to Bama and looks as though Clark is heading elsewhere...those are 4 of OSUs top TE targets over the last few seasons. OSU will land a good TE this cycle no doubt, but odds are it wont be one of the guys they have on the top tier. Combine this with the fact that OSU recruiting has the momentum of an anvil right now and alot of the guys going off the board were at one time OSU "leans" or at least ones alot of insiders had predicted in this class. Bama's class will fill up faster now as spots become a premium while OSU targets can wait it out because, well...there is plenty of room ...
Saw someone mention he will be back at PSU on Monday, and plans to announce on Tuesday....
Per Steve Wiltfong- UM leads Buckeyes for Chris Clark. Clark says players on the UM team and hanging out w/ them put them #1 ahead of OSU. Both will get a visit again.
My 1st guess was Josh Sweat...
I was kind of thinking the same thing.
Wiltfong tweeted that Burrow will be visiting OSU this weekend...
Do you think the delay in a offer will have any negative affects w Nick? I know some kids take it personal.
10-Drew Richmond
9-Jerome Baker
8-Tim Settle
7-Torrance Gibson
6-Rick DeBerry
5-Justin Hilliard
4-Jashon Cornell
3-Terry Beckner Jr
2-Shy Tuttle
1-SoSo Jamabo
Bama puts a bunch in the league...but many of them fail to live up to the hype...
If the kid has a real problem, you try and get him some help. (if he choses) He gets things in order, you welcome him back imo. If he refuses help, then you let him walk.
The 1st time yes...do it again and apparently you didn't get the message.
Does Clark get an offer fairly soon or is he someone that will have to wait til after the 2016 class is just about wrapped up?
Control the ball with our stable of RBs...they have 2 very good backs, but I think we have the best RB on the field (Hyde) and the ones behind him arent too shabby...
They like what they see, but not enough to offer at this time, correct? He may not be "settling" persay, but his isn't plan A,B,C or maybe even D. Its too early to worry about recruiting just yet, but it'd be nice to land one of our top tier guys...that goes for all positions but especially QB imo.
So are Harris and Collier the last 2 kids currently on our radar?
I could realistically see 8 of those kids in this class and probably another 1-2 that would not be shocking if they joined as well...
Prince for sure and perhaps even Knox now as well...id be curious if the Buckeyes have a legit shot at Lorenzo Carter, he could ease the sting of Hand going elsewhere...
This can't be real.....can it?
So....i heard about this turtle...