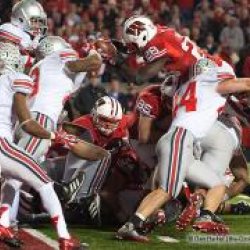 trock
Member since 25 November 2012 | Blog
Helmet Stickers: 585 | Leaderboard
Favorites
COLLEGE FOOTBALL PLAYER: Joey Bosa
COLLEGE BASKETBALL PLAYER: Shannon Scott
NFL TEAM: Dallas Cowboys
NBA TEAM: Chicago Bulls
MLB TEAM: Cleveland Indians
SOCCER TEAM: FC Barcelona
Recent Activity
Just heard Shazier posted a 4.36 40...any confirmation?
Uh oh, Herman said "get paid to do". Wonder how long till people start claiming OSU pays their players.
Are we allowed to bring back DT for the B1G and NCAA tournament?
That team also had Kemba...we don't have a player like him.
This team can't even make free throws. They need to change up the coaching or something because this is pathetic.
I think we all knew he would put up a fast time by the way he chased down players late in the year...saving touchdowns.
We need a Diebler 2.0, if this kid can do what Jon was able to do than I want him. I will also add I was never the biggest Diebler fan, but have realized how valuable he was.
Ryan Kessler is on the hockey team again.
Texting and tweeting is also easier for high school recruits. At that age, kids aren't the best at speaking and texting allows them to think about what they want to say and how to respond to something.
This is funny since it just came out that other schools would use Michael Sim being gay to negatively recruit against Missouri....and yet the B1G, who can't recruit is using dirty tactics.
Amir has actually been playing pretty good basketball of late. He isn't where we thought he would be when he signed with OSU, but he hasn't been the reason we lost.
I've always said it's hard to be a good coach and be overweight. How can you push your players to be the best and work hard when you are 350? There are exceptions, but I have to agree with coach James Franklin's thought process about coaches and their wives.
I could listen to him talk all day long.
Lord help Amir if we played UK.
Take a look at all the teams in our region from last year. It was loaded.
Crazy what two top-25 wins can do. I believe we were either an 8 or 9 seed and now jump to a 5 seed. Now we just have to finish strong and we have the talent to do it.
WHAT? This coaching staff obviously can't recruit. This 2015 class is going to be horrible.
Where is the scholarship grid located?
I like the new site because everything is still easy to access.
I'm still upset they stole the Glenville trio.......oh wait
I may be in the minority, but is anybody else sick of hearing, "we won't redshirt"? Heard the same thing last year.
Welch won't be wrestling tonight