TraSmith4
---
Member since 20 January 2014 | Blog
Helmet Stickers: 8,742 | Leaderboard
Voting Record: 4297 / 181
Favorites
COLLEGE FOOTBALL PLAYER: EDDIE GEORGE
NFL TEAM: MIA
NHL TEAM: NYR & CBJ
NBA TEAM: CAVS
MLB TEAM: NYY & CIN
SOCCER TEAM: MAN U * C CREW FC * USMNT
Recent Activity
I'm pretty sure they know about Ohio State in California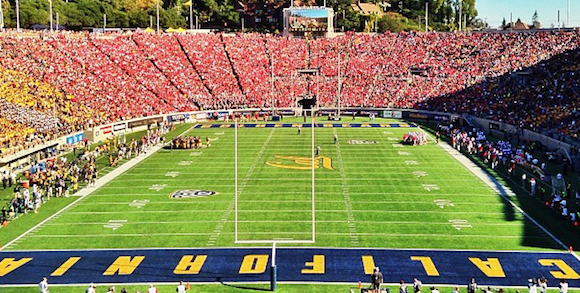 Basically we said no thanks to a kid who just became that schools 3rd highest rated commitment.... yep it's good to be a Buckeye!
When you get a hundred upvotes yourself you will have a light bulb moment ;)) Welcome aboard and stop cutting down cherry trees!
That's why you go out and sign Mo Williams and have Delly ready to do what Delly does.... not even worried!
See what happens when you ASSUME things Oyster!... my 7th grade History teacher always had a saying for assuming.
Don't worry you youngsters will understand 20-30 years from now when you are complaining about the crappy music coming from robots and the residents on Mars while defending your Skrillex, Avicii and Drake against them.
Actually the VT kids will be too scared to do that because they would get fined $100
I'm sure that recruiters from other schools going against VT for a player have just totally ignored this
So you weren't interested to see where he (realtor) was going to go with that? I'm guessing had the realtor been female maybe you would have stuck around a bit longer? As far as you having DJ thoughts floating around in your head I have no thoughts about that other to say I'm sorry.
It's more than a lean when he doesn't even have a committable offer from one of those teams... so any booms will be on another very pathetic blog site.
I like DJ I really do but it's to the point now where I just ignore anything he says about music or Derek Jeter and remember to tell myself that hey this is a cat lover talking here. I mean every time he talks music he digs a deeper hole lol and he just keeps on digging and digging... smh... just smh
Get better soon and come back stronger Noah and Bud Foster you sir are an idiot!
One Psycho backing up another Psycho.... not surprised.
If you watch Urban's press conferences sometimes you can get a vibe from him as to a few players who he has a soft spot for and Noah always seemed to be one of those guys. I guess we just wait for an announcement now and let Birm and the staff fill us in. All we can hope for now is a full recovery for the young man.
I agree with you this seems more than just one of those "next man up" moments. After seeing what Paul George recovered from (would have ended career back in Joe Theisman's day) I'm hoping with today's medical technology this becomes just a blip in his life and career but right now the vibes are not good.
Zach Smith just tweeted as well.... def sounds like a member of Zone6 and probably NB.... def keep whoever it is in our prayers as you don't just shut everything down like that for a normal injury.
Yeah just ask all of the winded and out of gas 6'5" 350lb Bama lineman how that worked in the Sugar Bowl
If Mack stays healthy he will keep climbing up the rankings no doubt the kid just looks different from everybody else on the field. The level of HS talent in Indiana has risen dramatically over the past few years but yet Indiana and Purdue continue to whiff on these guys every year. They can't even pull away Noah Wezensky (Mack's QB) from Miami of Ohio.
If you have the ESPN radio app on your mobile device it's already been archived and you can go listen to it now.... it is quite entertaining lol
Why does DJ liking the Bee Gees not surprise me....
Love the Evan Spencer block tidbit makes it even better and it was already legendary!
I'm leaving off shows that aren't on Netflix so my fave Vikings is missing
1.Peaky Blinders
2.Daredevil
3.Hell on Wheels
4.Justified
5.BBC Sherlock
6.Transporter (Movie spin-off)
7.Psych
8.Longmire
9.Graceland
10.Burn Notice
11.White Collar
12.BBC Top Gear
13.Firefly
14.Halt & Catch Fire
15.Mad Men
16.Chuck
A Miami fan who actually cares!!!.... refreshing :)) There is no way Hillary won't be brought into that report and there is no way it will be SFW.
I think Art is going through his punishment right now and it's not over. He is beloved down there in TX and right now he is being raked over the coals. I am pretty sure that will be the last time he will ever accept a transfer with issues. The sad thing is that none of this helps the victim who absolutely should sue the school but I think Art survives the whole situation.
My problem is this if it were one of the players who did the exact same thing as Sark punishment in some form would have already been handed down and we would know about it. These guys (HC's) who are grown ass men are being paid millions to be representative of their schools integrity and practice what they preach to these kids. If I am one of the USC players it seems pretty damn hypocritical if he gets off scotch free and anything he preaches from here forward will just ring hollow. I'm not saying suspend him but Pat should hand down some form of punishment and make the team very aware of it. Going through a divorce does suck though but still not an excuse for what happened.
Jarrett who??.... don't even care. We got our guy!!!