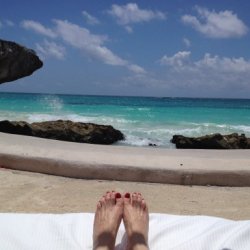 tracyre
---
Member since 01 September 2012 | Blog
Favorites
SPORTS MOMENT: Being in the Shoe when i was 6 for my first game against Wisconsin. With my Dad. That was the end of that. I have bled Scarlett and Gray since. The other was watching the boys play in AZ in the 2002 game...AH-MAZING!

COLLEGE FOOTBALL PLAYER: Eddie George
COLLEGE BASKETBALL PLAYER: Jim Jackson
NFL TEAM: Browns and Skins (husband!)
Recent Activity
Love seeing that our guys really are being taken care of the right way. This is a 360 program on hyper charge.
LOVE IT
With all due respect can't have one without the other. If the head/the heart isn't right the job won't be either.
What a shot. Miss those Midwest spring storms. Reminding the team to keep going!!
Mos def. Unlike Shawn Wade's role, were talkin the main man. Must fill with best. So get it lined up.
What a great article!!! Thanks so much! Love to see this kid crush it!!!!!
BeCool...I think you're on to something there. He's tough as nails and did a great job. He's young. I remember EE when he started, he wasn't the star he became. Not saying Weber will be, but he did great and is gonna have a good year.
Shut up!!! Watched season one with hubs. Great season, the Rock performance was excellent, Ricky too!! No idea about Denzel. Happy to see Eddie. He did great! Have to dive into Season 2 stat!! Thanks for the 411 guys!
Keep going AB!!!!! Sending you lots of good thoughts...
This post is awesome.
that is all.
Wrong Louie!
Here's a chicks POV, and in the age range of the fiancée...RUN.
The threats to harm herself - AND then blame you? And at 42...i couldn't ever imagine behaving that way. Straight up. It's either alarmingly childish or its deeply vindictive and selfish (and bananas). either way for a 42 yr old, that ain't good. And my husband drives me nuts at times. Trust.
Marriage is a long road. It doesn't get any easier as the years roll. So if you're gonna do it get a good one. Because she's showing you her cards. And I agree that it will repeat, perhaps the same or some other version.
i just heard this phrase today from Maya Angelou "when people show you who they are, believe them the first time." I'm sorry dc28...shitty as you obviously had something deep enough for $$ on a ring, but the universe is speaking to you. I don't have all the details but the kind of behavior is no bueno under any circumstances. Good luck.
Just heartbreaking. It's hard to wrap my head around how a vibrant life is cut so short in an instant. I've thought many times what it must have been like for his wife...had that been my husband and I'd have witnessed that...I don't have words.
no words for any of this.
Tressel...will always love that man.
Winner here. He's got a strong right and left hook today!
flat out underrated. That guy caught almost every, single ball that came his way. Sure hands...
exactly what I thought, above...no confidence.
YUP. The fact this kid chose Kentucky over OSU, Alabama, etc makes me question his confidence. Does seem like this kid can handle the truth for much.
Good for him, but lame commercial!! Could have been so much better!
Double that sentiment! 90-94 had some GREAT times on S. High...it was real and honest. No brands, no sanitized corporate crap. My night wasn't brought to me by Panera Bread - but by Mustard's or Heidleberg's...
THIS!!!!!!
So the lawyers make all of the $$ and she's left with a small percentage too...excellent.
Couldn't LOVE this more...Amazing.