tommrkr
---
Columbus, OH
Member since 09 November 2011 | Blog
Helmet Stickers: 961 | Leaderboard
Favorites
SPORTS MOMENT: 1998 UM/OSU. My first three years at OSU were marked by devastating losses to Michigan. 1998 we were riding high until the MSU game and expectations for the Game were at an all-time low. We won, I rushed the field and took home some turf, planted it and kept it alive for a few months, which is longer than most of my relationships at the time.
COLLEGE FOOTBALL PLAYER: My college roommate and backup long-snapper extraordinaire, Kevin Loadman. Close second would be Ed
NFL TEAM: Steelers
NHL TEAM: CBJ, I guess. I'll take college/minor league hock
NBA TEAM: pass.
MLB TEAM: Reds
Recent Activity
I feel you..

Maybe it's our way of embracing the "dark horse" concept. :)
Having done a fair degree of photo shoots and video shoots, I can assure you that setup is not accidental. At the very least, the office would be cleaned and all paper just laying about would be cleaned up.
IMHO, either of these scenarios is most possible:
1. UFM is trolling the internet hardcore.
2. This is a "trial balloon" to see if people will salivate over black uniforms or break out the torches and pitchforks. If (enough) people love it, it launches due to popular demand. If the crazed mob shows up at the WHAC, they just say "oh, that was some prototype pitched to us by the greedy marketing bastards, we would NEVER deviate from Pantone 200 and 424!" (the official shades of Scarlet and Gray if you will)
I would personally LOVE to see these against PSU, though it sounds like that has been essentially ruled out. Talk about calling out the "white out" If I was a player, it would add fuel to the fire and another opportunity to throw an FU at the Nits.
new poll question:
Regardless of jersey color, should we adopt codpieces and bowler hats?
perfect response to a whiteout... :)
http://brand.osu.edu/color/
for whatever reason, i see these uniforms and think
Blinders? Huh?
I said they look better and are improving from game to game. Yeah, we lost to the damn castrated turkeys, but setbacks do happen. We are moving in the right direction, so I trust that he's doing the right things.
Actually, I don't even know what this poll question means. Trust him to what? Never lose again? Never allow a third down conversion? What exactly is his measure for success according to the fans?
Maybe, just maybe, I'm the one who is relaxed because I'm not giving myself heartburn worrying about what appears to be a positive change on our defense.
And I'm positive that more than half the people who are grumbling about waiting for November 8 will just move the goal posts to The Game, then B1G Playoff, then whatever postseason we may be blessed to enjoy, until we eventually lose and they can say "Well, I never trusted him anyways!"
Also, why do you need a Corvette if you already have a Hummer?
Touché.
I couldn't find a 1910 uniform, but here's 1913.
Black is really a throwback uni...
Ugh, Just a shameful use of non-serif font.
Do some of you people apply this same level of thinking to your own relationships?
My kid made the honor roll, and brought hom an A on the math test, but I won't say he's a good student until his senior year when the Harvard acceptance letter arrives.
My wife gave me a hummer, cooked me a steak and let me watch football all weekend, but I'm withholding judgement until she approves the corvette.
Christ on a pogo stick, people. We're winning, the defense looks better and is improving from game to game. You're basically just saying that unless there is perfection, he is unworthy. Well call a voodoo priest and exhume the body of Woody Hayes so you can question his ability in the big games.
It's very hard if you've never, you know, tried to understand.
In a previous job, I purchased a fair amount of computer supplies from him. John Chubb. This was early 2000's, pre-buck-i-guy.
my biggest worry is Bosa having to come out for a play or two because he has a piece of hackenberg stuck between his teeth. aside from that, i think we roll 77-0. :)
if it makes you feel better, the same shitty world your parents brought you into. and the same shitty world they were brought into... etc.
Best of luck to him on his next journey!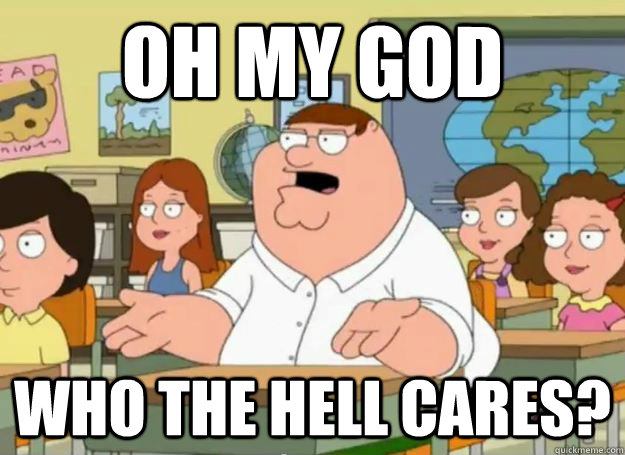 says it all.
I think this is a clear-cut case of "don't hate the player, hate the game."
I hope we hang 100 on those bastards and then kick them in the nuts while they're down.
1998. Never forget.
This is the number one reason I hate bye weeks.