Todd-Not Boeckmann
---
Lakewood
Member since 30 August 2010 | Blog
Helmet Stickers: 909 | Leaderboard
Voting Record: 250 / 108
Favorites
SPORTS MOMENT: My children jumping on my back and knocking me off the front porch into the snow and then making snow angels with them while singing The Buckeye battle Cry at the top of our lungs after beating Miami for the National Championship
COLLEGE FOOTBALL PLAYER: All Time: Chris Speilmann and Jack Tatum
NFL TEAM: Da Browns
NHL TEAM: meh. Rather root for the Crew
NBA TEAM: Cavaliers
MLB TEAM: Da Tribe
SOCCER TEAM: Stoke City, Columbus Crew, AFC Cleveland
Recent Activity
Patience Grasshopper. Have faith that all three are certified weasel killers.
Ummm, you didn't see JT stepping into the pocket as the season went along?
Personally, I'd like to see whomever Urban picks play QB this year. I win no matter what. Each one brings something different to the table, but I trust (I was going to type the initials for Coach Urban Meyer until I realized that THAT really wouldn't work LOL) Urban will get it right. He certainly knows more than we do.
I keep mine hidden under the cat litter box. Since the kids keep forgetting to clean it, I figure sticker thieves won't go near them.
Jim Capaldi
Duane Allman
Richard Wright
Rick Danko
Except that Cardale and friends brought something back to Ohio before LeBron did......a Crown.
I was there every year during the dark years of the 80s and 90s. I hated the trip. But after making that gawdawful drive back down 23 to Toledo and the Ohio Turnpike so many times, I lived in fear that if I quit going, I would miss the glory of Marcus Halling the whole stadium while singing over and over "We Don't Give a Damn". Then came Uncle Jimmy.
I never used to take my wife to the games because I spent enough energy protecting myself from the weasels. Finally, she wore me down and convinced me I was old enough to not get into trouble any more. Of course, this was 2001. After that, I forced her to go every year. Until my Dad died and I no longer had access to official seats. But I was satisfied, that by then (after the 2007 game), the weasels nation was permanently bludgeoned into Indianaville.
You now owe me for a new keyboard. You win the internet today. Everyone else go home.
I've always found CSN&Y way too far to one side of the spectrum for me. And they always use this as a song for the futileness of the military. But you have made it a beautiful tribute to our fallen. Good job. <SALUTE>
Just don't shoot for November 25th. Because then, None of us, especially Ramzy, are coming.
for comparison's sake, Jim Harbaugh has yet to land a Top 50 commitment at Michigan.
Nothing DJ has ever written has given me as big a smile as this!
13-0
Purdue never sniffed the endzone.
The Wire is on Amazon Prime, as all old HBO shows are. THE finest TV off all time.
Another show from England I really liked was Foyle's War. The first season starts in 1939, and based in Hastings, gives you a really interesting look at how the English coped with the idea that Hitler was only 20 miles away across the channel and probably coming. Foyle is a police superintendent. Really well done show.
Netflix starts and ends with House of Cards. Kevin Spacey is AWESOME.
Another one that Netflix is turning into a Netflix original after being on A&E for three seasons is Longmire. Great psychological crime drama.
Here's a fantasy for you:
there's 8:00 left in 4th qtr. tOSU leads the weasels 63-0 as 2d team QB Cardale Jones is 3for3 for 140 yards and three touchdowns. (He also steamrolled Jabril Peppers and knocked him out on a QB scramble for 25 yards).
So Urban, feeling sorry for the one fat coed in yellow that refuses to leave despite her tears of rage, decides to put in his 3rd string QB....Braxton Miller. Who promptly takes it to the house against the second team stripe head defense on his first read option play.
Jim Harbaugh's head explodes.
Well written. Great production. Great Acting. For me though, the parts are greater than the sum. By the last two seasons, I was watching to see the ending, but wasn't enjoying it at all.
One of the greatest opening lines to a song ever written.
Just to prove that somethings never change, that tragedy was perpetrated partially because outsiders and professional rabble-rousers burned down the ROTC building as well as part of downtown Kent. Unfortunately it was innocent students and bystanders caught the brunt of it. I had friends that were there. one still insists that no one around him was a Kent State student.
They probably would have played one year together., At some point, Oden would surely have been forced to take a medical redshirt
Well, since Harbaugh played for Bo, he's just a weedy/stumpy branch of the Woody tree.
Goes back to one of my core beliefs about football....Play Calling is overrated and execution is underrated.
In No Order:
Tombstone
I use this one ALOT!
2. Bull Durham
3. The Holy Grail
Who would put a tollbooth in the middle of the desert? Sombody go back and get a shit load of dimes!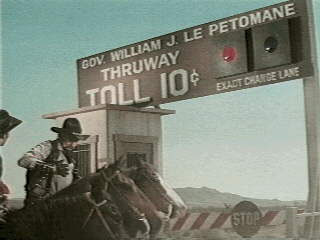 That was my third school trip to Gettysburg. Our school goes there every other year, so every kid ends up going twice. When I stand on the top of Cemetery Ridge and look out across that field, dust gets in my eyes too. And to stand on the top of Little Round Top, and look down into Devils Den; realizing that that Plum Run down there ran red with blood is a very sobering experience.