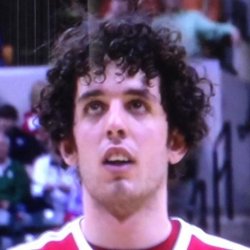 TobyMagic
---
Member since 21 July 2013 | Blog
Helmet Stickers: 166 | Leaderboard
Favorites
SPORTS MOMENT: Evan Turner smacking a half court shot to beat Michigan
COLLEGE FOOTBALL PLAYER: Braxton
COLLEGE BASKETBALL PLAYER: Aaron Craft
NFL TEAM: Cleveland Browns
NHL TEAM: Detroit Redwings
NBA TEAM: Detroit Pistons
MLB TEAM: Tribe
Recent Activity
I'm with you DJ.. Truck balls are terrible
Ron Swanson is auto up vote
Bought my wife a pro combat #2 and she was 'stoked!'.. It's been on the same hook in the closet for 2 years.. Apparently it's not even hanger worthy to her.. It's one season away from being re gifted..
Hope Lebrons schedule is cleared..
We know Urban loses on guys he wants annually. A lot of time losing sticks with you more. While you're proud of a class you wish it had those 3-4 guys that you missed, and probably would've made you #1..
No mention of Russell? Besides the TO's (based on the BS) he played flawless..
Excited to see Kam, can't go another year without shooters..
I don't understand this culture, and I know it's not just professional athletes.. But how does this happen? It's not an option, it'll never be an option.. Take a deep breath and walk away..
I just watched all those replays on BTN yesterday. I get what you all are saying but it's hard for me to say anything positive about anyone involved with our defense..
However, I believe defenses are really at a disadvantage in today's game and I think they're still in catch-up mode across the sport. Especially when facing an offense like our own.
We've been spoiled with outstanding defensive units in the past. Hopefully this group (coaches and players) can put together a unit that can takes us to Indy and beyond..
Great to hear we'll be one of his officials! Really need UFM to close on this kid. He'd be a huge recruiting win, type of kid that makes a QB look great..
Really excited to see the fresh faces.. Hope D Russ can be an elite guard right away.. Hope Marc Loving had (is having) a great summer.. Bigs need to take a giant leap, all starts now! New year, new team!
They've been talking up this rotation of D linemen which sounds like a logical way to promote production and health. My only concern is how you plan on doing this with up tempo offenses setting even loftier (number of plays) goals annually.
I don't doubt LJ and defensive staff can do it, I guess I'm just excited to see it in action.
I like the Ibaka comparison. This fiilm makes me nervous. I get his strengths are finishing and protecting the rim but I want a back to the basket scorer. Our program has had a lot of success with bigs that can create and I'm always expecting/hoping to see the next.
Wonder what the U17 staff didn't like or didn't see that left him off the squad..
Still excited he's a Buck and can't wait to see him play next year. Hope Oak Hill has a lot of nationally televised showcases.
I think Urban is just keeping certain units on their toes. We know he's not afraid to praise certain groups for different things (focus, work ethic, trust, togetherness, etc..), but he needs to see it consistently on Saturdays. The off season work needs to translate into tangible production.
I agree with Spielman on the fact that the line will make the unit better. I loved playing linebacker in a 5-2, see ball - get ball. Once I got older having people in my face changed everything. Wasn't until I moved to safety I truly understood how linebackers need to read keys to put themselves in position to make plays. If one or more of our thoroughbreds up front demands a double team, watch out.
The D lines dominance should and will hopefully have a 'trickle back' effect and make the whole D dominant.
I think as long as the 'gurus' and coaches technique beliefs are aligned there isn't much of an issue. From my experience coaching; 2-3 coaches can be preaching the same thing but one will use verbage that just makes things click.
Plus going out to (stay classy) San Diego in Braxton's case must be a pretty cool way to get away while maintaining focus on his goals.
All I can say is wow.. Precise route running, gets great separation and appears to have excellent straight line speed.
At 6'2" - 205 he's the type of athlete we need on the outside. Hope UFM can close on this kid.
I know there's only 3 stars next to Tyler Green's name but I think he's got what it takes to be special. Seems to want to work out and learn at every opportunity. Excited for his future..
Seems to play the ball great in the air. Looks like if he cleans up his route running and gets a year or two with Mickey the sky's the limit.. Great to have him, can't wait to see him in S & G!!
Seems like our class could have a lot riding on the live commits during the various All American games..
Reading through his mentions, RTs and favorites makes me think the 'How not to be an asshole' article needs to be auto posted to the home page before or immediately after any major recruiting events. Twitter is interesting source of info but man I just don't get why people (including our own) tweet these kids.
Would be great to see this class finish on a high note and add some of these big fish. Always excited to see guys who earn and accept offers at camps but mix in a couple of these 'freaks' that are left and we could have something special.
Can't wait to hear more about this kid and his story.. Welcome to Buckeye Nation Josh!!
How do you think Scott Van Peezy got to ESPN and is now one of their most prominent anchors? Two words: Tiger Woods..
He was in the right place at the right time. Rode the Tiger wave all the way from a shot caller on the Golf Channel to the top and I'm sure he's not the only example.
Good for both of them, cheer up; you'll live longer..
Getting this kid on campus could have a huge impact on this class.. A talent (at least rated talent) like this could get us back in on some of the top tier skill position guys.. Unfortunately If he does chose tOSU it might be too late in the process to have any real impact.. But TG, Sweat, DH and Burrell (sp?) are the guys on my wish list.
Maybe my life isn't so bad..