TMac
Akron, OH
Member since 25 January 2012 | Blog
Favorites
SPORTS MOMENT: Any time I'm in the Shoe! - But my most memorable experience was 1989, Cavs v Bulls. I was a season ticket holder, and the 5th game of the playoff series was the most electric atmosphere I've ever experienced. The crowd was nuts from 15 minutes before the tip until "The Shot" ripped through the net. At which point the Coliseum was completely deflated. I don't think the lead was ever more than a few points either way, Classic Game with a defining moment.
COLLEGE FOOTBALL PLAYER: Of all time, Archie. Today, Braxton
COLLEGE BASKETBALL PLAYER: Of all time, Pistol Pete. Today, Aaron Craft
NFL TEAM: Browns
NHL TEAM: Red Wings
NBA TEAM: Cavs
MLB TEAM: Indians
SOCCER TEAM: Akron Zips
Recent Activity
Talent - YES
Chemistry/Mindset/Maturity/Desire - TBD
I always thought this energized the whole stadium.....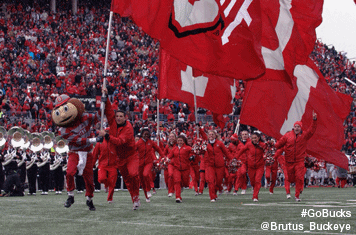 Malzahn has a much better shot at coaching in one or both of these games. Franklin has a year maybe 2 left at PSU before they decide they need to go another direction to compete in the B1G east.
Martell is recruiting 4 star athletes too?
Reasons to Pick CAVS - 2 true road games, against the best regular season team ever, and pulling off something that had never been done before in the history of the NBA
Reasons to Pick the BUCKS - coming from out of the picture to Crush Wisky with a third string QB just to get into the ultimate underdog position, and then pull off huge W's twice more. to win the first ever CFB Playoff.
Both EPIC, and whichever you prefer is supportable. Ohio vs the World!
"Leaving" was an issue because he is a NEO kid, and because of the public spectacle of it all. Otherwise - what 20 something gazillionaire would rather spend February in the CLE rather than South Beach? Ultimately it works out pretty well for the Land, but the "decision" also added to the losing legacy that was Cleveland pro sports until Sunday.
That chase down block is epic! The trey is cold blooded. You need both to get the ring.
tSUN logic - Draw a bigger circle and include more sports = lump in 100+ year old records and September Heisman's to make yourself relevant
It's not revising so much as updating. I was at that game in 1989, game 5 of a 5 game series, probably the greatest game I've ever seen live. Like Sunday, it was a close game from the tip and the coliseum was rocking throughout. Immediately before the shot Lenny Wilkens designed a great inbounds play, Elho passed it into Nance at the Elbow and followed the ball taking the hand off from Nance for a driving lay up to go up 1 with 3 seconds left. Without that game, and all the rest Sunday isn't as sweet. Don't forget the past, it's how we got here, it's made us the fans we are. The tens of thousands at the airport, behind fences and hopelessly far away, but there, or the thousands lining LBJ's street here in Akron even later, swarming his van, just to be close to a part of history.
Go Cavs!! Tribes up next!
With a kermit sipping tea hat
LEGEND
Cavs Win, B1G gets richer - it's a Great Monday!
Maybe Les needed some grass from home (Elyria) to chew on
The Cavs can and should win on Thursday. Sunday they will need to play with the fire they played with last night to have a chance. Barnes won't play that badly and GSW will have Green back - History could be made - or repeated - which would be soo Cleveland
I think UFM & Co think in terms of having kids for 3 maybe 4 years, and not 5 years like some schools. If they deserve PT in September, they'll be in, but they have to lose the stripe first.
Navy - as Ramzy said; GS is better
Golden State is better, and they get whistles for touch fouls and they get away with hacking the shit out of Cleveland. But still, better.

— Ramzy Nasrallah (@ramzy) June 6, 2016
We've got a great chance for the W if we score over 35
NBA is a matchup game, and GS is a nightmare for the Cavs roster. Oh, how I wish OKC could have finished......because they can't finsh
20 years and I'm still waiting for the Browns to return
Rough math - 70 snaps x 11 players x 14 games is , 10,780 snaps. So those losses are about 60%, give or take
"He's far, far, far from a finished product, but he's a different kid than he was three years ago."
That's two fars from having a breakout year..... I'd had high hopes when the fellow Akronite signed to be a Buckeye, but...