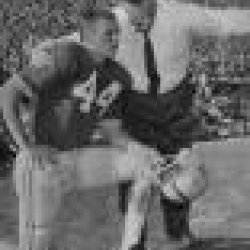 TLB
---
Member since 30 August 2010 | Blog
Helmet Stickers: 1,535 | Leaderboard
Favorites
COLLEGE FOOTBALL PLAYER: Archie
COLLEGE BASKETBALL PLAYER: Mitch Haas
NFL TEAM: Steelers and Lions
NHL TEAM: Devils.......and Jackets
MLB TEAM: Braves
Recent Activity
Browns should never have cut LeBeau. ......55 years ago
I believe it is Woody Hayes Dr and Olentangy River Rd.
It's not just Slive, Delaney has hinted at it in the past. Nothing but pure greed
Yeah, fits a need and he's a 3 down player, which I don't believe Mosley will be. We thought they'd go DB but he must have been the highest rated player on the board.
you guys should be watching NFL network. Mayock is the best analyst
Who is old? Timmons? rest are fairly young
I hope some other MAC school hires him and he schools em.
The SEC is an absolutely turrible basketball conference but with the backing of the 4letter pimp, they will not be that way for very long.
Not sure I can follow the last rule, but I will give it some effort.
should have left Craft on the bench
myabe it's a good thing they aren't calling fouls on them. no FT from us
thats a foul or jump ball
nice play Q
they have no fouls this half
what are fouls this half, 5-0?
said it before. that little official doesnt like craft
B1G takes a lot of heat for low scoring games but the SEC and ACC aren't exactly lighting it up
yes!
I'll take it. They are so gripping
we're so bad. but why do I still feel like we are in it?
again miss the shot when fouled
still think we should take the big man out and go small
cbs sports.......but you might not want to watch