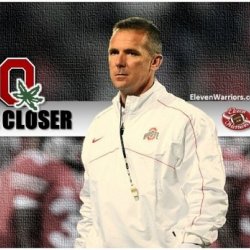 TimmyZ
Member since 20 August 2013 | Blog
Helmet Stickers: 149 | Leaderboard
Favorites
SPORTS MOMENT: 2001 Bowling Green at Northwestern football game. I was a sophmore at BG and Urban Meyer was our football coach. 30 seconds left in a high-scoring shoot-out and Urban goes for two with an end-around to a WR from Alaska. Ballgame.
COLLEGE FOOTBALL PLAYER: Ever? Eddie George. Current? Zeke Elliot
COLLEGE BASKETBALL PLAYER: Aaron Craft
NFL TEAM: Browns
NHL TEAM: CBJ
NBA TEAM: Cavaliers
MLB TEAM: Reds
Recent Activity
we haven't had a commit in, like, 15 minutes. WHAT's GOING ON URBAN?!?!?!?
All the more reason to GIVE THE FUC*ING BALL TO CARLOS HYDE in the 4th quar... Goddam it I'm depressed again....
I also thought I heard they were getting out of that realm.
Pure, yellow-cake Pantonium.
The new design looks amazing! Congrats to all involved in it's development and inception!!
Looks like it's signed by someone.. My guess would be Dunlap. I think Reggie Nelson plays for them as well.
We can, but I think Obama has enough to deal with, such as the petition to get Bieber deported.
Maybe, but I can't pick them out on the schedule.
I've never seen an Ohio State team give up full-court, straight drives to the hoop with the raw efficiency that this team is doing. I looks like a lay-up line out there half the time. Teams in years past, that weren't great scoring teams, could always hang their hat on defense. I have no answers at this point.
I was so disappointed with the way this season ended. Then I come to this fantastic (and free) site and read about all the upcoming players/recruits/positions battles/etc and I get all tingly inside again. I can't wait for spring ball to see how these position battles shake out.
The staff of this site does an incredible job bringing us up-to-date and exciting info on a daily basis. Kudos to you fellas. GO BUCKS!!
Do they play Pitt in football every year?? I would think you'd have to play a team on essentially a yearly basis to be considered a rival, not just proximity.
I think the Fast and the Furious franchise has come to a screeching halt.........
too soon???
me neither. Sounds made up..... like Art Vandelay
I thought I had heard that they were moving Bogard (and Daron Lee) to Linebacker.
I always assume Urban walks into a recruits house carrying an old-school Boom-box on his shoulder, blasting "Enter Sandman."
upvote if i could. i love me some good snark.
this deserves mass upvotes, IMO
He LB's coach for the Vikings. Was DC for a few years, then went back to LB position coach.
He's only been here since the spring. True freshman. But your point is valid.
Is it just me, or does Jae'Sean Tate's jump shot look like he's unfolding a rusty lawn chair?
Yeah, I'm guessing everyone was just mesmerized by the pipe.........