Tim
---
Columbus (via Cleveland)
Member since 30 August 2010 | Blog
Favorites
SPORTS MOMENT: OSU beating Miami for the National Championship
COLLEGE FOOTBALL PLAYER: Braxton Miller
COLLEGE BASKETBALL PLAYER: Current: Jae'Sean Tate
NFL TEAM: Browns
NHL TEAM: Blue Jackets
NBA TEAM: Cavs
MLB TEAM: Indians
Recent Activity
Dan Dakich's game summary: Marc Loving, a lazy no-good player who doesn't try hard enough but could an Evan Turner-like player if he would just try, shot way too many free throws because the officials hate Penn State. The fact that Loving scored 24 points and played a huge part in Ohio State's win is irrelevant.
Go Braxton! Glad everyone else is acknowledging what we've known since 2011.
Stanford lost to #20 and #22. Ohio State lost to #6. Stanford should not be ranked higher than Ohio State.
Tim Beck is probably going to lobby for lots of sprint out 3-yard passes to exploit the depleted ND secondary.
I was accepted into Ohio State and Notre Dame, and although I never had any doubt in my decision, choosing Ohio State was best decision of my life. I studied engineering and had a great job lined up months before I graduated (also, Ohio State's engineering program is rated 20 spots or so higher than Notre Dame's, for those who care about that sort of thing). I'm not surprised that you used the word "historically" in your comment since that's what Notre Dame fans do, but falling back on the old academics argument doesn't really work anymore.
I know the 2006 Fiesta Bowl was in Tempe and this one will be in Glendale, but I'll be interested to see if there are any lingering Notre Dame defenders still trying to figure out where Ted Ginn went on that reverse.
I thought the same thing -- when I think about the best players this year, I think of Elliott (obviously biased), Fournette, and Cook (hurt by injuries but stats like yards per carry make him look amazing). McCaffrey is like a volume shooter in the NBA who scores a lot of points but isn't even really close to being the best player in the league.
Keenan Reynolds has had an amazing career, but the Heisman isn't a career achievement award. I would've been fine with him being at the ceremony, but he had a game in Philadelphia today, so I'm doubting he'd want to go straight to New York after the game.
Stanford football is a cut above other programs. That's why if Stanford loses two games, it's better than losing to one team that is superior to either of the teams to whom Stanford lost. I also heard that Christian McCaffrey had a large number of all-purpose yards this season, so it must be an oversight that he was only listed once.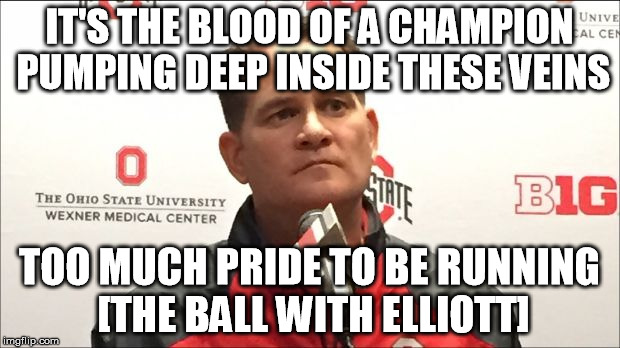 I guess it hurts Elliott that Ohio State has enough athletes that they don't have their starting running back returning kicks. McCaffrey's 11 fewer rushing touchdowns on 57 more carries (and one more game) than Elliott are really impressive, but I guess he does play Stanford football.
Huh. It's as though feeding the elite running back helps your team do well...
That's the thing where we run a play without staring at the sideline for 15+ seconds, right?
Agreed, and we have to be disciplined if they're quickly getting the ball out to the edges too.
I know the West Coast offense can be successful, but having watched the Colt McCoy-Pat Shurmur Browns, it can also turn into endless checkdowns, which quickly becomes ineffective and painful to watch. Hopefully our defensive line can get some quick pressure on Rudock and reduce Michigan to something similar to this.
Didn't get to see or hear any of the game -- did Amir and Lenzelle come back or something? I thought this young team would at least be generally more watchable, even if less successful, than the last couple teams...
I still can't believe that crowd noise rule was ever a thing... But I'm sure Harbaugh will find plenty of other things to whine about, like when he went ballistic last week after Peppers tackled a guy while a pass was in the air and got called for pass interference.
I wonder if the option plays that our coaches are obsessed with are successful when they run them in practice. They didn't work with Cardale and they don't work with Barrett so I doubt it. It would've been better to start Miller at quarterback since he's a better runner than Barrett and we weren't going to throw the ball downfield anyway.
So sad, especially after some other post-game comments.

Braxton is my favorite Buckeye ever, so sending him out like this is the worst part of today for me. We might've won today and lost in the playoff, but at least then it would've been a soulless neutral site game.
I think it's clear now that internal issues hurt this team all season, and either quarterback was going to suffer as a result. And the refusal to give the ball to the elite running back hasn't helped either.
GIVE THE BALL TO HYDE GIVE THE BALL TO ELLIOTT GODDDDDDDDDDDDDDDDD IT'S NOT THAT HARD FEED THE ELITE RUNNING BACK
I'm excited and I appreciate the (early in this day and age) commitment of a high profile recruit like Williams who wants to be a Buckeye! In a couple years, I'll be ready for "Give the ball to Williams!" chants that I will likely participate in since I know better than the coaches.