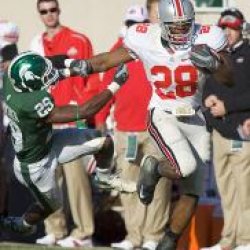 thunderhawks51
---
Cincinnati, OH (via Cincinnati, OH)
Member since 01 February 2011 | Blog
Helmet Stickers: 327 | Leaderboard
Favorites
SPORTS MOMENT: Witnessing, in person, OSU win THE GAME in 06
COLLEGE FOOTBALL PLAYER: Troy Smith
COLLEGE BASKETBALL PLAYER: David Lighty
NFL TEAM: Colts
NHL TEAM: Blue Jackets
NBA TEAM: Pacers
MLB TEAM: Reds
SOCCER TEAM: USMNT
Recent Activity
If they committed to SEC schools they'd be going up...
Sebastian, your posts are always appreciated. Just another reason to check out your profile pic.
Is it really always sunny in Philadelphia?
Dontre Wilson generated more preseason excitement last year than any freshman since Terrelle Pryor
I think #5 generated a lot of buzz in between those 2 as a freshman.
J Law gif...always worth an upvote
Didn't think I had to search the forum for this topic. Thanks for showing me the error of my ways.
I did not intend for the title of this post to show up on the front page as "Boom Had Hand in Rainey's...", but I'll consider it a happy mistake.
I really wasn't trying to make light of the situation. Hitting a woman is deplorable. They mentioned lacerations and it made me think of when my mom back handed me with her ring hand. Greg deserves whatever he gets.
For the victim's sake I'm glad he didn't win that ring.
I agree that family comes first. If the game overlapped with a singular important event, you would just have to deal with it. However, this sounds like extended time together, I don't think asking for a few hours is asking too much. I might extend the offer to watch it together so that it doesn't sound like I'm trying to disassociate from them completely.
You need to keep your priorities straight... ok, my fiance is no longer watching over my shoulder. I'm with you bro.
No better way to season an inexperienced offensive line than with facing the best defensive line day in and day out
At the OSU coaching clinic they let us watch a practice. Standing on the field next to Urban was what looked like, judging by his size and stature, an alum of the program in street clothes. I came to find out later that he wasn't an alum... the man-child was Nick Bosa.
And keep in mind this isn't against scrub teams. They play some of the top teams in the nation at St. Thomas Aquinas.
https://www.youtube.com/watch?v=a0QoyHehe_4&noredirect=1
for anyone who hasn't seen it
As a high school coach, I've seen a lot of players. When watching his high school highlights, you could see he was college ready. I coached on a team that played against Michael Bennett's Elks. I thought he was the most dominant high school lineman I had seen, until I saw Bosa's tape.
Being a former offensive lineman and current coach... I'm all over it
Defensive holding is typically called when a lineman grabs an offensive player to prevent him from getting to the second level.
What a great football number...
I love the perimeter blocking!
He's a PAD'er (Pursuit Angle Destroyer)