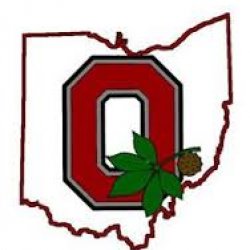 thowen79
---
Member since 23 August 2012 | Blog
Helmet Stickers: 1,253 | Leaderboard
Voting Record: 410 / 37
Favorites
COLLEGE FOOTBALL PLAYER: Braxton Miller
NHL TEAM: Columbus Blue Jackets
SOCCER TEAM: Columbus Crew
Recent Activity
Someone else needs to upvotes this to get it to 3
I was just getting ready to say the same thing.
I see they had to open up the C deck
Please tell me all the recruits there this weekend have front row seats
Haha you beat me to it
Hey, who's that guy right up front on tv with the painted face??? Never seen HIM before...
Whether you find her attractive or not, this is incredibly pathetic.
I don't necessarily disagree with you but those last 3 games for JT were all played outdoors in extremely cold weather where as Cardale's last 3 games were indoors. Just something to keep in mind.
Considering how they managed the distractions this year, I think they'll do just fine.
Is that University of Houston apparel tucked in Tom Herman's pants?
I know they have them in PA and have some decent little pizza things.
Not another Braxton threa.....oh, ok. Carry on.
Yeah, I think almost everyone is unhappy with premature releases.
EVERYTHING!
Look! Someone's taking our picture! http://tacobell.fancam.com/sugarbowl/2015/?atv=-12.962822811373805&ath=1.3347784439951447&fov=1.8503640226664693
What you did there, I see it.
I'm not sure what the rules are but I know for sure I have seen on several occasions where the returner did NOT touch the ball and simply let it bounce around in the endzone and the refs blew it dead before anyone picked it up. Maybe they were unaware that the Alabama player touched it and assumed it was therefore a dead ball. Also I assume it was so loud that they may have thought the whistle had been blown.
Buckeyes fall to Iowa 18-14
Anyone have any updates? Edit: As of a few minutes ago Bucks were up 14-9
Just thought I'd check in on the upvote party. Still going strong, I love it!
I saw it live while watching the game and thought the same thing. I don't get why people are trying to turn this into something bigger and definitely don't know why 11W is entertaining and pushing this narrative.
I am strangely fascinated with this video...please comment so I can give you a upvote
I'm pretty sure Bama and Auburn would never root for each other. My in-laws are Auburn fans and at least for today are big Buckeye fans.
LOL! This is hilarious!
I just thought the staff found out you were another one of Uncle 9'ers personalities and removed you permanently.