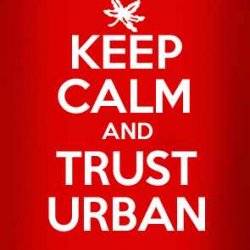 thevman19
---
Member since 10 August 2014 | Blog
Helmet Stickers: 62 | Leaderboard
Voting Record: 0 / 0
Recent Activity
Dumbest thing I have ever heard of.
Hopefully Matta has finally realized that Amir is soft as a marshmallow.
Nobody wants my liver...
You do the Hokey Pokey & you turn yourself around...thats what being a _ichigan man is all about.
Moyers dad can take his vagina elsewhere. Your son averages 7 pts a game as a sophmore & you think he us the next big thing? Can't blame Matta for the timing...I mean jeez, kid got slow played & was offered before his junior year....gtfo.
Great write up Ramzy. Love that final who Michigan plays...itself..priceless!
I'm sure they do & rightfully so.
Huge Bama fan. Not saying he won't be a Buckeye or will go to Bama. He is an Ohio kid with no real connection to OSU. Going to be a slug fest to get him in Scarlet & Grey. My son is on the case though...
Can't wait to see this new look defense. Even with so many new faces in the back 7, I feel that the return of The Silver Bullets is eminent.
My son is very good friends with Josh. They have been school buddies for years. This is gonna be a tough battle to land Josh.
Lewan, Gibbons & York...the new era of "The _ichigan Man".
Good write up Mike. Getting a permanent foothold into St. T&A would be huge. The talent in that program is absurd.