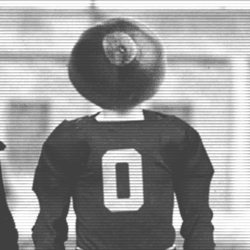 TheTeam16
---
Member since 03 September 2012 | Blog
Helmet Stickers: 258 | Leaderboard
Recent Activity
He sure as hell doesn't, but G-Matt and Nuss do.
Graduating with my IB diploma is one of the things I am most proud of in life, it is no small feat to put it lightly. I try all the time to explain to people how it is not "Just like AP classes..." It takes massive amounts of time and dedication to be successful at. You should be very proud, congratulations.
Illiteracy is a damn shame.
Its gonna be a rough year for the winged helmets on the road...ugh
I said, "You are coming off as jealous," not "Stop being jealous," or "You are just jealous." Please dont put words in my mouth.
Secondly, based on the fact peppers was regarded as the best or second best recruit in the nation by nearly every relevant recruiting source, and is the highest ranked recruit ANY B1G team has ever pulled in the modern recruiting era...there is probably a bit more expected of him than bosa or any of the other great recruits you mentioned.
And sorry, but you dont have anyone on your team that compares to peppers coming out of HS, for the reasons I listed above. Show me the player on your team that won NATIONAL HS DPOY...oh wait. You can argue that til you are blue in the face, but you are still wrong, so save the oxygen.
Again, not saying he will be all that...he could be a total bust, he hasnt played a down of football in college.
What michigan fan is pointing to that as a bright spot or something to hold on to? We lost the game, any fan who puts a loss on a pedestal is a complete moron. No one cares if it was close, no one cares if we had the chance to send it to overtime and beat ourselves throwing a pick. We lost, that is all that matters. There is nothing else to take from it, there is no moral victory.
You are right, after all you know a lot more about prospect scouting than pro football coaches like Herm Edwards, and Steve Mariucci...
Couldnt be the fact he A) either didnt give two rips about some dumb high school celebrity shootout all star extravaganza on espn 9 or B) they have a whole week to learn the play book and scheme if they are lucky.
You are coming off as jealous, just stop.
God you are so cool calling college undergrads "fairy."
Pretty sure that "fairy" could light your ass up...get a life.
Um, that is not desperation...that is called using what the good lord has given you to the greatest extent possible.
Any coach in america would attempt to use him on both sides of the ball, yes even urban meyer.
We arent talking about being on the field for every offensive snap, maybe a few packages for him here and there. Lining up to run a post route or a vert isnt exactly the most physically or mentally taxing thing in the world...he will be fine.
If peppers is anything like they say he is, this will be the best defense we have had since 2006...maybe 1997...
I am part of the <1% of UM fans that says this kid hasnt played a down of CFB yet so lets just hold the fucking horses.
That is what we call a loss in America, so wrong.
Our best win was ND...sad.
The OL coach wasn't making the decision to change the scheme, playbook, and composition of the line every week last year.
Most people do not associate OL that were either terrible, converted DL, never played a down, etc...with positive recruiting. The fact remains the only 3 guys who made so much as an impact were Omameh, Schofield, and Lewan. I could recruit 500 OL, but if one out of that 500 plays...for whatever reason...who gives a shit, or denotes that as "successful" recruiting...no one.
Argue if you want, but if the same thing happened at OSU there would be the exact same result on the field. It is the most important unit in the game.
Yeah, Urban has also had a steady offensive philosophy and coaching staff...look at the first year hoke was here when borges ran a consistent offense...we went 11-2 and won a BCS game. Look what happened the next two years...shuffled the OL every game leaving no time to grow continuity, changing offensive philosophy and playbook every week, etc. These are undergraduate students not NFL athletes. They cannot learn a brand new scheme and play with new people every week and have success, especially as underclassmen, especially not on a unit that requires as much cooperation as OL. Show me another time in college football history a line as inexperienced as UM's last year has changed offensive philosophy every week along with shifting players at the same rate, and had success doing so. I will help you out, it has never happened...it never will happen.
This unit will be better under Nuss, for the simple fact he wont change the GD schemes every week. Not saying they will be good, but they will be much improved. Hoke still loses his job at the end of the year and we hire Jim or Jon.
We had two OLine recruits from 3 fucking classes...
Say what you want about hoke, I don't like him...but there is no way on gods green earth you are winning games in major college football with 2 OL recruits in three years.
He is not loved by most Michigan fans...take this from, a Michigan fan...
Nothing brings more joy to my heart than University leadership telling dave brand'in to fuck off.
It is only a matter of time til this dude is toast.
He is not just an ordinary five star recruit though, he has been praised as one of if not the best DB prospect of all time coming out of HS, and arguably was the nations best HS player last year. The reason we won in 1997 was about 80% Woodson.
I will agree some UM fans are delusional about this, but there are many instances where one player has completely turned teams around in one year.
PSU is 2nd, they surpassed us the year we were finishing construction on the totally unnecessary press boxes.
There are actually bathrooms below the stadium as well, massive ones. If you go to the game next year use those, longest wait I have ever had for those bathrooms is 10 minutes top.
All the tickets that were turned down by students were opened up to the general public, but with our home slate this year...I wouldn't doubt it if this is the first time in many years we are surpassed.
In the end though, I do not think it will happen relating to the hiring of Doug. All I heard about last year at games was how people were not renewing their tickets if Borges was still OC. If we suck though, it wont matter if the reincarnate Bo to be the OC, they wont sell out games.
It sucks, but getting Ty Issac relieves a bit of the sting. I wanted harris to come to UM, but I wanted borges gone even more.
Crappy situation.
As a current resident...I cannot imagine going to the NBA with the plan to someday return for a medical education.
All I can say is good luck, you will need it.
The SEC will never adopt the 4 year policy, and will further the gap between themselves and all other conferences r/t the fact they can dump players that are not living up to expectations. I agree this needs to be a staple in the B1G, but I fear how much more it will widen the gap.
Yeah it isn't like we have the secind highest revenue AD in the B1G (next to Wisconsin) or anything...
We probably cant afford it...