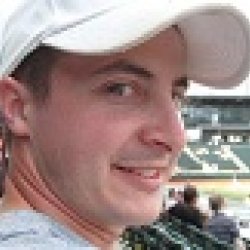 thePITman
Wooster, OH (via Wooster, OH)
Member since 14 November 2012 | Blog
Helmet Stickers: 58 | Leaderboard
Favorites
SPORTS MOMENT: Watching my HS alma mater (Triway HS in Wooster, OH) play in back-to-back basketball state championship games. Also, a 36-35 district championship victory over heated rival Orrville on our way to the 1st of those 2 state championship games in 2005.
COLLEGE FOOTBALL PLAYER: John Simon
COLLEGE BASKETBALL PLAYER: Aaron Craft
NFL TEAM: Cleveland Browns
NBA TEAM: Cleveland Cavaliers
MLB TEAM: Cleveland Indians
Recent Activity
What good can come of a college athlete loitering with a crowd of people outside a bar at 2:15 in the morning?
I heard Anthony McKee has a little brother (freshman, I think) who coaches are talking to when they contact Anthony. Can anyone else confirm?
Had this incident not gotten blown out of proportion from the beginning, Meyer could have gotten away with a lighter suspension. But with the publicity and public knowledge of what happened, and it being all over ESPN a week ago, something strict had to be done to preserve Urban Meyer's and the University's image.
I thought we were talking about freshman Vonn Bell... I'm guessing he's not 21.
There's no way to "responsibly" break the law.
Well said. How do I "up-vote" something?! These players are handed EVERYTHING, getting paid THOUSANDS upon THOUSANDS of dollars, national TV and media attention, and privileges we'll never know. And they go take advantage of it and piss it away. I'll never understand.
Roby should just say he's "no Tebow", "not going for the Miss America pageant", and "just 20-year old college kid." It'll smooth everything over, and all will be forgiven. Right, media? Just ask Manziel.
Give me a break. With the way tuition is increasing, college student-athletes seem to get raises more often then the staff whose JOB it is to help them. I'm sorry - if somebody is paying me (or paying for things for me), and in return I provide them a service (in this situation, playing football), that is payment enough! How much do McDonald's workers get paid? How much profit does McDonald's make every year? They're happy to have a job, getting paid for work. College football players get paid to play a game; and if they don't go professional, they got a free degree. Receiving an athletic scholarship of ANY amount, let alone a full ride, is an honor and a rare privilege! Asking for more is absolutely naive and selfish, in my opinion.
Some comments from @jbook37 on twitter regarding James Clark:
- James Clark tells @davebiddle that the winter weather in Ohio will not affect his decision. Said if he goes to the NFL he has to play in it.
- James Clark tells @davebiddle that he has a great relationship with the staff & Corey Smith commitment will not affect his decision.
- Big thing that stands out in the James Clark interview is he mention that Florida is already bringing in 5 WR's already & he looks at depth
Just a thought. And then @jbook37 posted the highlight video to Clark that I hadn't seen yet... Clark has some of the best breakaway speed I've seen on a highlight film since Ted Ginn, Jr and Brandon Saine. He wouldn't be a bad 3rd choice if we don't get Bell/Wilson. http://www.hudl.com/athlete/551318/highlights/32901421
I'll be really happy if we get just 1 of either Vonn Bell or Dontre Wilson... preferably Vonn Bell (especially with the acquisition of Corey Smith). I just have a bad feeling we're going to miss out on both. But if we GET both, then I'll be blown away!