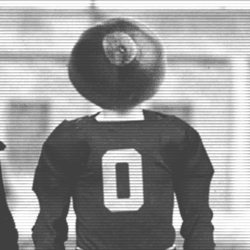 theopulas
---
Member since 04 July 2013 | Blog
Helmet Stickers: 223 | Leaderboard
Recent Activity
he is 17 guys....maybe we can cut him a break.....
if he comes to FNL i think we will move up his list BIG....the atmosphere is infectious, and seeing Hilliard,Cornell, Harris, hopefully Sweat and other top recruits there and meeting the rest of the team....maybe then, being together there with OSU coaches, looking at the school and in each others eyes, realizing here, together, they can make their stand for national championship glory.....just saying....lol...
curious how we have never seen Roy Brown and DJ together....always either one or the other...just wondering.....maybe they are the same person !....lol....just wondering deej....keep up the good work.
Birm....well done....you seem to be at the top of your game....VWD.....if Justin was a 3 star recruit he would still be the type of person i would want on the team....and as long as he is on this team, he will be one of our leaders...young man, you are the epitome of a true Buckeye...and know that this family goes beyond just football.....you are a Buck for life....
4 yr run at any big time school you chose as a long snapper....congrats young man....and welcome....
seems that was all that was needed to throw shade ....UM has stated that he loves coaching at OSU....why not go with that instead of your wishful gloom.....
i think UM will hire the best available coach, and if that means making changes then so be it...i think we hire these coaches regardless and make room by letting some others know that they should take other jobs....maybe Johnson was offered the Houston job but wanted to stay in college and Vrabel wanted to go....either way.....if available, UM was going after them.....
don't think you did on Gibson....but all this on schools moving on from him i don't see it.....Mr. JB...if he visits, do you think we move up on his list...seems to be a kid looking for a school.....
come back home JB....we will always care....come on home.....
DJ ...i think your dislike of our school is slowly growing apparent......its subtle tho....!

keep the report for 40 years....you sound like a idiot, that is what the police are for....Brown is a great person and even though i don't agree with his politics, he has still lived a life that should be respected....
must say Mr. Birmingham that you are growing on me quickly.....great job...
where do i go to vote.....?
he could always throw, and i know people back at work in 2 weeks after this type of surgery....or less....do you really think Brax wasn't working....just because they shut him down until summer doesn't mean he couldn't throw....he is the franchise this year...they are just getting him ready for the big push for NC and trophy chase....
no....i think you really have 4 , 1 year scholarships ....
not 100% right.....the supposed victim said he was hit in the face with a bottle and the police had to arrest....he did have the chance to leave but stood around with the crowd until he was pointed out.....did i just make this seem even more insane....
Sweat will play as a freshmen.....he would start at most places....like the Bengals....but he would get some time with OSU too.....
i think in 4 years at OSU, Baker will be a 1st rd pick in the NFL draft....
keep up the good work Brim....never miss your writing....
Coach may not offer most of them early and it may seem like others are getting the upper hand....some maybe not at all....some will have to camp....top 10 or not

these ratings aren't everything....Coach will camp some players who will earn a offer....Glenville may be heard from in 2016 before its over....
Gallimore and Scott....Burrell and Harris...Baker and Sweat....i feel ready for another commit, as long as we get these guys....
when the police take a person out of the vehicle, they search it. if something later is found it is presumed that the arrested party place it there....and that would hold up in court....also, the police was called before the melee started by people who seen it about to go off.....and these guys wouldn't stop until the police came in with dogs....
GOD Bless you son....welcome to this family which you are now apart of for life....football or not.....NOW....lets go to work.....!
i like Smith too, and always will, and i know he works there but i think he sees the bias at espn, but thinks it goes with being OSU....but no way Alabama and some others get the same treatment...but we haven't won a NC in over a decade either.....so most there think we have to much swagger....