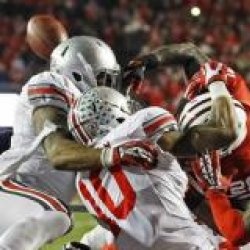 theobi
---
Member since 07 January 2013 | Blog
Helmet Stickers: 726 | Leaderboard
Favorites
SPORTS MOMENT: 2006 win over Michigan
COLLEGE FOOTBALL PLAYER: Dane Sanzenbacher
COLLEGE BASKETBALL PLAYER: Evan Turner
NFL TEAM: Cincinnati Bengals
NHL TEAM: Columbus Blue Jackets
NBA TEAM: Cleveland Cavaliers
MLB TEAM: Cincinnati Reds
SOCCER TEAM: Arsenal
Recent Activity
Walter White
Kramer
Michael Scott
Barney Stinson
Ron Swanson
I think the puke green Baylor unis are far worse than anything they made last year... probably worse than anything made ever
I'm getting emotional reading this
I love Amedeo, but if he isn't going to hit open threes than he serves no purpose being on the court.
What was that on Amedo's nose..?
This is the number 1 thing the new site needs. If we get this back, no complaints from me.
Great News! We can use all of the secondary help we can get.
To the staff: just out of curiosity, why are some articles put on the front page, and others just on the banner at the top?
This is why this site is so awesome. Demetrius, what happened with Daniel?
Thanks Jason. And I will say, the new site is definitely growing on me. If you are taking suggestions though, would it be possible to add the Active Forum tab to the sidebar? Maybe under the recent posts? That is something I could see being very well received.
I think all of the sidebar should have been left alone. One thing I really miss is how topics were bumped based on the newest comment. I think we lost a lot with that not being included. I know it will take some getting used to, but I really think the old classic look did not need to be changed.
I guess it's just something we will get used to, although that is kind of disappointing
I read on Reddit that the woman was his aunt
I'm almost happy he chose MSU. That's what he wanted, I don't think he ever wanted to come here. His mom wouldn't even show up to the signing. I feel bad for him
Minnesota and Indiana will be very tough games, I would predict we drop one of those to be honest. But I'm still feeling optomistic, we've looked good.
Guess who's back to a first round bye in the tournament
Back to back road wins at Wisconsin and Iowa. You're proving me wrong Buckeyes
Uniforms look great. The team does not
You're predicting wins against MSU, Michigan, and at Indiana? I really hope you're right but right now that looks way too optimistic. Even beating Minnesota might be a stretch, they just throttled us
Crazy that we can go from being a projected #1 seed in the tournament to the NIT in under two weeks.
While we're at it, lets fire Urban Meyer too