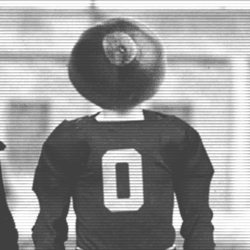 thatyoungdude
---
from Norwalk, OH
Member since 15 July 2014 | Blog
Helmet Stickers: 45 | Leaderboard
Favorites
SPORTS MOMENT: Sadly, I didn't care about sports when the Bucks won their last NC. So either The Game 2006, or The Steelers winning the SuperBowl in 2008.
COLLEGE FOOTBALL PLAYER: Was Carlos Hyde...Maybe Dontre now?
COLLEGE BASKETBALL PLAYER: Was Craft. We'll see
NFL TEAM: Steelers
NHL TEAM: Penguins
NBA TEAM: Cavaliers
MLB TEAM: Windians
SOCCER TEAM: USA & Crew
Recent Activity
Quickly too. OSU- 14882 Iowa- 15410
10 seconds later: OSU- 14904 Iowa- 15673
Buckeyes jerseys were awesome! I can't believe I'm saying this, but I even liked the jerseys for TTUN...
Like you said, all of these jerseys were good and would win polls
Going to school in BG I can attest that the winter was awful!
Not everyone has rolling fields covered in blue
I would love to see it expanded to 8 teams so that one or two top MAC teams could also be included.
Texas may be mostly flat and dry. But The majority of the state is B-E-A-utiful from February through May with Bluebonnets
https://www.google.com/images?hl=en&q=texas+bluebonnets&gbv=2&sa=X&oi=image_result_group&ei=Tc_GU9XfE5PfsASCq4KQDg&ved=0CBQQsAQ
Alright. I guess I just didn't want to be on the outside from the beginning. Thanks!
Thanks Giddens! Now we get to see LBJ back in Cleveland as well as DGood in Cbus!
The joke must be lost on me
Secondary rivalries are MSU and the SEC
Speaking of which, if they did the common sense thing in Washington (White House)
Is that possible?
DJ, new to 11w. What does WMD stand for? Surely not Weapons of Mass Destruction...?
I am currently a junior at BG. I'm working an internship in Miami, and have been alone the whole summer. I agree with others that have said it's about the people, not the places. I'm in freakin' Miami, and bored all the time. I want to live in some other states right after college, but being in Miami this summer, and Dallas a couple semesters ago, I know I want to go back to Ohio.
As far as economic development, North Dakota is booming with the recent (2-3 years) oil discovery and subsequent development. But I agree, I love the state of Texas, just not their football teams.
Well I've never been to Washington, but I figured I should add it because of the popularity of their recent substance law changes if ya catch my drift.
You have me interested because I have been watching Lost on Netflix, still in the first season. Never watched it on air though, so no spoilers!
Best states to live in:
1. OH-IO!
2. Texas
3. Tennessee
4. Colorado
5. South Carolina
6. Georgia
7. Hawaii
8. Montana
9. Kentucky
10. Washington
First comment on 11w! I'm excited that Craft's work ethic and hustle is being noticed by one of the men that controls his future. I have always said that he's my favorite player not because of skill or talent, but because of the way he goes 100% every second he's on the court. Hoping he gets a chance to have some sort of future in the NBA even if it is a bench/role player.