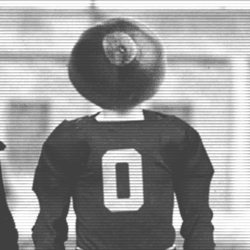 TexasBuck11
Lubbock, TX (via Cincinnati)
Member since 09 January 2012 | Blog
Helmet Stickers: 312 | Leaderboard
Favorites
COLLEGE FOOTBALL PLAYER: James Laurinaitis
COLLEGE BASKETBALL PLAYER: Jon Diebler
NFL TEAM: Cincinnati Bengals
MLB TEAM: Cincinnati Reds
Recent Activity
When did Bogard switch to LB? I definitely missed that one.
he must be taking a pay cut
Anyone else notice the face in the leftmost pillar of smoke? Woody?
We all lost just for reading this post.
While I agree that I would've liked to access the best bucks site on the web this morning, I have to admit, the fact that the site was crashed brought a smile to my face. I would rather the site go down when there is good news than to have the ability to log on and read about how Hilliard and cornell chose ND.
Ohio State
UCLA
Oregon
Hawaii
South Carolina
I've got season tickets for Texas Tech football this year and I'm excited he will be added to their LB core which is in desperate need of bodies. Just to give an example of how bad he is needed, last year's starting RB is currently projected to start at LB this year.
When I think of tenured athletes, juice Williams always tops my list. I swear he played at Illinois for a decade.
If we were even a decent free throw shooting team, we could still be undefeated. The FT % is deceiving because it doesn't calculate how many times we miss the front end of a 1 and 1. All three previous games have been horrendous at the line. We show energy on D when we are down and it's required to be up on the ball but we don't have the bodies on the bench to play in your face the entire game which we need to be doing since our offensive is sputtering, and using the word sputtering is generous.
I've always been told that size doesn't matter...what gives?
which guy in the above picture is Raekwon?
Well, hoke opened a beer with his wedding ring and urban opened it with a championship ring therefore urban = jerk
Was that juice Williams eighth or ninth year as the qb at illinois?
I'll make sure to take care of the cat too.
We got a cat in August of 2012 and my wife named him Braxton....20-0 since. Just sayin'
If defenders are going to be ejected for targeting, shouldn't offensive players be ejected when they lower their helmets in order to get extra yards? Just go back to leather helmets. Then defenders won't launch and if they do, they probably won't play the rest of the game anyway...
Love the write up! I'm trying not to buy in too early and worry about the other games since we saw tOSU get into the 2002 and 2007 NCG's by "backing in" due to late November losses by top 5 teams. Take care of business and everything else will work itself out. That being said, I will enjoy rooting for the top teams to go down this weekend while OSU sits idly by, already bowl eligible, and rests for Iowa.
The sentiment around Lubbock is to keep him so that he continues to turn 5 stars into 3 star players thus giving TTU a chance...
I didn't know that roby held the three td stat. Very nice! Loved the write ups but I'm glad they are finished!
I prepared myself for him getting off the hook but I'm still disappointed. Oh we'll, now he REALLY thinks he is a god and I'm grinning thinking about his next slip up. This isn't the end of his problems folks. Just wait and see what ole Johnny gets himself into next. I wish no harm to anyone but I hope he has explosive diarrhea during the start of every game which lasts about 3 hours.
I wish Vincent smith had been wearing one when he got lit up by clowney. Now, THAT clip would be fun to watch!
Wow, the thought never crossed my mind that teams used trains to get to away games. Makes total sense. Just never occurred to me.
Welcome to Buckeye Nation Curtis!!!