tedglover
St. Louis MO (via Minneapolis MN)
Member since 05 June 2011 | Blog
Helmet Stickers: 34 | Leaderboard
Voting Record: 0 / 0
Favorites
SPORTS MOMENT: Being at game 7 of the 2011 World Series.
COLLEGE FOOTBALL PLAYER: Ryan Shazier
NFL TEAM: Minnesota Vikings
NHL TEAM: St. Louis Blues
MLB TEAM: St. Louis Cardinals
Recent Activity
Fuck Wisconsin. In the ear. With a claw hammer.
Dear rest of the world,
After you kicked us while we were down and wished the Death Penalty on our program, you can all--every one of you--suck it.
Suck it long, suck it hard. I loved--LOVED--the ESPN show today. When Meyer said:
"I want a pissed off football team. I want an angry football team. You've got an angry staff, and I'm proud to be your coach."
I thought I was going to jump out my bedroom window. I can't tell you how fired up I am for this season to start.
WOOOOOOOOOOOOOOOOOOOOO
OOOOOOOOOOOOOOOOOOOOOOOOOOOOOOOOOOOOOOOOOOOOOOOOOOOO
OOOOOOOOOOOOOOOOOOOOOOOOOOOOOOOOOOOOOOOOOOOOOOOOOOOOOOO
OOOOOOOOOOOOOOOOOOOOOOOOOOOOOOOOOOOOOOOOOOO!!!!!!!!!!!!!!!!!!!!!!!!!!!!!!!!!!!
The O-H-I-O chant is GREAT--when you're not in Buckeye country. When I lived in Alabama, nothing made me happier than wearing an OSU hat or shirt and hearing an 'O-H'. Now I live near St. Louis and love hearing an 'O-H', or throwing one out when there's somebody wearing OSU stuff.
Maybe it's overdone back home, but outside of Buckeye country it can be pretty cool.
Alex,
You're killing it dude. Awesome stuff. Thank you!
Wow, I've been quoted at 11W! I'm famous, I'm infamous, WOOO!!!!!!
I was very leery even asking that question, but I thought it had merit. I think every B1G team of import has felt crucified by ESPN over the last few years, and I am of the opinion that it is all because of the BTN. I think several B1G programs have been hammered on mercilessly, not just OSU. And OTE is conference specific, which is why I worded the question in the way that I did. But anyway, let's review, shall we?

Michigan--RichRod got HAMMERED mercilessly over some stupid buyout clause in his contract, and then by not documenting extra workout hours. Compare that with the nuclear test ground that has become Miami, or the shady dealings that occur on a damn near daily basis in the SEC and the lack of coverage by comparison. Extra workout time. Really? REALLY??
OSU--This column eloquently laid out the case against ESPN more than I ever could.
PSU--ESPN was non-stop for damn near a week on Sandusky, with the same stories and same clips. If you turned on Sportscenter you couldn't go more than one or two segments without it coming back to that story, and ESPN was quick to pounce on Paterno and force the ire of the anger on him, and not on Sandusky, where it should've been from the get go. They didn't mention Sandusky without mentioning Paterno.
The reason I think this is all BTN driven? I refer you to this article right here. Pull quote:
An amiable session in which the Big Ten and ESPN cleaned up "housekeeping matters" — schedules and announcers — took a nasty turn at the one-hour mark. That's when talk turned to a contract extension, a negotiating session that went nowhere. Fast.

"The shortest one I ever had," Delany told the Tribune. "He lowballed us and said: 'Take it or leave it. If you don't take our offer, you are rolling the dice.' I said: 'Consider them rolled.'
When BTN launched, Delany sent Shapiro a re-gifted bottle of champagne with a note that said, "see, I did it."
Jim Delany gave ESPN the ultimate 'Fuck You', and when BTN started to take off and make serious money, around 2008-2009, ESPN began hammering away at every little thing that occurred at a B1G school, and when they signed their SEC mega deal, began ignoring everything SEC unless they're compelled to write about it, a la Auburn, and began spinning the SECISTHEGREATESTEVERRAWR meme.
Coincidence? I don't think so.
ESPN will do everything in its power to drag down the name and brand of the B1G, because the B1G is on the verge of not needing ESPN. And if the B1G can do it, other copnferences and schools can do it.
And if other conferences and schools can do it independent of ESPN, ESPN will be rendered irrelevant. And ESPN will do everything in its power to prevent that from happening.
Just my two cents.
Hey, I just looked this up on Google Translator. When you type in 'Urban Meyer', in German in comes back as 'Bad Ass Recruiter. In French, it comes back as 'Bad Ass Recruiter', in Swahili, it comes back as 'Bad Ass Recruiter', and in Michigander it comes back as 'we're gooned. Not...good'.
I'm totally serious.
Dear Fellow Fans Of Ohio State,
Thanks for letting Luke Fickell know how much he was appreciated. It seemed like both he and Meyer were kind of taken aback, and it was GREAT to see everyone at the Schottenstein Center give him such a welcome.
THAT is why he stayed. THAT is what it means to be a Buckeye.
THAT was awesome. GO BUCKS!!
Oh, so expect about a final score of 16 or so then? :)
You know, this doesn't even bother me. There is a lot of raw talent on this team, and I believe that Urban will harvest it.
I am both surprised and yet not shocked by Bollman's play calling. I thought after Miller lit up Michigan he'd let him loose, a la Pryor in the Rose Bowl a couple years back, but his conservative nature took over.
And that ended with this game.
We have some great defensive line prospects coming in, a great RB prospect, a whole off season for Urban to work with Braxton Miller, and there is too much talent on the defensive side that a good d-coordinator will get them back to their typical Silver Bullet self.
This became a lost season as soon as Tressel got canned and Pryor left, so although I'm disappointed, I firmly believe that UM will bring us back next year.
"But I think that it's important for us to remember that when it worked, it really, really worked. Credit needs to go to both Jims, Heacock (a lot) and Bollman (uh... well, he was there) for helping to bring us ten plus years of awesome, awesome football."
--Well said. The ending of an era is always sad, and it usually encompasses some sort of rebuilding. I don't think we'll have to go through that. I'm glad we got Urban.
Sports By Brooks is reporting he knows that there are $40,000 worth of parking tickets that Troy Smith has accrued as well.
And he wrote checks for every single one.
This is where I would insert a standing ovation.gif, but I don't know how to embedden stuff.
Great piece, Luke!
Bowl ban reported by Dispatch:
http://www.buckeyextra.com/content/stories/2011/12/20/ncaa-report.html
What floors me...well, okay, nothing that ESPN does anymore floors me, but I find it ironic that there was a whole segment on SportsCenter announcing that the NCAA will announce their findings on us at 3...yet I haven't seen the drumbeat of doom about Suite Carolina, Miami, or anyone else for weeks.
So can we just vacate March-June?
Please?
My bad. Will do in the future. Since I'm well into my post now, let's say 16 or 17 words, NOW can I say...FUCK Michigan?
:)
Fuck Dave Brandon.
Fuck Brady Hoke.
Fuck Michigan.
I hope Urban Meyer lays waste to college football in a way we've never seen before and will never see again.
When he's through with whipping Michigan on the field and on the recruiting trail, they'll be nothing more than a glorified MAC program.
Again, Fuck Michigan.
I can hear the woofin' in Whoville now:
I mean this as no disrespect towards Jim Tressel, because Tress will go down neck and neck with Woody as the best coach here ever. Jim Tressel always had good recruiting classes, and even though Tresselball was frustrating for us as fans sometimes, it was damn effective, and I would've given anything to see him here another 20 years winning 80% of our games, dominating Michigan, and winning more bowls than we lost.
That said, every year it seemed that as signing day got closer, there were always 5 or 6 guys that we 'hoped' might sign with OSU, and one or two might come signing day. We'd still have a good class, top 10-15, but you always walked away from signing day wondering 'what it'.
Now, I 'expect' all BUT one or 2 to sign, and with the Godzilla of recruiters out on the trail with nothing to do but recruit, it's akin to putting Whitney Houston in a crack house, giving her $10,000, and telling her to lock the door when she leaves.
Now, I expect the Conan quote: "To crush sign your enemies 5 star recruits, see them driven before you from your their program, and to hear the lamentation of their women fanbase.
And this is going to be the norm, not the exception.
There's a new King Kong, and he's in your state, recrootin' your doodz.
Fairly new here, and I have to say, in a matter of just a few days you have become my go to site for everything OSU. Thanks for giving us great, timely info on this stuff.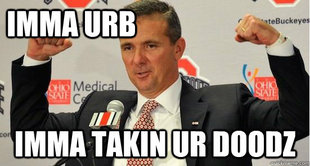 WOW. This defensive line is going to be pretty good, and if Pittman flips, I wonder if Kalis isn't going to re-think having to go up against this ridiculous talent, lol.
Holy crap.