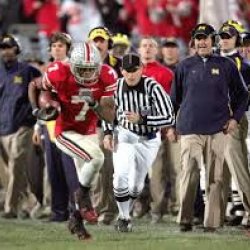 TedGinnIsFasterThanYou
---
Member since 15 July 2014 | Blog
Helmet Stickers: 128 | Leaderboard
Favorites
COLLEGE FOOTBALL PLAYER: Tim Tebow. Troy Smith.
COLLEGE BASKETBALL PLAYER: (past) Aaron Craft. (future) D'Angelo Russell
Recent Activity
Whoa whoa whoa, don't shoot the messenger...I was just trying to figure out why they're so mad OSU got Raekwon, (I guess I should have put that at the top).
Oregon, in recent history, has started out the season pretty much unstoppable on offense...until about November. Michigan State historically starts out lethargic and out of rhythm on offense...until about November.
So, because this game is early, and in Eugene, I think Oregon outscores Sparty. If the game was later in the season though, I'd take Sparty.
I hope I'm wrong though, and Sparty pulls off the upset. But, I'll say Oregon 34 MSU 20.
These gas prices are ridiiiiiiiiculous
J​ust
U​nderstand...
I​t's
C​razy
E​nergy
Soggy, did TG respond to any of your tweets to him last night?
....but,but,but, Kellen Winslow was an f-ing SOLDIER!
I think the 2006 OSU team (Smith, Ginn, Gonzo, Pittman, Beanie, Big Verne, Little Animal, Malcolm Jenkins, etc.), was as good as any B1G team I've seen
Love when multiple Buckeyes are on the same professional team...now they just need to sign Greg Oden
#617
(617 offensive yards by OSU against ND the last time the two teams played, in the Fiesta Bowl, which was a record against ND)
Wow, does Roy have a job?
And, does he know that Notre Dame looks like the scared one, avoiding joining the B1G?
Maybe he's still butthurt about that OSU comeback/ND meltdown in MSG last December, led by Craft and LSJ.
Go Okie State and Wisconsin
Reds will end up finishing next to last in the NL Central, just above the lowly Cubs.
Thanks for posting. I love the way Craft plays! Great kid too.
Still think he was more than worthy of a 2nd round pick. Would love to see him prove all the doubters wrong.
Anybody notice the pattern of career-high games by our RBs against Illinois:
1984, Keith Byars, 274 yds & 5 TDs
1995, Eddie George, 314 yds & 3 TDs (+1 rec. TD)
2013, Carlos Hyde, 246 yds & 4 TDs
Thad Castle, (LB), Blue Mountain State
Don't like the triangle metal art in front of the stadium .
#OutOfPlace
LOL
empty platitudes!
aka "Hope and Change!"
Muslim extremists
edit...LOL @ being downvoted for telling the plain truth
The Big Kat had riiiiiiiidiculous lateral speed.