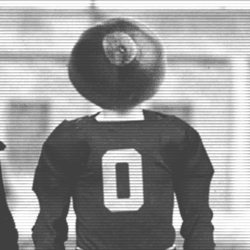 teakwood
---
Member since 09 August 2011 | Blog
Helmet Stickers: 32 | Leaderboard
Recent Activity
sorry missed wide receiver part
Alonzo Spellman vs O. Pace
hey does anyone know what instagram that was i can't see the videos
hey we weren't to light last year, and Hale only started for part of the season. I never saw our D-line get pushed around. They might have been a step slow getting to the passer because the corners were 10yds off but(imagine if we would have lead the nation in sacks if the coverage was a bit tighter or the corners disrupted the receivers for an extra step or two), I don't remember getting run or pushed around.
SorrybutIthinkBraxplayedgreatbutTroysmithgoodidkaboutthat
Sorry I think the D line is great. The way the secondary is playing the receivers is the problem. That soft coverage doesn't allow the Dline the actually make the play every receiver is open by like 2-5 yards. That makes it so easy for the qb to get rid of the ball. The line was in his face all game and missed on only a couple runs. They made a tone of plays. Basically I think the coverage is to soft by the corners. Maybe there's a reason but that doesn't help the line any
Watching TV game again if we play any true drop back qbs we will get there the ball was out of his hands by the time he planted on three step drops he threw a ton of 3 yard passes the line can't get there unless they just miss a blck thought the D line looked good especially on the run
Totally agree here, a lot of first game back/inexperience they will clean it up
By the way if there are any fears to be had it should be in Taylor Decker he got punished by every type of rush speed and power rushes by multiple guys and looked terrible in the process. The line actually looked bad at times missed assignments by hall and Mehort. That INT I felt was more on him than Braxton that's a quick hit play he's gotta make that block cause the balls coming out. Am I worried no the offense is strong this year it's there actual game experience and reps for guys will clear things up just like last year. #goBucks I'm with Decker figure it out!!!
I went to the game, and began to think I missed something with everyone talking about how bad Reeves did. I disagree he had one bad series, where it looked like his inexperience got to him. And some missed tackles which I was upset with but it happens (get over it). This kid got picked on a lot the whole game and was there on every deep ball and did ok other than those spots I think some of it should be excused as first game jitters (of a true soph playing one of the toughest spots on the field) even on the TD he was there the senior receiver who was bigger just made a senior play.
I love Shazier so far, what i've seen out of him makes excited for next year cause i see him getting time. But he's a little small right, and no Bino was in on a ton of big time plays against Wisconsin. I'm actually not yet that big on Klein, but they way the coaches are playing freshmen. I'll defer to them on that those guys just may be the right ones in the game. But check again Sabino was in on almost every signficant play on the ground making the play or hold his ground allowing the team to make the play. I ThinkRyanWill be great
Well this year is good becuase our the middle to the top of our conference looks good. Our game will speak for itself. We play 4 ranked teams at the momnet and I think it should be 5 with MState. We'll show where we desreve to be this year. i love it, everbody thinks were so down i guess we'll see!!!! Embrace it!!! We will only improve as the season goes on, with players coming back and Brax getting more comfortable. Lets get past MState the we'll talk about settleing
I agree on Shazier, He's gonna be good. Matter of fact i think our LB's will be great in the coming years.
I guess i only really seem to disagree with one thing, and that is the idea that we have a lack of talent. Experience maybe? I dont think we looked bad as we looked unprepared for the big game. Sometimes losses are good, it wakes teams up. We may not be national champ material but i still believe we can win the Big Ten we have a tough conference this year and thats how ill judge this season.#Young
Ill take Guiton Graham And Miller over Bauserman at this point. Guiton has always showed me he can play and wanted to make plays. Bauserman has nver done that minus the Akron Game. He's the guy you put in to keep the real qb from taking anymore hits or handoff whenthe starter takes a big hit and has to sit A PLAY. I cant watch us lose with Bauserman i can on the other hand take solice in knowing that losing with Brax is making strides to the future along with the other studs on Offense. With the guys we have Minus the line the next two 3 yrs look great for us
Totally agree no breaks in greatness or in the expectations for the buckeyes. The players didnt change... wait, ok they did but I'm with you. And did DJ just say that because of the article the other day
I think you guys are way to Hard on Beokman, I do believe he took us to an 11-2/11-1 season and the bcs. Granted he played the statue of liberty durning the USC game, and i was glad to see him sit. Great read today guys. Is it me or what why no love for big Hank. Been my guy since i first saw him on the field.
thats why i check it daily!!! Just wanted to clarify the status of things. No longer in state this is the best place for my buckeye fix till the season starts
what about all the other complaints about this article
in silver spring md i felt it!!
While i was really happy to hear that 'Bino was the other guy, this Christian bryant half of this article just made me skepitcal of the accuracy of your reporting. Last thing is practice over till next week
Well now i confused, This whole pre season i haven't heard anything on Christian Bryant, who I've been looking to hear from cause i thought he played great at corner, now he's the definite starter. what happened to travis Howard did i miss something