tbdbitlbuck
---
Member since 23 April 2013 | Blog
Recent Activity
Holy crap this is amazing.
Quick, someone alert InfoWars!
The side judge is from Grand Rapids. Must be biased.
#JetFuelCantMeltFirstDownSpots
Those games were on ESPN
http://www.espn.com/college-football/bowls14/story/_/id/12160210/espn-sets-overnight-rating-record-college-football-playoff-national-championship-game
If you don't think the committee takes notice of this, you are outside your mind.
There's absolutely a large market of people that would gladly do this, I'm one of them.
I cut the cord, pay my $20/mo SlingTV subscription to get access to ESPN/ESPN2. I would gladly pay $15/month straight to BTN to get streaming access to football games. Hell, BTN could charge me $5/game to watch and I'd do it.
I just hope they get on this wagon sooner rather than later.
Then this is going to blow your mind...
OSU through 5 games last year: 6.73 yards/play. OSU through 5 games this year: 6.73 yards/play. Five extra turnovers slowing down Buckeyes.

— Austin Ward (@AWardESPN) October 6, 2015
Per Stats & Info, OSU's percentage of 10-yard plays virtually identical as well. Assuming Urban Meyer fixes TO problem, his offense is fine.

— Austin Ward (@AWardESPN) October 6, 2015
Okay, well Florida State 2014 didn't have Urban Meyer as the head coach, so I figured a better comparison for these purposes is the last team he coached in this position: his 2009 Florida Gator team
Can I ask why, if these are the confirmed black unis that the collar is incorrect for 2015 (The National Championship Leaves have been replaced by BUCKEYES this year), and additionally, these were posted on that cheap, Chinese knock-off jersey a while ago...if these were the jerseys, why weren't they confirmed then:
http://www.aliexpress.com/item/Free-Shipping-15-Ezekiel-Elliott-Jersey-Ohio-State-Buckeyes-College-Football-Jerseys-2014-New-Limited-Cheap/32233782188.html
Calling it a fake.
First, there's no Nike or B1G logo? Spare me the excuses for why it isn't on there, those would absolutely be on the jerseys as soon as they came off the line.
Two, the back collar. We no longer have the Buckeye leaves signifying our number of national titles, it now just says "Buckeyes":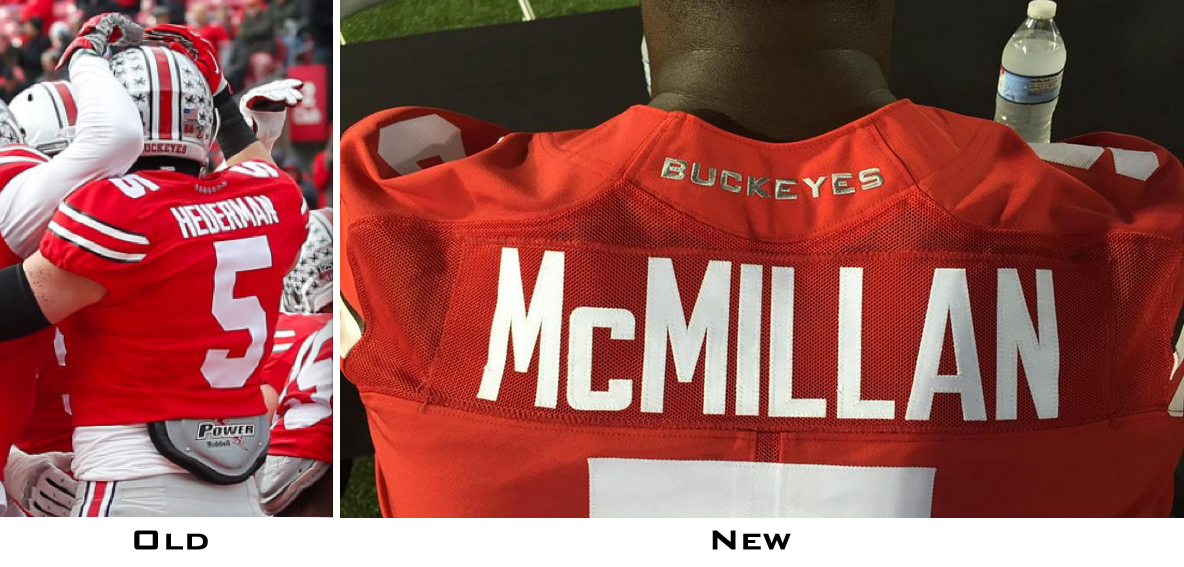 I refuse to believe that any picture of jerseys are the ACTUAL ones until revealed by the school/Nike
I'm partial to this one:
https://www.facebook.com/ron.jantz.73/videos/434819486718501/
Every Monday, "challenges" take place, where the two alternates for each row (each row has 12 regulars and 2 alternates) challenge a regular member for their spot. If the alternate wins the challenge, the regular member becomes the alternate for the week and must challenge the next week to get their spot back.
The challenges are basically scaled-down versions of tryouts. Each member competes directly against each other "on the line" (doing drills that the squad leaders ask you to do), as well as marching and playing in block band. Then the squad leaders determine who wins the challenge.
Definitely fights complacency and keeps you at your best
I always thought it was to avoid confusion.
"G" sounds a lot like "E"
"O" row is sort of annoying
"N" sounds a lot like "M"
Etc.
X-Row doesn't have a mascot because we found mascots to be stupid #LetThemLive
I think Torrance was recruited very lightly as a QB. His real position is going to be receiver.
Also, you're forgetting Joe Burrow. Burrow is very much a pro-style QB.
I just don't believe that's how Urban makes decisions. I think his first goal at Ohio State, and anywhere he's been, is to win football games.
I've heard a lot of "theories" this week, that Urban is doing it to get Cardale in the NFL, that Urban is doing it because if he benches CJ, he'll become a "cancer" to the team, etc.
When really, it probably boils down to Urban Meyer thinking Cardale Jones gives this team the best opportunity to win games.
The difference being I think Bauserman was actually trying to hit a receiver.
There is definitely a vocal group of persons (I would say they are the minority, but still vocal) of people that are actively bashing Cardale in their support of Barrett.
Similarly, I've seen, albeit fewer, CJ "fans" that still bring up Barrett's performance against VT last year as a reason to support Cardale.
I actually saw a post on another message board that said, definitively, "We will not repeat as champions with Cardale at quarterback".
I don't really have a horse in this battle, because I think both of these QBs are excellent and we're in fine hands with either* (provided they actually get to take all the reps, and don't have to look over their shoulder every series).
But I can say, for the people who support Cardale, there's a definite short memory being displayed by the camp that seems to be "anti"-CJ. I watched someone yesterday cherry pick turnovers/TDs from the Bama, Oregon, Hawaii, and NIU games, without giving him credit for Wisconsin (because, in this person's view, Wisconsin's defense was "terrible") or VT.
So while, yes, it doesn't add up that a B1G QB of the Year/Team Captain/Etc = backup, it can similarly be said about Big Ten Championship MVP, Sugar Bowl Champion QB, National Championship QB, Guy who was getting some pretty good draft grades = backup.
I had a friend that attended BYU and self-reported extramarital relations with her fiance.
She was placed on honor code probation.
I'll take it directly from Corch:
"We're just finishing a 38-0 game; go enjoy it...I'm going to go see my family, have a hell of a time tonight, and make sure our players come in bright eyed, ready to rock and roll tomorrow and get a little better."
Eh, VT fans don't have much room to talk. They averaged 4-6,000 fans under capacity last year. After losing to ECU and Georgia Tech, their game vs Western Michigan was the lowest attended home game in like 15 years, only to be topped a month later for the game vs. Boston College
As much as I know it gets the crowd excited, every time I play the full version of Le Regiment I die a little inside. Also, my first game marching in the band (2003 vs BG) I was so nervous I didn't play a note. More recently, I actually had an inkling of fear we might lose to Cincinnati and I would start questioning if Urban still had "it"
Glad Gene is pretty much immovable on any suggestions to replace Ohio Stadium. I believe you would see a full-scale riot in Columbus if that decision was ever made.