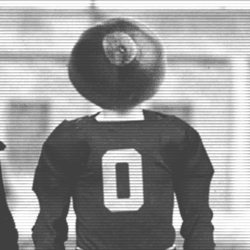 SweetBabyJames
---
Member since 30 June 2012 | Blog
Helmet Stickers: 320 | Leaderboard
Recent Activity
urban offered the QB of their team too
as long as david bell doesnt bring the ball down every time he catches it and can lift some weights he should be fine....im exited for him
Cam Williams and Armani Reeves were committed to Penn State and Urban flipped em both...
i think yall missed them in the story
David Perkins once committed to Notre Dame...but dont remember if it was a direct flip...
Also Hubbard was a ND commit...sort of..
i have always liked the basketball bucks...alwayed tuned into the games...
im not saying this team is trash, or anything like that....
but they aint too fun to watch
scott's passing aint too bad
thompson can fly
scott's inside and outside scoring is glaringly weak in comparison to all of his other amazing skills
hopefully for michigan st on saturday
the kids will be playing thier hearts outs AND THE COACHES WILL BE SCREWIN IT UP!!!
there offense sucks yes....alsomst as bad as ours in 2011, maybe worse...take your pick
gotta get down to it...soldiers are cutting us down...
the only thing i heard was that NCAA said the free rims that the players had been getting met the specified size allowed by the SEC (24 inches)
his girlfriend will be in the LSU locker room after the game if he is looking for her...probably hanging out with the d-line...
he is, even his own center almost beat the piss out of him on national tv...haha
so much for setting the tone
has stanford done anything impressive to you?
running the power trap every play?
oregon knows its coming and can't stop it...
oregon sucks...stanford is good at running the football up the middle...thats about it
i think what deanthony meant by dropping 40....was dropping 40 spots in the polls
yeah..my computer is never this slow
will oregon get the ball back in the 3rd quarter...
yes or no?
didnt even try to recover the fumble...
there is no way oregon will play in the championship game
Kieth Jackson voice "GOODBYE HEISMAN"
oregon offense sputtering all night
i think oregon is wondering if they are allowed to run an offensive snap yet