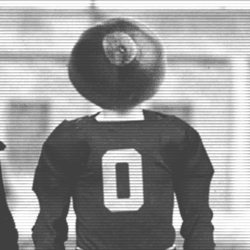 SWAGGERNAUTICAL
---
Member since 18 June 2014 | Blog
Helmet Stickers: 66 | Leaderboard
Recent Activity
What's the age limit for registration? 21 is still cool right?
his offer isn't commitable to UK
i feel like the title "A LOOMING BLACKOUT" should also be the title used in a story on my life
needed to leave room for Malik Jefferson
I know black isn't one of our colors but a black jersey with scarlet numbers would be dope bro.
I hate to say it as much as the next guy but the days of Ohio state being only Ohio players is gone, we recruit nationally therefore if we can get a better kid from somewhere else, we will recruit him, also not to brush baker off I hope he's in our class, but there are a ton of the nations best LBs next year that happen to be in Ohio as well.
Anyone think if they miss on Baker, that the staff looks at Mckee
Only 21, so I've only been able to go to the bars for a few years...I'd take your word for it though.
R bar is still nice usually brothers and callahans are the go to bars, short north is starting to pick up with Bernards, Bakersfield and pint house.
I really don't see what the hold up is on newer unis. The future of the organization are the students and players now, while I agree it'd be nice to stick close to our brand, what's wrong with a few updates?
This is hilarious
He followed me also out the blue, and thanked me for my service (my profile picture is of me in uniform) he's a great kid
What's a twitter?
I like this it's very pro buckeye, but the fact that Boykin changed his date is worrisome since he's more of an irish lean from what I've read, hopefully they aren't all committing together
We are top two for Peete
I'd rather him be a dark horse anyway
It is the taste you can see
Scott and Harris
i think the gap in TALENT between the rotation guys and the starters are far less then most think. The starters are obviously the best, however, the recruiting we've done over the last few years has prevented many others to prove themselves. I think the older guys like steve miller and frazier have more EXPERIENCE. Don't really see an issue with the rotation, any of these guys could play the entire game, but why not keep them fresh?
Does anyone think the possible commit of fullwood to Vtech maybe pushes Sweat away? They already have Lewis (4-star DE) committed and it seems like Sweat is our number one DE on the board
I like Tyler Green being on this team and being able to be in Sweat, Mcfadden, and Sunderlands ears
Haskins, Henry and Pass all with the good guys as their leaders
Pass' s size puts him over the top IMO
I played high school football with Jeffie (I was senior he was frosh) very gifted athlete not sure if he would've made the team though IMO