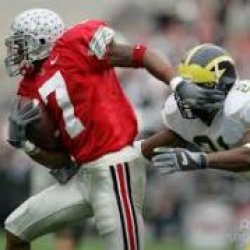 stubbzzz
Nashville, TN (via Lima, OH)
Member since 13 August 2013 | Blog
Helmet Stickers: 229 | Leaderboard
professional musician living in Nashville, originally from Lima OH.
Favorites
SPORTS MOMENT: 2006 Ohio State vs Michigan ... GLORIOUS.
COLLEGE FOOTBALL PLAYER: Touchdown Teddy Ginn Jr.
COLLEGE BASKETBALL PLAYER: Jamar Butler
NFL TEAM: Cleveland Browns
NHL TEAM: Nashville Predators
NBA TEAM: Cleveland Cavaliers
MLB TEAM: Cincinnati Reds
SOCCER TEAM: the Teenage Mutant Ninja Turtles team from the Hen
Recent Activity
thanks mane. I DO appreciate you.
wasn't Dontre in the scarlet #2 jersey? who was the other football player in the final besides Grant?
So who was it that won the final? who is #12. i didn't recognize him, and couldn't read the name on the back. was that Doran Grant?
guys what the hell? cut it out. I don't appreciate the "flop" gifs. ( although I will concede I did look an awful lot like the boy in the first gif when I was a kid. ) message received. In the future I will assume that no one here gives a crap about going to see movies featuring fictional Cleveland Browns and fictional Ohio State Buckeyes on opening night. my bad. I assumed a bunch of you would have seen it and been equally as excited as I was.
so just to be clear, any and all references to Johnny Utah, or Shane Falco are acceptable, but Vontae Mack is not. got it. thanks.
They played well enough to win. just lacked focus for 1 minute and it cost em. I'm proud of them though.
haha I like these announcers. he just said, "He's on him like a tapeworm". and earlier he called Ryan Dzingle "the dirty dangler".
Yeah, I'm enjoying flipping back and forth on TV but maybe it wasn't the best idea to schedule the Wrestiling and Hockey AND Basketball tournaments on the same night?
wow. well here goes overtime. hopefully we get our legs fast and fresh again.
uh oh, I switched over to watch logan stieber dominate the NCAA wrestling tourney, and apparently I missed a lot of action. score is now 4-4?!!! what happened?
Man, Stieber is dominating!
Man, Stieber is dominating!
wow. that was a crazy quick save by Wisconsin's goalie. gotta give credit where it's due.
Uggg! Heflin! so close. he should have won that match. how do you get called for stalling in a match like that with 20 seconds to go? ref had a pretty quick whistle on that. i feel for the kid.
oh, and even though he's not from Ohio per se, Jim Brown, the greatest football player ever, played his pro ball for Ohio.
you're damn right good sir! I think Paul Brown is the best football coach ever too, most innovative and most influential. better than Lombardi even. I mean, Paul Brown invented the Playbook, the face mask, the huddle?, the radio helmet, pass blocking?, the 40 yard dash, the regular use of field goal kicking as an offensive strategy, and the first NFL offense to really utilize the forward pass as a main ingredient ( basketball team in cleats ).
haha you should write him a letter to remind him. maybe you can come out of it with and autographed giant pixie stick to make up for it?