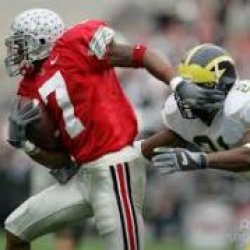 stubbzzz
Nashville, TN (via Lima, OH)
Member since 13 August 2013 | Blog
Helmet Stickers: 262 | Leaderboard
professional musician living in Nashville, originally from Lima OH.
Favorites
SPORTS MOMENT: 2006 Ohio State vs Michigan ... GLORIOUS.
COLLEGE FOOTBALL PLAYER: Touchdown Teddy Ginn Jr.
COLLEGE BASKETBALL PLAYER: Jamar Butler
NFL TEAM: Cleveland Browns
NHL TEAM: Nashville Predators
NBA TEAM: Cleveland Cavaliers
MLB TEAM: Cincinnati Reds
SOCCER TEAM: the Teenage Mutant Ninja Turtles team from the Hen
Recent Activity
That's crazy. Pavarotti is singing the violin line like it's nothing.
this is a cool thread. I like reading through everyone's passions. For me it's...
1) Jesus
2) Music
3) Sports
and if i divided up sports it would be...
1) Buckeyes
2) Browns
3) Cavaliers/Lebron James
I'm gonna go with the Thunder and Lightning strategy….
QB = Troy Smith
RB1= Eddie George
RB2= Archie Griffin
WR1= David Boston (Chris Carter is the obvious choice, but I wanted someone physically dominating)
WR2= Ted Ginn Jr.
…but my scarlet glasses are the coolest…
I hear you man, and i can't deny Johnny is a good player. I just think, other than age difference, the two players are so similar in style and skill set that you have to split hairs to say which one is better. like a tenth of a second in their 40 times. But a very important difference in my eyes, is that one guy is mature, and the other guy is not. and that's an understatement. I'm personally rooting for Brian Hoyer to be the starting QB, but if the Browns wanted a short, mobile, playmaking QB with a rocket arm, who's exciting and has all the intangibles, why not get the less expensive hometown hero, with previous NFL experience. could have drafted a 1st round receiver had they done that. and i'm positive Troy would sell just as many Browns jersey's as Johnny will. … unless Haslam is just really focused on growing the Browns fan base in Texas. In that case, Johnny wins.
Had 2 great games out of how many total? I'm not being argumentative, i'm asking because i don't remember, nor do I know where to look it up. The fact that he had a couple fantastic games and a few average ones out of a sample size of 6 or 7ish games total, tells me there is some potential to work with. I don't remember him having any real stinkers except maybe his second game against the rams in 2010.
Alex smith stunk it up as a starter in the NFL for 7 years before it finally clicked for him. Troy only got a handful of games for his opportunity. I feel frustrated for him, thats all.
ok so maybe there is no stone tablet with Troy's name inscribed on it as the Raven's starter, but if you can remember, before he got sick, all the reports where that he was winning the QB competition between the 3 of them. They each took a turn starting a preseason game, and troy got sick the week it was his turn. maybe he didn't beat out Flacco in the end, but he was winning and had he been healthy he would have won. We both know Boller was not going to win, whether he was hurt or not. He already had a couple seasons asa starter to prove himself.
I am most definitely a homer, and I wear it like a badge of honor. no shame here.
The CFL preseason has already started. I wonder if you can find the games online? Rooting for Troy might be a great way to pass the offseason. He'll be throwing rockets to Duron Carter, Noel Devine, and Ochocinco this year.
How many great QB's are sitting in the shadows as 2nd and 3rd stringers in the NFL because mediocre 1st round guys like Jake Locker are taking all the reps with the first team year after year? I mean, after an entire off season last year, the Brown's coaches thought Brian Hoyer was only the 3rd best QB on the team. there are only 32 QB spots in the league, so guys have to be getting overlooked left and right. I feel like Troy is one of those guys.
I'm with you man. You might be on to something with the Singletary thing. because, I watched every 49er game that year. (they had all 3 glenville dudes, Troy, Teddy, and Donte) and that team played 3x better for Troy then they did for Alex Smith. It was painfully obvious. Their 2010 home game against the Rams, Troy dominated. It was vintage, like he was playing the Golden Gophers again or something. But Harbaugh came in and cut him before practices even started.
Then the Steelers cut him before the Pre season and I remember reading that Coach Tomlin said the reason was because he felt Troy could be a starter in this league, but he would never get the opportunity if he was always sitting behind Big Ben. I admit that sounds like total BS, but whether it's true or not, i did read it somewhere years ago. So, take that with a big grain of salt.
So Troy's career has basically been…
- beats out out Kyle Boller and Joe Flacco with the Ravens, but ends up spending time in the hospital, losing 15 lbs and missing a couple months. Flacco then gets the nod as a 1st round investment and keeps the job. ( Smith had a winning record with Ravens )
- beats out Alex Smith in San Francisco. Makes the team come alive. yells at his coach on the sidelines after an interception. gets benched. gets cut by Harbaugh without even getting a chance. ( Smith had a winning record with an awful 49ers team)
- gets cut by Steelers because the Coach allegedly, said he could win a starting job somewhere else. ( big grain of salt. )
- joins Canadian team as a back up, takes over starting job mid-season, leads team to playoffs. wins starting job outright for 2014.
it's frustrating to see him not being able to catch a break while guys like Alex Smith get a 7 year mulligan for bad QB play, before he started to turn it around. Or Blaine Gabbert and Gino Smith get an entire year or two as a starter. It just doesn't seem fair.
here is a comment that another guy made in Cleveland.com's comment section. I think it's pretty informative.
". . . never proved he couldn't play at the highest level. . . " Agreed, and in fact Troy out-performed Flacco in Ravens camp, to the point that Suggs, Ray Lewis and others kicked up a stink when Smith was demoted. "
uggh. that is so frustrating. it seems like this always happens to the best big men anymore. If I were the GM I would just quit and be like "I can't handle this, someone else make the pick!"
I guess Big Z is the only guy to recover from chronic foot problems, but then again, that took 5 surgeries, at least 3 years and he had a lead foot after that, really limiting his speed and athleticism. so yeah, even if Embiid recovered from this stuff, he might not be the same athlete anymore.
Can anybody explain what the big deal about Embiid's foot injury is? is it something that likely foreshadows a recurring foot problem, or just a one time injury? If it's just a one time problem, I say, take Embiid anyway and just wait patiently while he heals, because he looks Awesome on both ends of the floor. If he turns out to be Dwight Howard but with actual offensive skills, I would really hate to play against him.
The SEC chest puffing and national media trash talking over the 8 years, has forced me to start rooting for other B1G teams. I just want them to shut up.
The first year after he left I was crushed and angry. Then I realized, I never even watched basketball before Lebron. Why waste my time being pissed and miss out on watching the best player since Jordan while he's in his prime? I still wish he'd come back to Cleveland and make things right, but i'm going to watch him regardless.
Ha! I said that same thing to my dad. seriously, if there is one linebacker in the world that Manziel can't out quick, it's RDS. That scenario will definitely play out eventually, and when it does I will probably cheer for a second. what a weird feeling.
haha i get it. stone hands? nice. you always deliver Unky Buck, … you always deliver ...
Thanks for sticking up for Tressel, DJ. I still think in the bigger picture, Tressel did the right thing. If it were me, I honestly think I would've handled it the same way. especially when you consider that on one side of things you have the NCAA and their nonsensical rules that only matter in their own self important magical world, and on the other side of things you have an FBI investigation with all of their ACTUAL LAWS and such, probably telling you to keep everything confidential until the investigation was over.
I just keep thinking how the Browns could've had Watkins, Roby, and Carr. I feel like those meet the biggest needs with better players at each position. To me Roby = Gilbert, Carr > Manziel, and Watkins >>> ?
I think Carr will be the only QB who ends up making it, from this draft class. except now that I re think about it, he doesn't stand a chance because he got drafted by Oakland.
am I the only one who can't stand Manziel? Everyone else is cheering and praising Cleveland like they just drafted Jesus in cleats while I feel sick to my stomach. this is ridiculous. I'm trying to think of a player who gets under my skin more than Manziel. Tim Biakabatuka maybe?
I was just going to say, i think the 7 on 7 stuff would be even more beneficial than spring football. maybe not for linemen but for quarterbacks. I've always felt that Ohio should be producing more top shelf quarterbacks, considering we have such smart and "the best coached players in America" as Urban says. I feel like 7 on 7 would go along way toward waking up the sleeping giant that is Ohio quarterbacks.
thanks mane. I DO appreciate you.
wasn't Dontre in the scarlet #2 jersey? who was the other football player in the final besides Grant?
So who was it that won the final? who is #12. i didn't recognize him, and couldn't read the name on the back. was that Doran Grant?