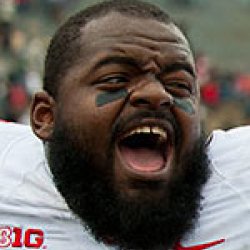 Stoicpaisano
CHI (via Shaker Heights)
Member since 22 January 2014 | Blog
Helmet Stickers: 93 | Leaderboard
Favorites
NFL TEAM: Cleveland Browns
NBA TEAM: Cleveland Cavaliers
MLB TEAM: Cleveland Indians
Recent Activity
Jumpin out the window with this one...
Popped his tattoo cherry so we don't have to worry about Fine Line.
Hubbard is now 88.
Thompson is now 94. I assume he had 53 since that's what Goebel (fellow Montini Catholic grad) wore, but perhaps it was a placeholder.
Brady Taylor has to share 73 with another scholarship player on the same side of the ball (Underwood) so I'd wager he's getting a redshirt.
12 g, 13 rec, 176 yd, 1 TD, 2 punt return, 24 yd
Yes, coming up on five years past.
I like the cut of your jib.
So I'll be the fly in the ointment. 730pm on a Friday isn't what I would call 'late'...especially when schools out and there isn't shit else to do.
that said, no matter what the time I give Braxton credit for trying to build rapport with some receivers that he'll rarely see in live-fire situations. This will be beneficial to both guys but Jalin more than he might realize.
and #17 is hot no homo
Not sure how 2004 makes a top 5 list...only 15/25 finished school and 5 were drafted (counting Brandon Underwood). That looks very 2009-ish to me, other than 2004 having a superstar in Ginn.
I'd have to think 2005 slots in second behind 2002...16/19 finished at OSU or left early for the NFL. Seven draft picks plus three guys who have legit four-year careers as UDFAs (Anderson Russell, Cordle, Boone).
I'm sure dey all bees gud kidz amd dint do nuffin.
Why the hell is Cedar Point providing Pojo and Nuck-Nuck and other Flint, ichigan goons with jobs?
Mike Thomas doesn't like soft-ass shit. Also:
Not starting anything but that Nike jacket has been out for all of six weeks and runs $180.
and it makes noise from about a mile away.
Thought this would be a Pam Ward thread.
Shoot Corny Greene was driving around in a nice car with "Flam7" license plates 40 years ago.
Doug Worthington's family is well off, Athol Springs, NY is a very nice town.
Mr. Prime Rib of Alopecia
The junior-to-be
RS Soph, yes? Post-grad at FUMA doesn't start the 5-to play-4 clock, so he's got three seasons of eligibility.
McDaniels has only had the job for six weeks, he did a great job molding kids from tough backgrounds (see: Clarett, Burgess, Manningham) at Harding for awhile and this is his second go around at McK. Hopefully he'll get through to EGW and his teammate.
What "endorsement" do you think Miller is angling for when wearing these gloves? Nike provides gear to the whole AD, not just for Miller. And it's nothing like pitching a baseball with a huge mitt on.
Awesome stuff Il Padrino.
I have a couple game jerseys:
- 2012 home #8. Sizing pegs it as Southward, not Spence. The nameplate has been removed so I can say it was worn on the sidelines for a handful of games, rather than it being a backup set.
- 2008 road #6. Grant Schwartz jersey that saw some action. Nameplate removed but some evident purple paint transfer from the November shellacking in Evanston.
Might be of interest to some people, the OSU site is selling team issued 2012 jerseys for $125, 2013 for $200. Still some decent numbers left. Fat fans should stay away as these are fitted tight.
Yes, he wears 80 now. They needed practice bodies with Heuerman hurt and Baugh still untrustworthy.
Born and went through grade school in Cincy. Parents afraid he was going to fall in with the wrong crowd, shipped him to Naples to live with Grandma and attend HS.
Glenville continues to be amazing...Jones and Worley mentioned by Urban, Frank Clark and Shane Wynn on the teleconference.
That was the extent of TY Williams' contribution to the team.
Who's the balding white dude?