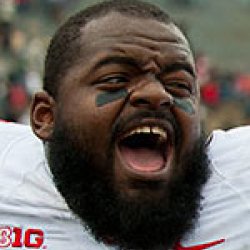 Stoicpaisano
CHI (via Shaker Heights)
Member since 22 January 2014 | Blog
Helmet Stickers: 37 | Leaderboard
Favorites
NFL TEAM: Cleveland Browns
NBA TEAM: Cleveland Cavaliers
MLB TEAM: Cleveland Indians
Recent Activity
Oh hai John Cooper.
That birthmark makes Bryant look like the black Harry Potter. Harold Potter?
Babs Byrd Bennett left the Cleveland and Detroit public school systems in worse shape than she arrived (somehow), yet she got tapped by Emanuel to run Chicago. Predictably, it's been a train wreck.
These non-true freshmen were striped yesterday:
-Munger (makes sense, he had his medical issue)
-Worley
-Apple
-James Clark
I get the stripe as a motivational thing but it's a bit overblown here. I believe the first recipient both years has been a walk-on (Ramstetter last year) and Worley, Apple and Clark were all on the 70-man travel team in 2013, with Clark actually playing before his injury.
UA picked up ND (from adidas) and the Naval Academy (from Nike).
Tennessee is switching from adidas to Nike.
Finishing up year 8 of the NBA/adidas 11-year contract.
All I know about Migos is that one of their members will "eat a nigga's ass like an Almond Joy."
I on the other hand will literally murder somebody for some Migas.
This job description reads mostly as back-of-the-house/support staff type stuff. I'm sure Pantoni is looking for someone who can sell themselves in an interview--at the very least--but the contact with players seems to be limited to checking flights and making sure their tickets/credentials are ready. And even that might just involve a handoff to the pretty snow bunny host.
The coaching experience thing is interesting, since most of the coaches (HS, NCAA and NFL) I know love the games/practice but have either no time or inclination for the logistical duties. To my knowledge, Pantoni has no coaching experience but he's the first "gatekeeper" when it comes to breaking down film and recommending a prospect.
Even with no coaching experience, I applied. We'll see what happens haha.
Anyone know of a gif of Matta from that clip?
People wishcasting. Moore is on a bunch of the special units. Further, Baugh is on proverbial double secret probation and has only been with the team for about three months since he enrolled. I'm sure Marcus has a playbook and workout routine, but when you've been suspended from team activities multiple times, falling behind is a certainty. I'll give him the benefit of the doubt and assume he shows up for summer (if not spring), but he has lots of ground to make up. They need JT either way.
See avatar.
it looks like CC is trying to gobble the "NEW" bar.
I believe Zoey Deutsch (spelling error I'm sure) is the newer model of Page.
Nike did the letterman jackets for the coaching staff the past two years.
They do not handle the OSU varsity letterman jackets.
This team only has 13 bodies for the O-line this spring, 11 scholarship. Can't even go three-deep, so I wouldn't be surprised to see Hale over there just for the spring. He's a rising SR and doesn't need the defensive reps quite as much.
Taking Hale from the DL still leaves them with 15 players, 12 scholarship (and two of the three walk-ons were on scholly at other B1G schools). Most importantly, the next men up (no matter where Hale ends up in the fall) include Donovan Munger and Mike Hill. Munger wasn't medically cleared at all this season and Hill played early but was injured seriously enough that they sat him to preserve his RS when Schutt returned. These two guys are way behind and need all the snaps they can get..harder still since you have Carter and his Beard around as well.
I wouldn't read into this that Hale is being passed up on the defensive line, and perhaps he may impress on the OL? But all-in-all I think this ends up a temporary move.
NOTE: I didn't put Chase Farris in either of the above counts...I don't know if he actually tore his ACL but mid-December surgery makes it unlikely he's back for spring. If anyone has more solid info, please let me know.
Shoot the boy Munchie in his hind parts, that's all.
Buckeyes signed eleven linebackers in the 2011-13 classes. Fickell put nine of them on the field as true freshmen. That there have been subsequent transfers/dismissals/position changes from that group isn't necessarily on him.
Redshirts: Mitchell and Crowell (specifically due to an injury that cost him his career).
I think the position coaches rightfully have final say over their groups, but it may be a stretch to say--and this is a hypothetical--that Fickell should determine a Vonn Bell's playing time. Two reasons for that: (a) Withers was Bell's position coach and nominally equal to Fickell; (b) Withers handled Bell's recruitment personally. I don't have a problem with Fickell not knowing Bell's strength as the entire defensive unit doesn't meet that often. That said, Fickell needs to own the play of his linebackers...he thinks MM wasn't ready for whatever reason, I think he has the bonafides to make that call. Obviously Meyer can call anyone on the carpet if he disagrees (see: Coombs/Conley).
What is mind-bottling to me is that the CBs and safeties were apparently split up in film and positional meetings. How the hell do you teach install during the Summer in separate rooms, let alone run a grading session during the season? I trust that Ash will improve internal communication to make DBs a more cohesive unit, and hopefully that extends to the defense as a whole.
Surprised they don't have the Block O roped off.
You are correct on speculation. I remember a mid-August story on freshmen hitting 'The Wall' in camp, and how the linebackers were coping with it. Don't recall if this is before or after Mitchell got dinged.
sorry if this message is garbled, the new site hates my tablet.
Mitchell was on the travel team for all the road games.
i do tend to agree with Iwearmocs...Mitchell at this point looks great in a t-shirt and shorts but didn't play the best competition at Prestonwood. He looks better in jeans but Trey Johnson--despite being undersized--saw the field earlier in part due to respective high school upbringings.
Fickell obviously isn't afraid to play freshmen with five in 2012 and Johnson and Darron Lee (who naturally got hurt in game two). Because Angry Ohio State Linebacker-Hating God.
Come off it. You made a clearly untrue statement that was refuted with 10 mins of research.
Whether you clearly incorrect hypothesis was made out of malice or plain ignorance is irrelevant to me.
Gee whiz, it's like we have google to prove johnblair's hypothesis is full of shit:
-Jamel Turner got shot before ever making it to campus
-Ejuan Price bailed after Tressel was fired. He'll be a three-year starter at Pitt.
-Jordan Whiting, Jon Newsome, Dorian Bell and David Perkins were--to put it bluntly--told they needed to find new schools after repeated transgressions. The latter three all won postseason awards for their 2013 performances.
-Mike Mitchell, Scott McVey, Conner Crowell and Chad Hagan were forced to put their careers on hold or retire due to medical issues.
-Luke Roberts transferred, of his own accord and fully healthy, to Haaaaavard. I guess you can pin this one on Fickell. One guy out of eleven. Swiss fuckin watch.
2009-2013 classes: 18 LB commits, 11 taken by attrition, 5 on 2014 roster, 2 graduated/left for NFL
2004-2008 classes: 15 LB commits, 3 taken by attrition, 12 fulfilled eligibility (8 of whom were drafted)
Same LB coach for all ten classes, did Fickell forget what he was doing, or are the numbers recently against him in terms of goons/medical cases?
A lot of the LBs that left the program were unavoidable. Turner got shot, McVey, Crowell, Hagan went medical, Ejuan Price got freaked out by the Tressel situation.
Bell, Newsome and Perkins were all goons. They were also all-conference last year.
They planned on playing Mitchell in 2013 and he got hurt. They played Darron Lee in two games then HE got hurt.
Luke Roberts was a clear miss. Cam Williams (and Reeves) looks like a miss.
All the above is why I'm not as down on Fickell as others. He needs to hit on this year's quartet but has a history of putting guys into the league.
12/15 guys finished, 7/15 multi year starters. Saban would've med RS'd Evege before 2007 was out. Oliver was a guy I thought would be a stud. Washington seemed more concerned with his Gosling photoshopped body rather than his on-field production.