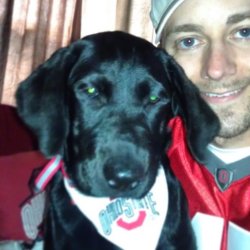 Stefan_wannie
Ohio (via Van Wert)
Member since 30 November 2013 | Blog
Helmet Stickers: 110 | Leaderboard
Voting Record: 2 / 0
Just a guy who loves sports and this beautiful world we live in!!
Favorites
SPORTS MOMENT: 2002 and 2014 National Champioships. Waiting for my Cleveland teams to win a championship now!
NFL TEAM: Cleveland Browns
NHL TEAM: Columbus Blue Jackets
NBA TEAM: Cleveland Cavaliers
MLB TEAM: Cleveland Indians
Recent Activity
That is such an amazing picture. Such a beautiful sight seeing that stadium!!
I love night games so much. I just HATE waiting all day for the game. But there is just something about night games though. I cannot wait till September!! Go Bucks!!
Awesome highlight video. Such an amazing run. They can show these highlights until Sept. 7th please!! Go Bucks!!
Ummm... I think he maybe a little delusional. I could not even name two of their qb's on that team. But whatever floats his boat....
2014 title game was a blast despite all those turnovers that game could of been very ugly!
2002 title game will never be for gotten. I don't think I ever screamed and cheered so much in my life for that game!!
USC vs Texas in the Rose Bowl was an exciting game.
Butler vs Duke in bball was an awesome game!
I know it was not a title game but that Boise St vs Oklahoma was a pretty awesome/fun game to watch.
Go Bucks!!
That is a pretty awesome collection. I would love to have that!! That was a fun year winning it all too. GO BUCKS!!
I'm 29 and I have been to too many to remember. I've only be to one away game at Purdue. I have seen every BIG TEN team twice except Nebraska (Have not seen yet) Maryland (Hope to see this year at The Shoe) and I have seen Rutgers once just this last year. I have seen USC, Texas, Va Tech (bad game) Miami Fl, seems like just about every MAC school. But all in all every game is a blast watching. GO BUCKS!! I guess if I had to put a number on it, I would say I have been to around 30 some?
BOOM!!! Great get by Urban!!
Just sounds like he is making a complete a** of himself. He could possible hurt coaches coming into his school to look at players if he is going to come out and be a big cry baby about a coach that leaves to better himself. Just blows my mind, its a job, a business it changes. Your an adult act like one and show class and support your kid who made a choice. What is he going to do when/if Harughball bolts back to the NFL. Just something to think about.
You are exactly right! I agree with you on the how he just keeps bring in great coaches after coaches and wins every where he goes. Who wouldn't want to just play for him. Just seems like TTUN is a little salty and will try anything and everything to down grade the Buckeye program.
To me this is seeming to be getting blow out of the water way to much imo. When you have a good coaching staff you should know that in anytime of the day, they could take another job any where. Happens all the time every where at every school. You commit to the school not any of the assistant coaches. I could see where you would commit to the head coach cause he has the better chance of being there long term. But to me it sounds like he did his job all the way up till the last day he was here and I am sure we will get another great RB coach. I mean yeah it would suck getting close to that coach and all but it is part of the business and these kids should know it. I honestly do not see Jim Haurghball being up in TTUN for long term at all. The NFL will come back calling and he will leave too. It happens. If your going to throw a fit over a coach leaving who recruited you you may want to get out of the business. Happens in the NFL too and it will happen in what ever career that kid has after football. Its a job it changes all the time. I do not see how this would be a black eye for OSU at all but lets just let it play out and see what happens! GO BUCKS!!!
After watching that video of the Buckeyes season. It hit me that I am really going to miss Smith running down the field and catching bombs!! I hope we can find a guy like him for the deep threat. I know we have a ton of talent but man, Smith would catch anything thrown his way and would just completely smoke passed the DB. So sad the season is over. But I sure do love this feeling. NATIONAL CHAMPIONS!!! I'm ready for next all ready!!! GO BUCKS!!!
I wish I could give everyone an up vote but I only have like 30 stickers!!! Nothing will take this smile off of my face!! I am so proud of this team and Buckeye Nation!! Thank you for such an amazing year. 2002 was such a great year but I think this tops it by far. All the stuff this team went through!! Such a TEAM effort!!! Love this website so much and I am so proud to be a BUCKEYE!!! GO BUCKS!!!
BOOM!!! NAILED IT!!! Go Bucks!! O-H-I-O!!!!
Sorry I do not know why it is posting multiple times. :(
Since everything is taking that I wanted to use lol I'm going to go with. 246.5 got to get that half yard in there. GO BUCKS!!
I agree with all you guys on your post. But I'm going to go with not jumping on the ball on the opening kickoff. That Bama dude let it go through his hands and lay in the end zone for us to grab but our guys slowed up and the ref stood there waiting for either us to jump on it or that other Bama dude to kneel on it. We could of been up 7-0 in the first few seconds and that could of been a huge swing for us. But hey we won and I'll take it. GO BUCKS!!!
I'm so glad Oregon picked white to wear so we can wear our scarlet jerseys!! I love this jersey. I ordered one right when I saw you could get it and I love it. I'm up to 9 OSU jerseys. I have all the throw back ones they have worn and I have been looking for the white nike combat ones they wore against Penn St this year and a couple years back against TTUN but I can not find them ugh. I would also love to have one of those white ones they wore in the Sugar Bowl!!! GO BUCKS!!!
Awesome beer! I'll have some of that tomorrow also. Yum Yum is really good by them too. I got Gumballhead, YumYum, Zombie Dust, Alpha King and Robert The Bruce in my fridge. Great beers!! GO BUCKS!!!
37-9 good guys!!! GO BUCKS!!!!
Awesome video. Just keep winning! Go Bucks!!