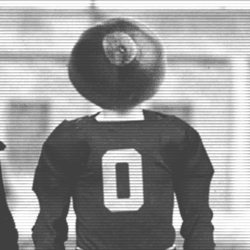 SpoonerBuck33
---
Member since 08 September 2012 | Blog
Helmet Stickers: 1,130 | Leaderboard
Favorites
SPORTS MOMENT: Watching Dorsey's pass hit the ground and immediately getting drunk off Burnt Cheeseburgers (Brent Musberger) tears afterward
COLLEGE FOOTBALL PLAYER: James "Little Animal" Laurinaitis
COLLEGE BASKETBALL PLAYER: Aaron Craft
NFL TEAM: Browns, Packers
NBA TEAM: Cavs f!CK LeBron
MLB TEAM: Indians
Recent Activity
1. Torrance Gibson
2. Drew Richmond
3.Josh Sweat/Ricky DeBerry
4. Damien Harris
5. Tim Settle/Jacob Daniel
Been confirmed it's a fake account and that was one of the first things that was tweeted.
Might have missed it, but where did you go Birm? In any event, welcome back and kudos to Jordan and John!
Sh'mar Kilby-Lane or surprise commit during a "junior day" visit.
Been waiting for us to land some Whitner/Doss type safeties and I think Edwards and Smith are in that mold. Birm you've been a busy man today appreciate all the news!
I don't have any stats but '16 WR Justin Layne from my alma mater has good size.
http://www.hudl.com/athlete/2084703/
Amazing write up Birm, thanks and merry Xmas!
If the NCAA actually tested for this you would see a lot more players below the Mason Dixon line get suspended.
If you're on twitter, following Kirk Barton is a must as he is an absolute joy to follow especially when he goes on rants.
Okay gents if anyone from or near the cleveland area wants to carpool or get a ride to this sunbitch then let me know. I will absolutely be attending this!
"Sun and Blue" lol this is why it's fantastic to have Birm back!
Pittman is the only guy not accounted for today hope its nothing serious I had high hopes for this kid.
OMG that NFL lip reading is absolute gold thank you Elika!
Loved Steve Kerr as a member of the Cavs love him even more now :) that made my day!
Great job Miles! At the end he still said Ohio instead of tOSU so we still gotta beat that outta him but hes new so hell get a pass im sure hell learn quickly lol
This kid is a reason why im not concerned about Byrne yeah hes an OH kid but this kid is identical in terms of talent and has better athleticism. A combo of him and Nelson at guard would be absolutely ideal and we are looking good for both.
Triv i have sources but they are from TOS and behind paywall but when ever they open their mouths about recruits their predictions they tend to come true as they are ppl that have played, coached, or been involved with the program so they are very much in the know and i trust their predictions. I def hear you on the tunsil front i didnt hear squat but they said to watch out for this one so i guess ill start paying more attention as i didnt think there was anything there either. Same for montelus is what they said also i do remember back when we offered him he def was interested so well see but i am confident in bell, worley, gibson if grades are there, and mitchell and they said heuerman will be on board as well with one potential big fish recruit if we have the space aka gibson see above and they mentioned montelus and tunsil as candidates to watch out for they really didnt go into specifics its more like a stock tip but with recruits if you will.
Bell is a buckeye as is mitchell, worley, and gibson and dont be surprised if heuerman is in already.....actually u might want to expect it but do keep an eye out for both montelus and tunsil as both of those situations are heating up and dont be surprised if one of them is in this class as well depending on gibson
Ross great write up as per usual you always add perspectives that most people dont see when watching live. I know i missed a bunch of this when watching the game. I would like to get your thoughts on mixing up the db coverage. Do you think it would help to mix up coverages between man and zone or man on one side zone on the other depending on the look of the offense? Also, would it be wiser to bring the db's closer to the LOS bc i noticed through 2 games they are playing way off inviting more 3 and 4 step drops, which isnt helping the dline get more time.