Spivan
---
Member since 15 December 2013 | Blog
Helmet Stickers: 692 | Leaderboard
Voting Record: 1055 / 5
Buckeye football fan for life. Army till they get sick of me.
Favorites
COLLEGE FOOTBALL PLAYER: Hyde
NFL TEAM: Cowboys
Recent Activity
Kill it! With fire!
"Oh my God why is my cousin in my bed?"
You say this like it's a surprise.
Sadly, there are teams in the B1G that Western Carolina could beat...
It's a ploy. The Squeelers draft Buckeyes which gets more people in Ohio watching them.
On Wisconsin is hard to beat.
That was my high school's fight song.
Nah. All the folks there are just using the tickets they got for buying a Coke at the Circle-K.
Except Alabama's Defense. They are still trying to catch the scarlet 15 off in the distance.
The need someone to play corner because Peppers has to play DE,DL,SS,FF, Both OLBs, MLB, coach the team as well as direct the band.
Thanks for the info. Just trying to get a feel before I take the plunge. Been awhile since I've been a civilian.
Definitely helps. I came in later than most at 27 and have almost 7 years in, but I think it's time for me to move on. Looking at a computer science degree.
Figured that much, I just hear from people I know that some schools are a little more difficult to use these benefits, so was asking opinions.
He is the best QB on the Cleveland roster... And that is why he won't play it.
The Court of Public Opinion convicted him long ago, and in society today, that is what really matters.
My usual response to the OSU plays nobody comment is that they played the perceived best and beat both of them down.
I'm wearing that in Central Georgia right now.
You win. That is awesome. Better than the cat I had named Goat.
As cool as that run was, the hit Hyde takes gets me. Glad BM pulled the ball on that one.
This is why I love 12 Gauge.
Honestly, there are way worse ways to lose your innocence.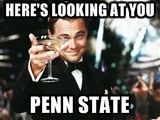 I've only been in Georgia for a few months, but I love me some Zaxby's.
The only sport I really care about is Football. It is nice to see OSU winning the other titles and the Cavs doing good, but basketball really lost my interest when Jordan retired. (the second time)
The shooting teams routinely beat those of our Armed Forces.
I am in the Army, and I don't know if I would call this an accomplishment...
UFM: You hear that Zeke?
EZE: I hear it coach. What is it?
UFM: That is the sound of inevitibility. That is the sound of the hopes and dreams of every Buckeye hater crashing to the ground and dying a horrible death.