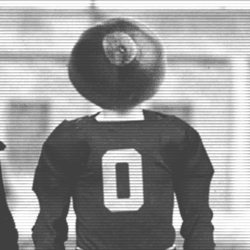 SpielmanForPres
---
Member since 02 July 2014 | Blog
Helmet Stickers: 22 | Leaderboard
Recent Activity
Eerily similar to the Quick recruitment.
My wife talks to me like that all the time.
I can't see any scenario where OSU would be successful without Braxton. To me successful would be finishing the season in the top 10.
Agree regarding Devin Smith. Solid player, but not the upside as a couple others on the roster. That's a good thing to me.
Welcome. As long as you don't have any 50/50 predictions you'll do just grand here.
Schedule certainly is favorable.
Finally have a reason to get a #1 Buckeye jersey. That Smith kid is going to blow up.
OSU's defense will have a pulse this season, and then some.
Very cool. I'll be there. It will be quite a battle.
It's hard not to root for Jerry Kill. That being said, my hope is an OSU curb stomp.
I may be totally wrong, but I thought I read a comment a while back that referenced Corey Smith as the best WR on the team at the end of last year. I found that hard to believe since he didn't play, but I'm most excited to see him.
What a great write up. These two should be impact players...