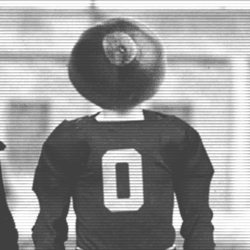 spacemonkey57
---
Member since 14 July 2012 | Blog
Helmet Stickers: 53 | Leaderboard
Recent Activity
Cincinnati got creamed by Illinois last year.
I don't know how you could ever bitch about Matta. Ohio State Basketball is not Ohio State Football.
Every time you give any attention to clay travis 100 puppies die.
I voted Rolle, but I don't think he belongs on this list. I appreciated the hell out of him.
Yes. I think their running backs combined for 28 yards on 28 carries.
At least cover the spread.
I don't look at the names before I read, but if it starts of with some incoherent crap I can usually figure out who wrote it pretty fast.
That's because he's not that clever.
I guess you didn't see the part about Clay Travis. He's like Skip Bayless without the talent, charm, or charisma.
Amen. Nothing to do with politics, everything to do with him being a dipshit.
UC is a MAC program that's hit three home run hires in a row.
And doesn't Nippert seat 30K?
There has to be a reason that many four and five star offensive lineman turned into UDFA's while Iowa turns two star tight ends into first round picks.
It's 50% getting his life together and 50% being coached by a qualified offensive line coach, not somebody who should be working at the snack bar.
All due respect to Hall, I think Hyde is the best running back on the team.
They did lose badly to Nevada at home.
Looked more like Silver Blanks to me today.
Untalented journalist says something to piss off large fanbase and encourages people to call into his show and debate him. Nobody pays attention to Tim Brando (or Greg Doyel or Paul Finebaum or Clay Travis...) because he's entertaining or insightful, they do it because they get angry at him. The vast majority of sports media is pulling a discount skip bayless schtick right now.
The thing I don't get is why people get so bent out of shape over it. It's easy to avoid these assholes. Just don't click on their links or watch their shows.