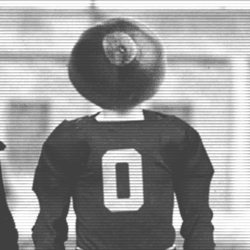 spacemonkey57
---
Member since 14 July 2012 | Blog
Helmet Stickers: 113 | Leaderboard
Recent Activity
I'm old and I wish they'd put the grey stripe back on the sleeves.
Did anyone take it as a bad thing?
In the immortal words of Jay Cutler "Don't Caaaaaaaaaaaaaaaaaaaaaaaaaaaaaaaaaaaaaare"
Truth. You can't even write bullshit "Defensive end looks unblockable" or "Quarterback finally learning to read defenses" articles in July.
In a dispute between private companies that write parking tickets and anyone the parking ticket company is in the wrong. That's assuming they weren't giving a ticket to some horrible monster like Hitler or Charles Woodson.
This is right. Minnesota? It's not 1947. Although I bet Minnesota has won as many national championships since 1947 as Michigan has.
I'm talking about his South Carolina tenure only. I'm sure he was trying harder at Florida. SEC wasn't nearly as tough when he was at UF as it is now either.
Saban has infinity times as many SEC titles as Spurrier. South Carolina is a perfect semi-retirement role for him, an Outback Bowl win is a great season. They've probably won as many games in the last ten years as they did in the fifty prior. Anywhere that actually gave a damn about winning would probably be getting a little salty now.
Maybe they could give Gene Smith a pay cut to offset the increased expenses.
Plus he was the best part of Deuce Bigelow.
This. Far be it from me to say anything good about Gene Smith, but have you seen the clown costumes Michigan and Nebraska play in?
On the plus side every time he gets one of these bonuses it highlights how broken NCAA sports are. All the money for the administrators, they're the real stars!
and dark and full of terrors.
I don't know what CBS Sports Network is, but according to their website I don't get it. Outstanding, who the hell wanted to watch the first game of the season anyway.
Illinois beat UC by 28 points last year, Ohio State beat Illinois by 25. Therefore due to Math Ohio State will beat UC by a minimum of 53 points.
Once you're high enough up it's impossible to fail no matter how badly you suck at your job.
" The sports that stipulation applies to include wrestling, cross country, track, diving, swimming, fencing, golf, gymnastics, synchronized swimming, tennis and the co-ed sports of rifle and pistol."
Gene busted his hump for that $18K. I wonder if the synchronized swimming team's annual budget is $18K.
Even without the taxslayer.com debacle I don't know how Gene can show his face in public with this bonus. People should be throwing paint on him.
Cincinnati got creamed by Illinois last year.
I don't know how you could ever bitch about Matta. Ohio State Basketball is not Ohio State Football.
Every time you give any attention to clay travis 100 puppies die.
I voted Rolle, but I don't think he belongs on this list. I appreciated the hell out of him.
Yes. I think their running backs combined for 28 yards on 28 carries.
At least cover the spread.
I don't look at the names before I read, but if it starts of with some incoherent crap I can usually figure out who wrote it pretty fast.
That's because he's not that clever.