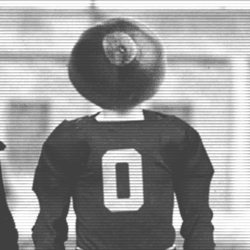 SouthernBuck
---
Member since 14 February 2011 | Blog
Helmet Stickers: 126 | Leaderboard
Favorites
SPORTS MOMENT: 2006 TSUN Game
COLLEGE FOOTBALL PLAYER: EDDIE
COLLEGE BASKETBALL PLAYER: Jay Burson
NFL TEAM: Bengals
NBA TEAM: Celtics
MLB TEAM: Da Reds!
Recent Activity
I have no idea what you just said.
I'm more of a hunter than a shooter but love to pull the trigger either way. Love to plink with the Remington Speedmaster .22LR my dad gave me. I carry a Kimber Ultra Carry II .45 in case of emergency. Just busted a turkey Saturday morning with my Mossberg 835.
Wish it were the other way but best of luck to him.
We play in the Big Ten. Basketball wise, that is plenty of schedule.
I agree with wanting what is best for RDS. If he goes, good for him, if he stays great for us.
As for Roby, I feel like he played with one foot out the door all year. I imagine making a decision to come back, risking millions, weighs heavy at times.
I agree! I'm happy with the way the DLine played andI'm not at all worried about them.
The linebackers are not good (sans RDS). I would put some of the blame for this on youth, injuries, and lack of depth I'm not an expert, just a fan, but other than Shazier, it seems like they spend to much time deciphering the play. By the time they get it, it's gone.
The corners and safeties look lost. It seems the right hand doesn't know what the left hand is doing.
All just my couch observations...
I agree! I just wonder how much more time the defense has been on the field this year due to our offense being so fast. Do you suppose that the lack of lengthy rests and lack of in game coaching time has any effect?
Again, I'm not making excuses just wanted other opinions.
Firstly, I'm not making excuses for our defense...they looked bad. I would be interested to see our offense's time of possession versus the time of possession our offenses had during one of our good defensive years. It seems like our defense is on the field a lot. Of course making a few stops would help but even when they do make a stop our offense strikes quickly and the defense heads right back out there.
If there is anyone out there with the time to post this I would appreciate it.
I'm sorry but our linebackers, other than RDS, suck. I've never seen fewer plays made by a group of ohio state linebackers. They stand around waiting to get blocked, over pursue everything in front of them, and stink in coverage. Whatever happened to the katzenmoyer method; see ball get ball. Trust your instincts!!!
I've been a Buckeye basketball fan my entire life, from Hobson, to Burson, to JJ, to Oden and Sullinger, but I've never enjoyed watching any player more than I enjoy watching Aaron Craft.
Just wish the announcers would learn how to pronounce his name!
He could follow in his buddy Paulus' footsteps!
Welcome to the jungle baby!
Adversity will make you stronger. Chin up!
Anybody else think that if a ref can award points to the defense for the offense holding (or in our case today, blocking in the back) that they should also award the offense a touchdown when the defense commits a foul in the end zone? Just seems logical to me. Let me also say, I don't like the rule either way.
My parents (both OSU alums) went to the OSU/WVU game in Morgantown about 10 or 12 years ago with my sister and her husband (who were WVU students at the time). They had a great time and didn't get too much hazing. Bucks won pretty easily so that made it easier to deal with.
I, in the meantime, threw a party at my parents house and almost burnt it down while twirling one of my brother in law's WVU shirts above my head on fire! The plastic mountaineer melted, flew off the shirt, and stuck to the siding. A bit of Mommy Juice may have contributed to my decision making that night but then also was used to put out the fire.
Ha! it might be a top five job in the B1G....?
After Craft's first game at OSU I told my wife, "you have to see this kid play," and he continues to impress me every game. He is humble in success yet the takes blame in defeat. I'm proud that he is a Buckeye and thankful he's not anywhere else.
I grew up in the area and know the road well. long and boring with a 55mph speed limit.
the funny thing is, Tress got pulled over (just for speeding) on the same stretch a few months ago.
seriously! my 82 year old nana carries a .25. no joke.
I would like all of you interior decorators to submit pictures of your homes.
i'm not saying don't express your opinion. it is fun to see how others are seeing the game as we watch it. i will say, craft had a very "un-craft-like" game. but why the hate? he had trouble with the pick up top. there was no communication between the big that came up and craft. one has to know the other is going to either A, stop the drive, or B, step out to keep from giving the open 3. it's hard to make that communication adjustment mid game and we didn't do that. it's not all craft, although he needed to fix it. i'm sure they'll be working on it between now and 6:00pm saturday. i am happy to see the freshmen coming in and playing defense. that is what they should do with fresh legs and being on the sideline coming up with a plan to stop it.