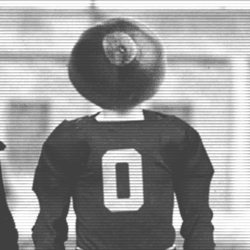 southbay
---
Member since 10 August 2013 | Blog
Helmet Stickers: 1,602 | Leaderboard
Recent Activity
Steve Martin recommends him as well.
Can't wait to see him play, go Marcus!
Watching the Super Bowl it seemed like their DL guys were all really fast, so I was thinking the new scheme with Bennett and Washington both playing inside is more like that. +1
Interesting discussion here guys, thanks.
I noticed the guy too, posted on the open thread,he was bringing it. Good show.
Good question about the quarterbacks. I hadn't noticed for some reason.
No, InTressITrust, sexually transmitted diseases have not been wiped out.
Same here, that would be very interesting. But this is great news either way.
Edit: I should have added that ideally, Trevor's dad doesn't have any health issues, and I'm sure everyone here would agree. Best of luck to Trevor and his family, and welcome!
Let me guess, the file name for this gif is something like "mullet_yessss", lol. +1
Did anyone watch enough of this game to get a sense of how good Wiscy is going to be? They have to replace a lot of guys on defense, and they (like the Buckeyes) had trouble defending against the pass last year.
I also saw a headline that Joel Stave got injured. I wonder if they will use a more mobile QB this year.
They aren't on the Buckeyes' regular season schedule but we could still see them in the B1G Championship Game. Not sure who else has a chance to win that division.
I think JT looked a little better in the Spring Game, and yeah I was a little disappointed with Cardale's outing, but I like both these guys and I think both will be ready when September comes (actually August 30).
I like that they complement each other with their different styles. If it is necessary to go with a backup, then either might be a good choice depending on the situation. Having said that, I hope Braxton doesn't take many hits and doesn't get dinged this season. The O Line needs to get solid on pass protection ASAP, even if they aren't as dominant as last year's edition.
That explains that (thanks Loveit) but can someone refresh my memory as to why Marshall didn't play? I think it was due to injury but I can't recall the particulars. TIA.
That's not TTUN garb, and I don't think he has any interest in playing for TTUN.
Rough start for JT Barrett but he did reasonably well after that and maybe closed the gap some
Reminds me of the one TTUN fan who showed up at the Cal game (in Berkeley last September), just after they almost got pantsed by Akron
El Guapo looking good, I haven't seen him interviewed on TV before, or at least not very often
Jones only 7 yards passing for the half, wow
Dunn has had some good runs too
Earle tipping his hat to Bo
That WR screen to Thomas, I hope to see a lot more of that
Chris Worley seems to be doing well
Horrible announcing...Stephen Collier does not play defense
Jones throws a nice spiral, what a gun