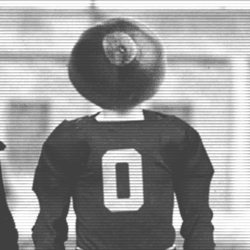 southbay
---
Member since 10 August 2013 | Blog
Helmet Stickers: 1,757 | Leaderboard
Recent Activity
C'mon, didn't you guys ever see Chinatown?
When I saw this topic I thought maybe it (GPS tracking) could be used to help keep the players out of places like the Sugar Bar, or that god-awful joint that Sprinkle stumbled into...
I think Coach Hoke was hired simply because it was expected he could get the desired results on the field. They probably realized he was not all that articulate from the get go.
I do miss Lloyd Carr, his totally (and sometimes outrageously) candid halftime interviews being just one of the reasons.
That was a great way to waste paper in the 70s.
When I saw the topic I thought maybe somehow David Perkins was back with the Buckeyes...
I'm excited about the emergence of Darron Lee, the new scheme at linebacker, and all the other changes on the defense. But I'm also wondering if Trey Johnson is going to make a push during fall camp. We'll know soon.
What Amir was last season is the Amir you're gonna get this season.
You're probably right, but it doesn't have to be that way.
With Anthony Lee alongside, and better outside shooting from the other players, it won't be as easy for other teams to push Amir around. Not saying it won't happen, I just think it's up to Amir, he just needs to decide whether he's going to play aggressively all the time and not get down.
I have wondered about this: Amir hits free throws pretty well, why couldn't he connect on a fifteen or twenty foot jump shot once in a while, like some other centers do?
Does this mean I have no chance of introducing my kid to Aaron Craft when we're in Las Vegas next month?
As long as it wasn't Myron Mixon of "BBQ Pitmasters"!
Same here, although I have never understood what the word "cage" has to do with basketball. Things like that bother me, I feel like I'm not in on the joke, but it's usually just something some sports writer came up with.
Mr. Cager does sound like he will be a dangerous receiver.
Edit: From sportsknowhow.com, on the early history of basketball, c. 1900:
Because basketball was often played on dance floors and in social halls, wire cages were placed around the court to protect spectators who sat in chairs surrounding the court. (Think of how hockey boards surround a rink.) These wire cages caused numerous cuts and scrapes. Players rejoiced with the wire was replaced with rope netting. To this day, basketball players are still referred to as "cagers."
Who knew?
Did you stay at a Holiday Inn Express last night?
2010 at Camp Randall. Buckeyes were good enough to go undefeated if they had made it past Wiscy.
A little late to the party, hope no one minds...at least the colors are right?
I think they will be improved over last year, particularly on defense. I just wonder if they will be able to run the football. Probably not well enough.
"This is Jim Rockford...", who can forget that answering machine greeting. RIP James Garner.
I had not remembered that TTUN had gone on to beat Florida after the 2002 game. I do remember that one of their other losses that year was to Washington on a controversial referee call, and I always thought Navarre was a pretty good QB, so that edition of The Game was a great matchup. A fitting way for the Buckeyes to earn their spot in the championship game, but a real nail-biter.
How tall is Dave Bell up to now? I've read some comments here about him that didn't seem fair to me. He's not as experienced as some recruits but by the time he gets on the floor he should be ready to play. Lets give the young man a chance.
Why oh why could he not have cowboyed up when he had his chance at OSU? Of course he had some talent.
Well, good for him, better late than never.
Here's a dictionary definition for ya:
fas·cism
noun \ˈfa-ˌshi-zəm also ˈfa-ˌsi-\
: a way of organizing a society in which a government controls the lives of the people and in which people are not allowed to disagree with the government
: very harsh control or authority
Since we are talking about "harmful" mascots, let's talk about those NFL teams in Minnesota, Oakland, Tampa Bay, and--gasp--Dallas...
For that matter, doesn't that team in New Orleans "disparage" people who are atheists?
And let's not forget Miami...
I am NOT a fan of the Redskins or their team name, but far do we want to go?
Not to mention the one time web site url for the Wisconsin Trade Federation. Not an urban legend, either.
Thanks I always enjoy seeing this play again! Go Rod...
I'm comin' to join ya, Elizabeth!
You're probably quite right Woody. The game is too slow for me, and I'm not young. It's the powers that be that don't see it that way.