SoCalBuck26
---
Member since 08 October 2012 | Blog
Helmet Stickers: 1,178 | Leaderboard
Voting Record: 515 / 3
Favorites
COLLEGE FOOTBALL PLAYER: Eddie George
NFL TEAM: Oakland Raiders
NBA TEAM: Los Angeles Lakers
Recent Activity
Jenna Coleman <3 Prob my fav season of Dr. Who.
Laker fan all my life!!!!!!!!!!!!!!!!!! I'm so excited to see Russell bring back Showtime!!!
The backwards gif is just as good, if not better =)
As a Laker fan, if this happens, i'll finally buy a 2nd Laker jersey. Been rocking the #8 forever. Super pumped if he goes to Showtime.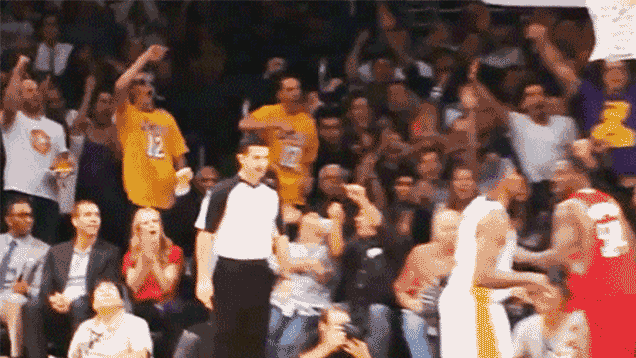 Lol. I remember hearing about this and talking about it during pharmacology. Her BA was almost equal to the dosage of Propofol they give for anesthesia before surgery. How she was able to walk around is beyond me, I don't think I could survive even in my younger days of binge drinking everclear.
As an impartial spectator (Laker fan here), both teams have their fair share of "dirty" plays. I just hope the series goes 7 games, it's been an enjoyable finals so far.
Twyin Lannister will not stand for this.
Nothing is sacred anymore. Next it will be The Goonies. smh. On the plus side, the Rock would make a decent Jack Burton, though we all know Kurt Russell is king.
Damn those 2k times are straight nasty. The best time I've ever had was a 7:02. I thought that was beast, guess that's why they're Varsity rowers and I was on a club team, they would of smoked the men's club team when I was rowing back in the day. Yall are monsters!!
Goodluck ladies, bring home that championship!!
I feel ya. I was hoping to buy a Russell jersey, but not so much now. I've been rocking the #8 since high school, good thing they run huge haha.
Don Pablo's Taco Bar for happy hour.
Here are some that I didn't see in posts:
Firefly (if it's on there)
Sherlock (It starts off slow, but Benedict Cumberbatch and Martin Freeman kill it as the episode goes on)
Leverage
Could be good, could be bad. Idk. I'm hoping they do the manga some justice.
I forgot Boiling Crab, there are a couple in the OC. If you like seafood and eating w/your hands. Get your seafood order with the whole sha-bang! and XXX if you like it hot, add corn, potatoes, sausage and you'll be in heaven!!!
I try to avoid Anaheim area, just b/c of Disney. Unless i'm doing a park hop and overdosing on churros and chimichangas, I avoid that area lol. Also too many bro's for my liking, especially if you venture toward Riverside.
OMG Mastros in Beverly Hills, I go there every year for my Bday. I'm glad I don't pay the bill lol.
These are all LA Locations:
Guisados DTLA has the best hand made tortillas i've ever had.
Spitz (Mediterranean) couple LA spots
LaLa's (Argentinian) the chimichurri they serve is basically crack. sangria is on point.
Stout (Gastropub) solid draft selection and burgers are legit
Any All you can Eat Korean BBQ in Ktown haha
Roscoe's Chicken and Waffles
Daikokuya (Japanese) go for the Ramen
Blu Jam Cafe (breakfast) their french toast is amazing
The Griddle (breakfast) Black Magic pancakes, all you need to know.
If you have time or twitter, it's always good to find these food trucks in a LA:
White Rabbit Truck (Filipino)
Grilled Cheese Truck
Kogi BBQ Truck (Korean)
Baby's Badass Burgers
Lobsta Truck
Leo's Tacos Truck (best Al pastor ever)
When I was in Anaheim couple of months ago I went to a gastropub called Chapter One - Modern Local and it was pretty good
If you need any other places to go, post something, plenty of Buckeyes out in Cali
Damn Anaheim, if you were in LA i'd be all over suggestions for you, especially if you like Mexican.
Epic movie.
OMG. I'm trying to find a Vine, that has a group of guys in Spaceball cosplay about to crash a Star Wars event. lol.
I know all the words to each song and i'm not ashamed. Went to Catholic school, and they would play this movie to pacify us lol.